Harris Tweed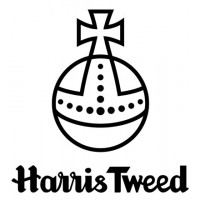 The Harris Tweed company was created in Scotland in 1846.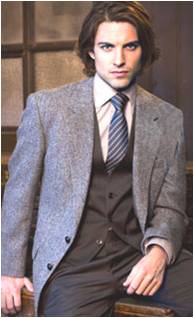 The Harris Tweed jackets are made of pure virgin wool, coloured, spun woven by hand in Scotland. They are all made on the Lewis & Harris island, an island of the Outer Hebrides archipelago.
The wool is cleaned and directly coloured in the mills of the island, a unique process of Harris Tweed, it is blended to obtain the typical colours of tweed. Then the wool is carded and turned into wool balls, and installed on wood beams to form a chain. Chain and weft are deposisted at the weaver's home. The rolls of fabrics must, according to the regulations, be woven by hand with a pedal loom.
This natural tweed rolls are then cleaned and controlled before pressing and final rolling. Tweeds receives the "Orb Mark" label. This stamp ensures that the tweed is compliant with Harris Tweed standards. It is delivered by the institute "Harris Tweed Authority" who is in charge of ensuring the constance of the quality of this products.
This high quality fabric is certainly the only one to be protected by an Act of Parliament. Its manufacturing method ensures an entire bespoke product, perfectly adapted to the demand, traditional style or adapted cuts of the greatest fashion designers. An unique expertise in Hebrides island, inherited from generation to generation.
More
No products for this manufacturer.
Copyright © 2017 - Le Comptoir Irlandais - comptoir-irlandais.com - All rights reserved.
ALCOHOL ABUSE IS DANGEROUS FOR HEALTH. DRINK RESPONSIBLY.
FOR YOUR HEALTH, PRACTICE REGULAR PHYSICAL ACTIVITY.
www.mangerbouger.fr