Reopening of stores - Monday, May 11
Good news ! Le Comptoir Irlandais stores will open on Monday, May 11. A reopening under the sign of responsibility and security.
After 2 months of closure, we are happy to be able to announce the reopening of all our stores, with the utmost respect for sanitary rules and barrier gestures. We would like to thank all of our customers who have shown, during this exceptional period, their solidarity and sympathy for our teams and our brand.
We took particular care of everyone's safety to ensure the best reception with an extremely precise procedure in the context of the recommendations made by the government and health professionals.
We look forward to your next visits.
A safe welcome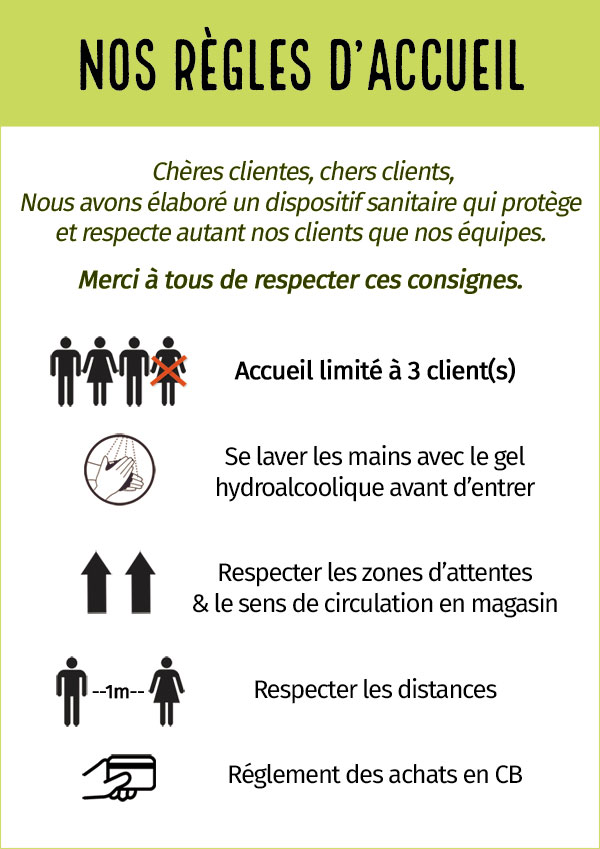 ► Our staff welcome you with individual protection, namely visor and / or fabric mask.
► In each shop, only 2 to 6 customers maximum can be admitted.
► Customers are invited to wash their hands with hydroalcoholic gel before entering.
► A marking on the ground is put in place to enforce the safety distances and indicate the direction of traffic on the shelves.
► Our teams are available to serve the customer and enforce health regulations: hand cleaning at the store entrance (with an alcohol-based lotion).
► We disinfect the changing rooms and baskets after use.
► We encourage contactless payment and disinfection of TPE takes place after each use.
Reopening Monday 11 May from 2 p.m.
New schedules are being implemented as part of the reopening of our points of sale. Monday May 11, all stores will be open from 2 p.m. to 7 p.m.
Find the timetables of your point of sale
Share this content