"les saisons des thés" flavoured teas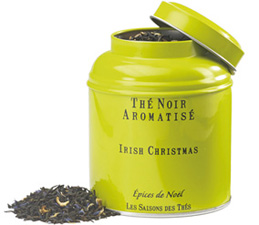 Les Saisons des Thés is a brand exclusively distributed by Le Comptoir Irlandais. We offer a range of three different teas: black teas, origin teas referring to teas harvested in specific geographical areas, and green teas. Browse through our entire range by clicking on the logo.

The different ways to flavour a tea
A natural source: essential oils.
Essential oil refers to flavoured substances extracted from plants, by distillation of flowers or leaves, or from pressed peels or citrus. Example: bergamot or rose essential oil.
Synthetic flavour: a natural flavour
Natural synthetic flavour is a creation of the flavourist. It is a blend of chemical substances, which copies perfectly the natural non synthetic flavour.
Artificial vanillin is completely identical to natural and non artificial vanillin extracted from vanilla pods, but much less expensive as its production does not depend on political or climate issues in producing countries.
The synthesis of artificial flavour: The artificial flavour is a complete creation of the flavourist, and is a blend of chemicals creating a new flavour that does not exist in nature.
How do we flavour our "Les Saisons des Thés" teas?
Our teas are cold flavoured to keep their best quality. Essential oils and flavours are added when liquid, and incorporated to appropriate tea blends. Blending time is adapted to each tea and lasts about 20 minutes. Before packing, teas are left aside for a few days for every ingredient to get along in perfect harmony. Every new batch has a dedicated number.
We flavour our teas with:
Essential oils (For example "Saint-Patrick's" or "Stopover in Dublin" teas) carefully selected to keep the same high quality from batch to batch.
Synthetic natural flavours (For example "Miss O'hara" or "Irish Christmas" teas).
We do not use artificial flavours.
Tips
Conservation: to keep the quality of our flavoured teas, keep them away from light and air. They are to be consumed within 2 years.
Preparation: 1 spoon per cup. Add quivering water and brew for 4 minutes.
Enjoy your drink!
Back to homepage