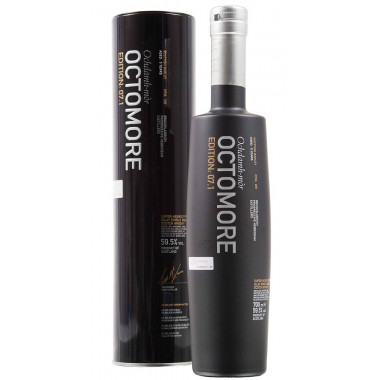 View full size
Remove this product from my favourite's list.
Add this product to my list of favourites.

Send to a friend

Octomore 7.1 70cl 59.5°

Presented by Jim McEwan in 2015, Octomore 7.1 embodies the culmination of a stand-out Master Distiller. Bottled at 59.5° after five years resting in Bourbon casks, Octomore states - again - its supremacy as world's most heavily peated Single Malt.

Recipient :

* Required fields

Cancel or
Octomore 7.1 70cl 59.5°
| | |
| --- | --- |
| • Volume | 0.7 L |
| • ABV | 59.5 ° |
| • Type | Single malt |
| • Distillery | Bruichladdich |
| • Country | Scotland |
| • Region | Islay |
| • Age | 5 years |
| • Maturation | Bourbon |
| • Peat | Heavily Peated |
| • Packaging | Tube |
| • Reference : | 22815 |
It is the second most heavily peated Single Malt with more than 200ppm*!
Highly anticipated, as the last revelation of a genuine cult to this world's most heavily peated Single Malt, Octomore 7.1, released in 2015, embodies the culmination the career of Jim McEwan, unequalled Master Distiller.
After five years resting in Bourbon casks, Octomore has been bottled at 59,5°. Each phase of the crafting of this expression requires a titanic amount of work, to coax out the full peat power of each grain. Vigourous, blasting, iodized, Octomore 7.1 is a stand-out experience in the world of whisky.
*PPM - phenols parts per million, measuring the influence of the oily smoke peat infusing the germinated barley during the drying process. The longer the exposure, the highest the ppm value is. A well peated Islay whisky reaches a 40-50 ppm. But every whisky still develops its very own character and mouthfeel sensation, depending on the style of each distillery.