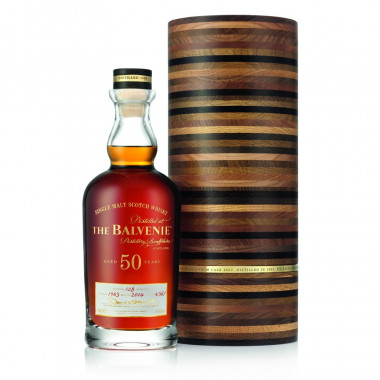 View full size
Display all pictures
Remove this product from my favourite's list.
Add this product to my list of favourites.

Send to a friend

Balvenie 50 Years-Old 70cl 45.4° / 45.9°

The Balvenie 50 Years-Old is presented by Le Comptoir Irlandais, it's an exeptionnal edition with only four bottles available in France. Both versions of this rareness offers a single character.

Recipient :

* Required fields

Cancel or
Balvenie 50 Years-Old 70cl 45.4° / 45.9°
| | |
| --- | --- |
| • ABV | 45.9° |
| • Type | Single malt |
| • Distillery | Balvenie (The) |
| • Country | Scotland |
| • Region | Speyside |
| • Vintage | 1963 |
| • Age | 50 years |
| • Maturation | Hogshead |
| • Packaging | Wooden Case |
| • Reference : | 36145 |
Balvenie distillery chose Le Comptoir Irlandais to sell its four limited edition bottles intended to France. The famous " Angles Share" makes it rare, 2% of the cask vanishing every year.
Here are two versions of this expression.
The Balvenie 50 Years-Old was distilled in 1963, has aged for a long time in two hogshead european barrels, in Dufftown distillery. These two casks patienlty aged in the best conditions during 50 years. Bavenie's 50 Years-Old °4567 cask 45.4° caught a deep reddish color, whereas n°4570 cask 45.9° has a golden color.

For cellar master David Steward, this Single Malt is a discovery after such a longue aging process. The aging process relies on chemical interactions between the wood, the distillate and its environment, David Stewart says "it's an honnor to discover after half a century how this unique 50 years-old cask turns out to be an exeptionnal malt".
The Balvenie 50 Years-Old n°4567 reveals exeptionnal notes with dark fruits (cherry and blackberry), an explosion of cinnamon and spices, ginger and hot pepper. A unique softness qualifies this exclusive malt.

The Balvenie 50 Years-Old offers a range of finely malted flavors, reminding honey, brown suggar and vanilla, raised with a hint of spices. Very soft and complex notes stretching to infinity.
Every 50 Years-Old Balvenie bottle is made in blown glass, and presented in a wooden case custom made by a scottish maker, Sam Chinnery. 49 wooden rings, originate from 7 trees of the Balvenie's distillery (Galloway Ash, Borders Oak, Lothian Walnut, Cherry and Yew, Fife Beech et Banffshire Elm). A closing copper tab reminds the distillery's premises, the stills and distillery's safe.