Crêpes with raspberry preserve and white chocolate sauce
On the occasion of Candlemas on February 2, discover a gourmet crêpes recipe with Mackays raspberry preserve and white chocolate sauce.
Ingredients:
- 1 large cup of flour
- 1 large cup of milk
- 1 large free-range egg
- 1 tablespoon of salt
- light olive oil for frying
- 4 tablespoon of Mackays raspberry preserve
- 200g of white chocolate
- 100ml of single cream
Steps:
1/ Carefully crack the egg into a bowl.
2/ Add the flour, and then the milk and the salt.
3/ Whisk until a smooth batter. Set aside.
4/ Place a glass bowl over a simmering pan of water to create a bain-marie. Place the chocolate pieces in the bowl and slowly melt, blend with a silicone spatula.
5/ Add the cream to the melted chocolate and slowly mix, transfer to a heat-proof pouring jug.
6/ Heat the oil in a non-stick frying pan on a high heat, then bring down to medium once the base of the pan is coated.
7/ Make the crêpes one at a time, and set aside on a plate.
8/ To serve, drizzle the Raspberry Preserve and white chocolate sauce over the crêpes.
You can replace the white chocolate sauce with clotted cream and the raspberry preserve with orange marmalade, blueberry preserve or strawberry preserve.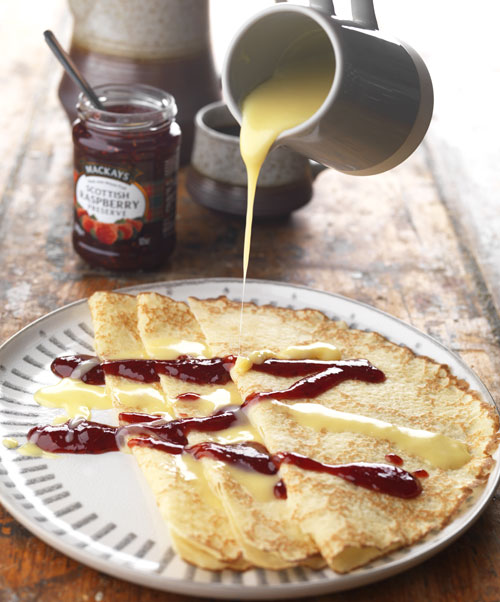 Article written by Manon C.
Share this content