SHARING MOMENTS WITH YOUR DEAR ONES
Make the most of being at home to live sharing moments with your family: treat yourself and take the time to make pancakes or brown bread, eating them with our fruity preserves and marmalades from across the Channel.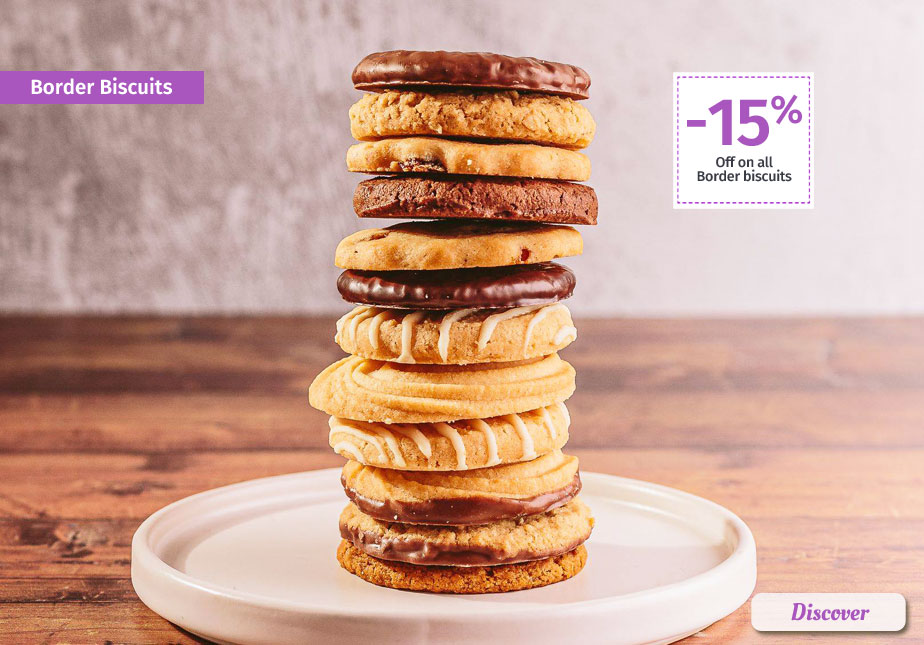 At any time of the day, you can also enjoy our delicious specialties made by the most prestigious Irish, Scottish and Anglo-Saxon brands such as Border and their mouthwatering and original Scottish biscuits.
And don't be shy and allow yourself a break with a tea, an infusion or a decadent hot chocolate with marshmallows.

---
SPECIAL OFFERS IN OUR CELLAR
From their regular visits in the best distilleries through the world, our experts bring back treasures from prestigious brands.
With 1.000 references, you'll find a great selection in quality as in quantity!
In April, discover the special offers from our cellar up to -25% off as well as the latest releases.

---
BLACK WELLIS, THE RUGBY SPIRIT!
Black Wellis is the ultimate sport-chic brand, designed in France. Its unique style, which is inspired from rugby, reflects elegant sport ethic and lifestyle. Through its collection, it is attached to universal values such as respect, friendship and tradition.
---
Discover our products
Le Comptoir Irlandais stores remain open during confinement. An openness placed under the sign of responsibility and safety.
Receive our newsletter
Receive our news, benefits and promotional offers in preview by email
Exclusive distributor of discoveries
For more than 30 years, the Comptoir Irlandais team has been selecting and offering the best of Ireland and the best of what the Irish like in the world for all lovers of beautiful discoveries: textile collection, spirits, food specialties, gift ideas...
Guided by our passion, we have enriched our whisky cellar with the most prestigious brands and the most original spirits. With more than 1000 references of the best Scotch, Irish, Japanese whiskies but also from all around the world as well as a selection of rums, gins, liqueurs and Anglo-Saxon, Breton and elsewhere beers, Le Comptoir Irlandais is today one of the biggest liquors merchants in France for beginners as well as for experts and collectors.
With food specialties directly imported from Ireland and the United Kingdom, our shop offers you to discover the Anglo-Saxon culinary traditions: HP and Worcestershire sauces, chutneys, pickles but also shortbread biscuits, marmalades and jams. Our fine food section also presents a choice produced in Brittany of sea spreads, tapas and patés for original and festive flavours.
The selection is completed by an exceptional and unique assortment of more than 150 teas and infusions: green and black tea, in tea bags or loose, organic, natural or delicately and tastefully flavoured.
Natural material clothing for women and men
For lovers of quality materials: merino wool, lambswool, cotton... Le Comptoir Irlandais reveals each season, authentic and comfortable collections: beautiful Aran wool sweaters but also our urban and outdoor clothing (coats, English duffle-coats, rugby shirts and accessories: hats, scarves and bags). Our selection is complete with beautiful plaids woven in noble and natural fabrics (mohair, lambswool, etc.).
Customer reviews
A large choice of whiskey, a good address for spirits lovers.
17/04/2021
Welcome service, choice, advice, discussions, ... Highly recommended!
11/04/2021
A salesperson in love with his job and with perfect advice. With each visit, he surprises me and I have never been disappointed ...
10/04/2021
Excellent choice of whisky. Delicious cupcakes, teas and other British treats.
04/04/2021
Beautiful clothes, choice and precious advice in the whisky department, attentive and warm salespeople.
24/03/2021
Very nice shop with good and beautiful products - worth a visit.
03/03/2021
My favourite grocery store!
18/02/2021
Friendly and attentive staff.
09/02/2021
A large choice of Irish and British products, the result of a selection made with taste by enthusiasts!
26/01/2021
Very warm welcome, wide choice of whiskey!
23/01/2021
Nice shop, very good products from Ireland, to do in Nantes!
18/01/2021
Impeccable welcome and large choice of whisky, rum to taste or offer.
06/01/2021
There are a thousand whiskies to buy Not to mention Irish specialities like teas, pastries, clothes, etc.
21/12/2020
A great welcome and a real quality of advice. Thank you
05/12/2020