Every month, we try to surprise you at the Comptoir Irlandais with our latest discoveries. Also take advantage of offers on the Whiskey Cellar.
---
The new autumn-winter collection has arrived at Le Comptoir Irlandais. Renew your style after the summer holidays with new outfits made with the finest fabrics: shirts, sweaters, wrap scarves and other accessories. With Out Of Ireland, you'll find elegant clothes which are both modern and timeless.
---
The Tea, our selection of the finest teas
New
Discover The Tea, the finest teas selected by Le Comptoir Irlandais.
The harvested tea leaves come from the best tea plantations in the world (India, Sri Lanka, China, Japan, South Africa), to make origin black teas, exclusive blends of flavoured black and green teas and rooibos, with new and sometimes surprising aromas.
Whether fruity, spicy, sour, herbal or woody, those blends are created by a tea blender from the best aromas, spices and essential oils, to obtain a balanced and flavoured tea. This perfect and delicate harmony brings to each tea, a burst of flavours.
---
---
Discover our products
Bunnahabhain Stiùireadair
Established in 1881 and located at the mouth of the Margadale Spring on the shores of the Sound of Islay, the Bunnahabhain distillery has developed a unique style inspired from its legacy.
Its philosophy is to offer the most natural whisky, almost completely hand crafted and aged on the famous Isle of Islay.
Stiùireadair is whisky aged in Sherry casks, both creamy and maritime.
It pays tribute to the helmsman of the distillery that adorns each bottle.
---
---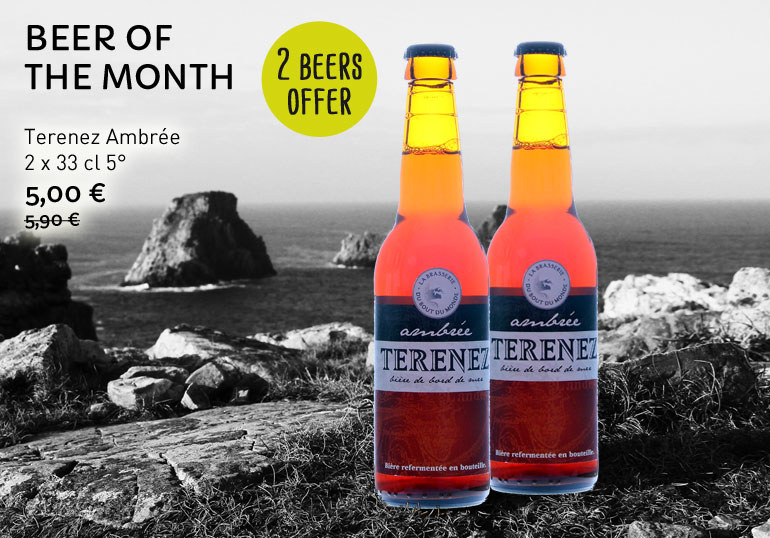 Terenez Ambrée Beer
The Brasserie du Bout du Monde (Land's End Brewery) was born in Brittany in 2013.
On a side note, the brewery is located in a buried historical site that was once used as ammunition storage by the NATO.
Fruity and lightly spicy, Terenez Ambrée has a nice head, with a good length in the mouth and is very refreshing.
You can fully appreciate it for the aperitif or with salads, fresh cheese or cold cuts.
---
Learn more about the Scottish Loch Lomond distillery. Discover also the selection of Le Comptoir Irlandais.
Receive our newsletter
Receive our news, benefits and promotional offers in preview by email
Le Comptoir Irlandais, a special story that started in Brest, Brittany.
Only truly lovers of Ireland could create a concept of shops such as "Le Comptoir Irlandais", in which we can find the flavours and the colours of this country
For more than 30 years in France, we've done our best to make you discover the best of Ireland and more generally,the best of what the Irish like: textile, whisky cellar, rums, beers, teas, delicatessen, gift ideas…
Genuine showcase of the green island, the Comptoirs Irlandais offer a true invitation to a journey.

Over the years, through our many exchanges, ours shelves have naturally grown with Breton products of course but also with our discoveries from Scotland, England and from around the world.
Customer reviews
Very good quality clothes, English and Irish products and especially the biggest collection of Nantes whisky!
08/07/2018
Really nice. A few tips. Correct prices. What more?
02/07/2018
I received my order very well packaged, with lots of little touches. Everything was received on time and all very very good. Thank you !
15/04/2018
Nice shops and excellent selection of Irish items.
11/03/2018
Thank you for your professionalism
I am very satisfied with my order. I will recommend to my friends to look to your store.
24/01/2018
Excellent customer reception at the Le Havre store. Tea tasting, friendly staff! Variety of articles and quality.
09/01/2018
Reception of customers always very pleasant
A large choice of products for oneself or gift ideas (clothes, groceries). Very good references of whiskies offered in Brest shop.
29/12/2017
Excellent whisky selection
The customer welcome is always friendly and the members of the team have a real knowledge of the products.
12/12/2017