12 Unmissable Whisky-based Cocktails
Cocktails appear at the end of the 18th century mainly in England and the United States. They had a great success in the 20's during the prohibition in the USA: adding another drink allowed masking the bad taste of contraband alcohol.
These mixed drinks can be with or without alcohol and they can be classified into two categories, the long drinks from 12 to 25 cl mainly served for the aperitifs and the short drinks from 7 to 10 cl consumed for aperitif or digestive.
Cocktails can be realized with gin, whisky, rum or vodka. Here are some timeless recipes to make cocktails based on different whiskies.
Irish Cocktails:
1. Whiskey in the jar
Ingredients:
12 cl of Bushmills whiskey
3 to 4 ripe peaches (or concentrated peach juice)

1/4 glass of unsweetened condensed milk

1 tablespoon caster sugar (or 4 tablespoons peach syrup)

ice cubes
Recipe:
1/ Wash peaches then gently wipe them with a clean dry cloth.

2/ Use a peeler to peel peaches. Remove their pits.

3/ Put quartered peaches, powdered sugar, whiskey, unsweetened condensed milk, ice cubes and some mint leaves in a blender. Mix everything 1 to 2 minutes.

4/ Let cool in the refrigerator before pouring everything into large glasses or jars.

5/ Add a few ice cubes when serving.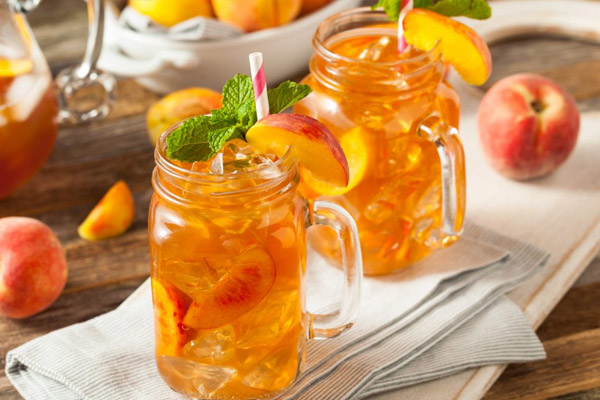 2. The Whisky Ginger Ale Cocktail
Whiskey Teeling and Ginger Ale Cocktail, a value in Ireland.
Ingredients:
Recipe:
1/ Use a cocktail measuring cup and pour 45 ml of Teeling whiskey.
2/ Then add 15 ml lemon juice and 200 ml Ginger Ale Franklin & Sons drink.
3/ Mix everything with a cocktail mixing stick.
4/ For decoration, add a few slices of lemon.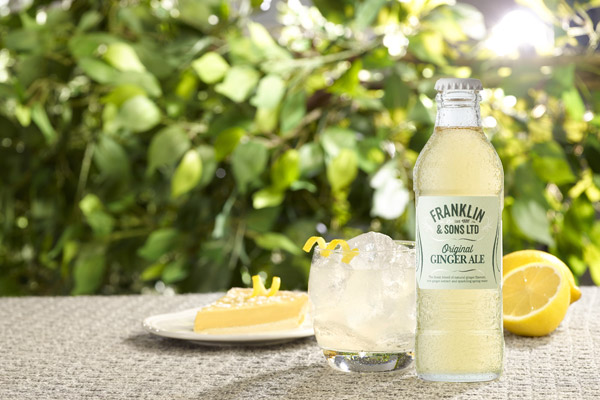 3. The Dubliner
This cocktail is an adaptation from the original recipe made in 1999 by Gary & Mardee Regan in New York.
Ingredients:
Recipe:
1/ Stir all ingredients with ice.
2/ Strain into a chilled cocktail stem, or wine glass.
3/ Optional Garnish with Cherry.
4/ If you do not have Grand Mariner, ou can substitute with a Rich Orange Liqueur.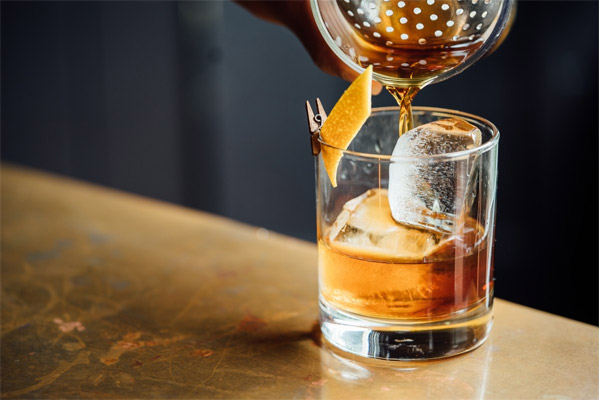 4. The Irish Gold
This Irish Gold is not only perfect for particular occasions like St. Patrick's Day but is a nice aperitif for any day of the year. It combines Irish whiskey with orange and peach and some ginger ale. The result is a fruity Irish whiskey drink that is refreshing.
Ingredients:
60 ml of Paddy whiskey
15 ml of peaches Schnaps
1 splash of orange juice
15 ml of ginger beer
Recipe:
1/ Pour the whisky, schnapps and juice in a highball glass filled with ice.
2/ Top with ginger ale.
3/ Garnish with a lime slice.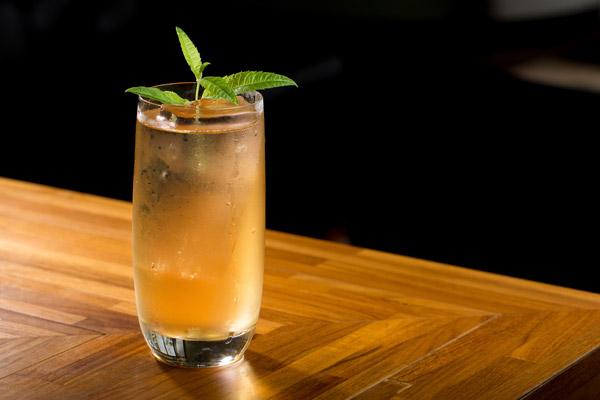 5. Ginger D.E.W
Though they are very different, ginger ale and Irish whiskey have much in common. Their colours are similar, each has its own fragrant aroma and uncompromising flavour. The spiciness of the ginger blends perfectly with the light spice in Tullamore D.E.W.'s pot, these qualities is like a tango on the tongue.
Ingredients:
Recipe:
1/ Put 50 ml Tullamore D.E.W. over ice into a glass.
2/ Add 2 parts ginger ale.
3/ Decorate with a twist of lemon.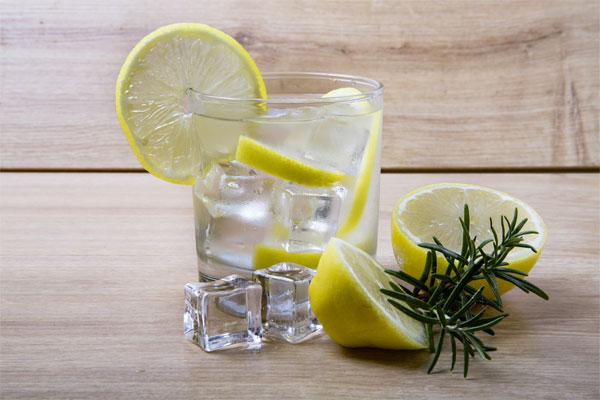 6. Elevenses
This is an Irish breakfast in liquid form, complete with tea, jam and whiskey. It was created by Jane Maher the Tullamore D.E.W. brand ambassador.
Ingredients:
Recipe:
1/ Add all ingredients to a shaker with ice.
2/ Hard shake and strain over fresh ice in a Collins glass (high and narrow).
3/ Garnish with a lemon twist.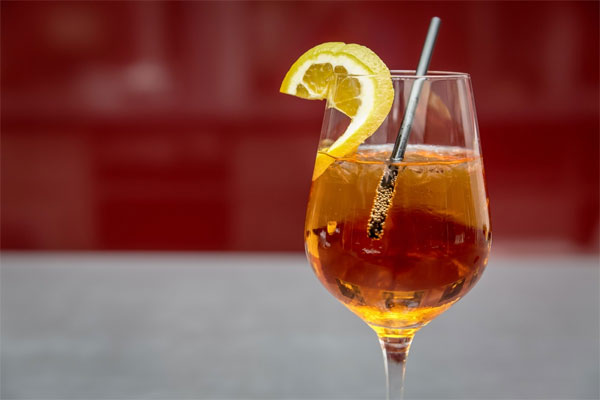 Scottish cocktails:

7. Wapplesky
As the name suggests, it's an apple whiskey. The words "apple" and "whiskey" combined form the Wapplesky.
Ingredients:
Recipe:
1/ Use a shaker.
2/ Hit the ingredients in the shaker with ice, pour in a glass filled of ice.
3/ Serve in a "old fashioned" glass (whisky glass).


8. Rob Roy
This cocktail pays tribute to one Scottish figure, Robert Roy MacGregor, Rob Boy. It is said that it was prepared for the first time in the bar of the Waldorf Astoria Hotel. Through the Rob Roy story, this drink became famous in different parts of the world, like in America.
Ingredients:
Recipe:
1/ Put the ingredients in a mixing glass filled of ice.
2/ Stir with a spoon and pour in a glass filtering the ice.
3/ Serve in a Martini glass.
4/ Decor: brandy cherry at the bottom of the glass.


Japanese cocktail:

9. Perfect Nikka Manhattan
This drink received the Best Cocktail award at the Cocktails Spirits in Paris in 2013.
Ingredients:
Recipe:
1/ Pour all ingredients in a mixing glass with ice.
2/ Stir and pour the preparation in a cup or glass refreshed before. Don't put ice.
3/ Press a lemon or orange zest and garnish with a cocktail cherry.
4/ To taste cool.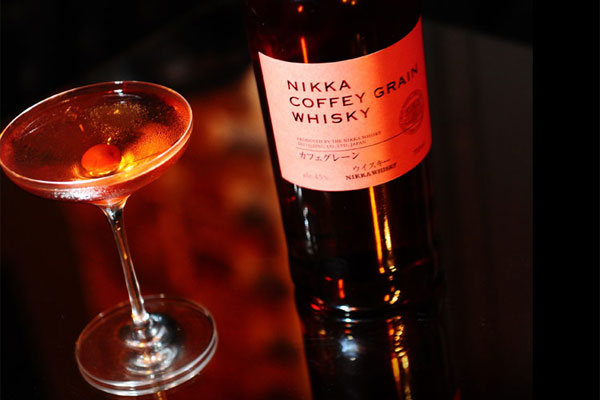 American cocktails:
10. Lynchburg Lemonade
This cocktail pays tribute to the Jack Daniel's distillery in Lynchburg, Tennessee. It is often served in a Mason Jar, a jar with a lid.
Ingredients:
Recipe:
1/ Do it directly in the glass.
2/ Pour the ingredients in glass with ice and complete with lemonade.
3/ Stir gently before consume.
4/ Serve in a Mason Jar.

11. Whisky Sour
The Whisky Sour was created in 1766, it was serving hot at that time, the apparition des refrigerators and freezer in 1850 has changed the recipe and consumption mode. This cocktail has known its moment of glory at the cinema with Marylin Monroe in the movie "The seven year itch".
Ingredients:
Recipe:
1/ Use a shaker.
2/ Press lemon juice, pour in the shaker with whisky and cane syrup. Hit with some ice and pour it in the glass.
3/ Serve in a "old fashioned" glass
4/ Option: For more consistency, pour some pinch of egg white in the shaker before hit vigorously.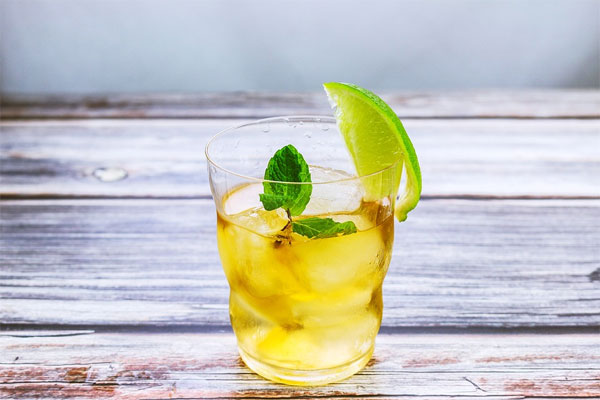 12. Old Fashioned
It was invented in "Pendennis Club" of Louisville, Kentucky in 1884. This drink has been developed by the barman and "James E. Pepper", a Club member and one of the owners of the bourbon "Pepper. He calls it the "Old Fashioned Whisky Cocktail". He loved so much this cocktail, that throughout his travels, he asked the barmen to prepare it for him. Then the recipe travelled around the world and became quickly inescapable. During prohibition (1920-1933), in order to escape inspections, some barmen crushed the sugar and the bitter with a lemon zest, and added a little of sparkling water and two maraschino cherries to cover up the taste of alcohol and the bitter. The name of this recipe was simplified and became the "Old Fashioned".
Ingredients:
Recipe:
1/ Pour directly in a glass.
2/ Put sugar in a glass, spray it with angostura, a pinch of whisky then crus hit and toss until the complete dissolution of sugar. Add ice and the whisky to finish.
3/ Serve in a "old fashioned" glass (whisky glass).
4/ Decor: add a large orange slice.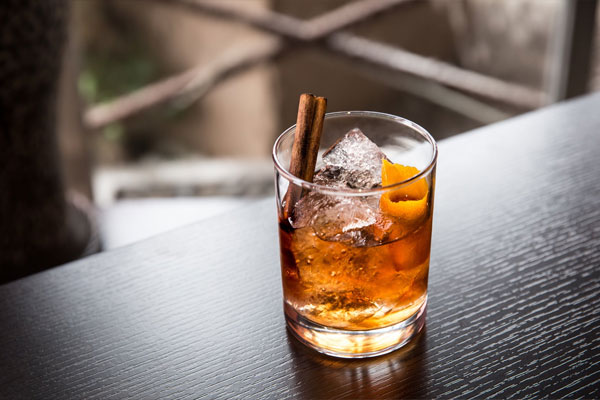 >> ALCOHOL ABUSE IS DANGEROUS FOR HEALTH, CONSUME WITH MODERATION.
Discover other cocktails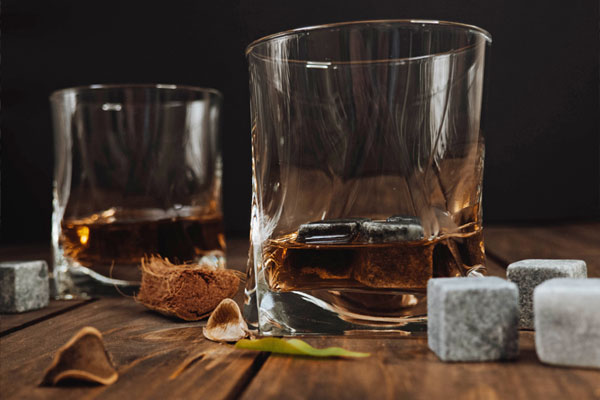 Share this content