Saint Brendan Whiskey Cream Cocktails
Saint Brendan's Whiskey Cream is named after a famous 6th century monk, Abbot Saint Brendan, known for his remarkable travels.
Based in Londonderry, Saint Brendan's is still inspired today by the adventurous spirit of this monk in its search for the most authentic and natural Irish ingredients for the manufacture of its whiskey cream.
The 3 times distilled Irish whiskey is produced just a hop away from the Giant's Causeway on the north coast of Ireland at the Bushmills Distillery. The cream, taken from the best milk cows in Derry, gives Saint Brendan's Whiskey Liqueur its full, rich texture. The assembly of these 2 elements gives an authentic whiskey cream.
It is an ideal ingredient for many cocktail recipes that can be enjoyed hot or chilled, neat or with ice cubes.
1. The Sensational
Ingredients
Instructions
Pour the Saint Brendan liqueur in your favourite mug, add the chocolate milk and perfect the whole with whipped cream. Finally, add the candy cane pieces.
2. Irish Eyes
Ingredients
2.8 cl milk or cream
A hint of coke
A drop of sparkling water


Instructions
Pour the ingredients one after the other on the ice cubes.

3. Irish Wedding
Ingredients
Instructions
Shake the vodka and the whiskey liqueur with ice cubes in a shaker and filter into a refrigerated glass. Garnish with whipped cream.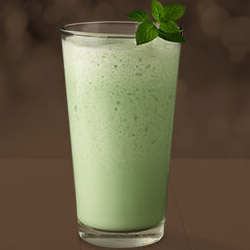 4. Hot Slugger
Ingredients
Instructions:
Pour all the ingredients into a glass and add whipped cream as well as a mint leaf.


5. Twisted Russian
Ingredients
Instructions
Serve the whole with ice cubes.

Enjoy!
Share this content