10 clotted cream recipes
Clotted cream is obtained from cow's milk which has been heated beforehand and then cooled for several hours. The result is this amazing cream, with a thick texture similar to that of butter, and flavours that will leave no one indifferent. Anglo-Saxon speciality par excellence, it has many followers: if you are not one of them, it is simply because you have not tasted it! Whether you love it or you're simply curious, take a look at these 10 clotted cream-based recipes to discover it... or rediscover it.
Scones
Ask a Brit the best way to taste clotted cream and he will invariably answer you: on a scone! To try your hand at "Cream tea", this culinary practice widely acclaimed in the United Kingdom, spread a scone (recipe here) with a good spoonful of clotted cream then a little strawberry jam, accompany it with a cup of tea, and enjoy! Another variant of scones: buns, these mini English buns that you can garnish in the same way, for a deliciously addictive snack. The recipe below!
Buns
Ingredients :
- 500g white bread flour
- 25g fine caster sugar
- 25g softened butter
- 225g clotted cream
- 1 teaspoon salt
- 7g yeast
- 300ml warm milk
- 1 jar of strawberry jam
Steps :
1) Place the flour, salt, sugar, baking powder, butter and milk into a large bowl. Mix together to obtain a soft dough and add a dash of milk if the dough seems too dry.
2) On a floured surface, knead for 10 minutes to obtain a smooth dough. Place into a lightly buttered bowl, cover with cling film and leave in a warm place until the dough has doubled in size.
3) Preheat the oven to 180°C and cover the baking sheet with flour. Turn the dough out onto the floured surface, divide into 12 balls and space well apart on the baking sheet. Cover loosely with cling film and leave at room temperature for 20 minutes.
4) Bake the buns for 10-15 minutes until they have risen and taken on a pale golden colour. Transfer onto a cooling rack.
5) Score the top of the buns diagonally, open gently with a knife and garnish with clotted cream and strawberry jam. A real delight !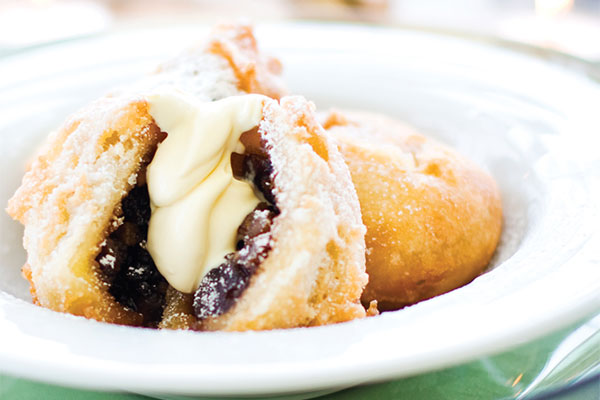 Fudge
Ingredients :
- 200g caster sugar
- 75g golden syrup
- 1 jar (i.e. 170g) clotted cream
- 1/2 teaspoon vanilla essence
Steps :
1) Butter a square tin.
2) Pour all the ingredients into a large saucepan and stir gently over medium heat until sugar dissolves. Bring to the boil, and boil for 10-15 minutes while continuing to stir, until the temperature reaches 117°C.
3) Remove from the heat and mix for about ten minutes using a wooden spoon until the preparation becomes thick and a little grainy.
4) Pour into the tin and leave to cool. Cut into small squares and enjoy!
Cupcakes
Clotted cream, with its fairly thick consistency, is ideal for frosting cupcakes. Discover here a delicious lemon cupcakes recipe: for even more pleasure, replace the sour cream with clotted cream in the dough but also for the frosting. A real visual and taste success!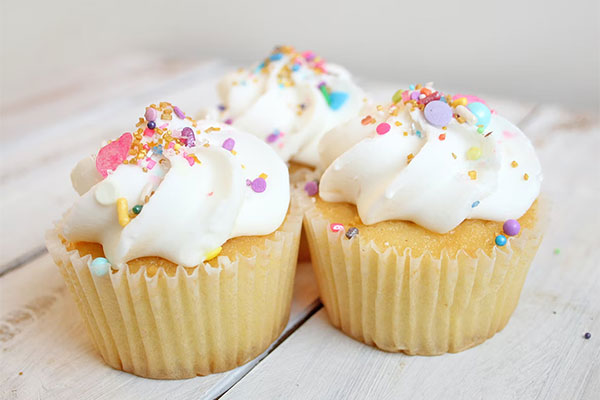 Rice pudding
Ingredients :
- 225g clotted cream
- 500ml whole milk
- 50g sugar
- 125g short-grain pudding rice
- 1 vanilla pod
Steps :
1) Heat the milk, cream and vanilla bean in a heavy-bottomed saucepan until the mixture simmers slightly. Remove from the heat and leave to infuse for 15 minutes.
2) Remove the vanilla pod and heat the milk again. Add the rice and sugar, then cook for 30-35 minutes, stirring regularly to prevent the bottom from burning. At this point, the rice should have absorbed most of the milk and the texture should be creamy but still slightly runny.
3) Let the rice cool to room temperature. A real delight to enjoy warm or cold.
Fresh fruits verrine
Place some clotted cream at the bottom of a verrine and cover it with fresh fruits (it can be strawberries, raspberries, blackberries, depending on your desires). Finish by adding some crumbled shortbread or granola for the crunchy side, and you will have an easy to make dessert with guaranteed success!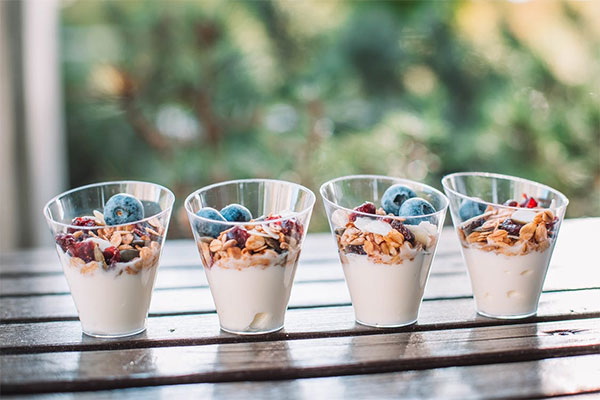 Crumble and apple pie
Here is a tip for those with a sweet tooth : place on your piece of crumble or apple pie, a generous spoonful of clotted cream, and why not a scoop of ice cream (recipe below). The final touch for a comforting dessert full of flavours, to serve on a cold winter day.
Ice cream
Ingredients :
- 1 egg (large)
- 60g sugar
- 225g clotted cream
- 125ml full-fat milk
Steps :
1) Whisk the egg, then gradually add the sugar while mixing. After a few minutes, add the clotted cream and the milk. Whisk well.
2) If you have an ice cream maker, spoon the mixture into it and follow the instructions on the leaflet. If this is not the case, pour the preparation into a large container and freeze for 3 hours. Remove the container, whisk until smooth, then place back in the freezer. Repeat the operation 3 or 4 times. You are now ready for hot summer days!
Escalope with mushrooms and mashed potatoes
Clotted cream can just as well be enjoyed in a savoury version. To make a tasty dish with sauce, replace the fresh cream traditionally used to coat a veal or turkey escalope with clotted cream. Add some mushrooms and a little garlic and spices for a simply delicious result! To accompany your meat, make mashed potatoes to which you add a spoonful of clotted cream. A simple and generous dish that will get everyone to agree!
Chocolate truffles
Ingredients :
- 225g clotted cream
- 200g dark chocolate
- 50g cocoa powder
Steps :
1) Melt the chocolate over a bain-marie.
2) Add the clotted cream and stir until smooth and creamy. Chill for a few hours.
3) Pour the chocolate powder on a plate, then take out the chocolate-clotted cream preparation. Use a small spoon dipped in hot water to make small balls which you will then roll in the cocoa.
4) Place the truffles in the refrigerator for a few hours before enjoying them properly!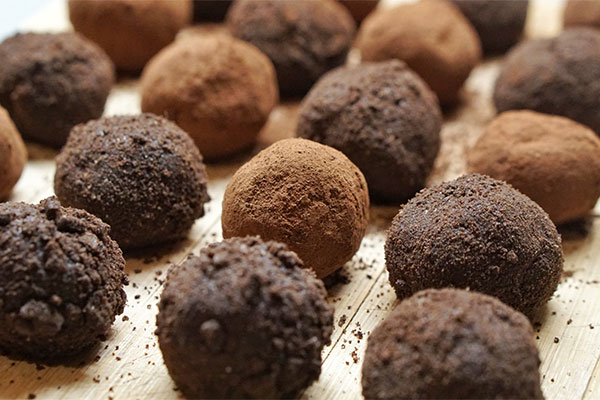 By Camille L.
Share this content