Super simple and quick Apple Pie recipe
Discover an Apple Pie recipe ultra simple and quick to prepare using fruit fillings from the Irish house Follain. Apple Pie is one of the most typical desserts in the United States and can be enjoyed all year round. Now that you have the recipe, it's up to you!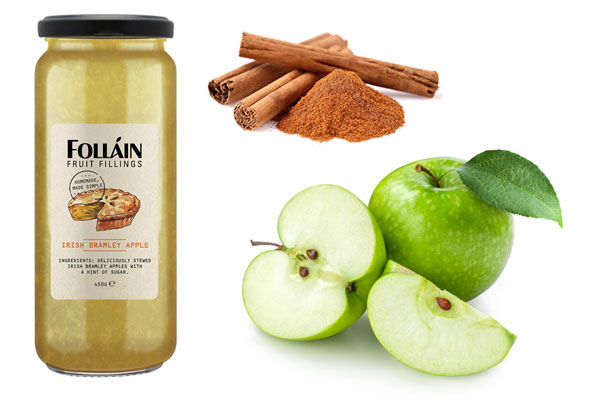 Ingredients:
- 2 short crust pastries
- 1 jar of Folláin apple filling 450g
- Cinnamon powder
- 1 egg yolk
- Brown sugar
- Apples
Steps:
1/ Spread shortcrust pastry in the bottom of a round pie dish. Roll out the dough so that the edges protrude a little over the mold.
2/ Preheat the oven to 220 °C, with the rack at the bottom of the oven. Meanwhile, let the dough rest in the fridge for 30 min.
3/ Pour the apple filling into the previously cooled pie dish. You can add cinnamon powder at your convenience. For even more texture, you can add apple slices on top of the filling.
4/ Cover the pie dish with the second shortcrust pastry. It is possible to make a grid after having cut strips in the dough, or quite simply by placing the dough on the pie dish and cutting a few slits on the dough so that the pie does not explode. Seal both pasta around the edges by hand or with a fork.
5/ Brush the egg yolk over the top pastry and sprinkle with a little brown sugar. Be careful not to use too much, it could burn the pie.
6/ Put in the oven for about 25 minutes so that the dough colours.
7/ Lower the oven to 190 °C and continue cooking for about 1 hour, until the dough is hard and the preparation bubbles.
Tip: The tart is preferably eaten a little warm with a scoop of vanilla ice cream.
To change a bit, you can also reproduce this recipe with the rhubarb and strawberry filling.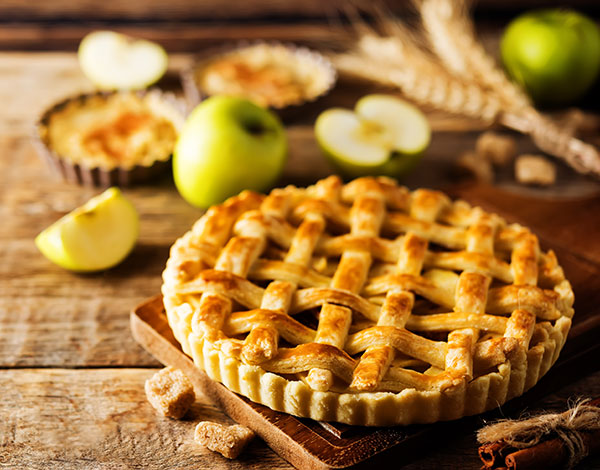 Article written by Manon C.
Share this content