Hiking in Scotland : West Highland Way
The West Highland Way is one of Scotland's best-known hikes but also the longest: 154 km (96 miles). The walk begins in Milngavie (near Glasgow) and ends in Fort William (near Ben Nevis, the highest point in the British Isles with a 1344 meters altitude).
This walk is one of the most beautiful in Scotland with a great diversity of landscapes and no cars. The walking route is isolated and very well marked. Small villages with super friendly locals, who are used to seeing walkers pass by, directing them and encouraging them.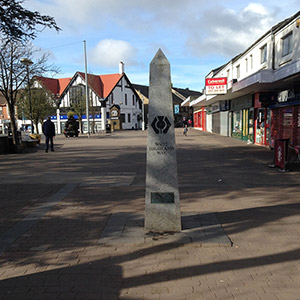 In general, hikers start from Milngavie and end at Fort Williams, but it is also possible to do the hike in the opposite direction (more rare). Hikers take thiswalk over an average of 7 to 10 days, to discover Scotland, visit the distilleries, castles, landscapes ...
This walk is made of meetings. You may not see anyone for hours and then pass other walkers on the road. Some walk alone, others with friends, others in pairs, some with a guide.
We all have a different walking philosophy : some enjoy the landscapes, take time to visit and discover, and others do it for the sake of surpassing oneself, whether mentally and / or physically. Scotland is perfect for walking and travelling at the same time. You have the impression of being alone in the world, tiny faced with nature.
This walk is perfect for lovers of Scotland, great outdoors, nature and rain.
Here is a course over five days:
Day 1 : From Milngavie to Balmaha : 32 km
An easy and flat start, we gradually leave the town of Milngavie (near Glasgow) to get lost in nature, along the fields, without much physical effort. At the end, the ascent of Conic Hill is difficult for a first day, but achievable, the hardest part is not going up, but down the mountain. To see for those who are planning to do the hike over more days: Duntreath Castle, the Glengoyne distillery, the Loch Lomond nature reserve.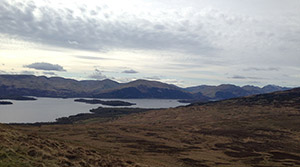 Day 2 : From Balmaha to Inverarnan : 33.6km
We mainly walk along Loch Lomond, then we cross very pleasant passages in the forest. However, the last 11 kilometres are part of the more difficult portion of the walk. We continue along the edge of the lake but on a winding road, we go up, down, up and down on small rocks along the shore, for 3 to 4 hours. Quite hard on the legs and the mind because you have to stay focused ... but a magnificent landscape around. To see: Ben Lomond, the prison and the cellar of Rob Roy.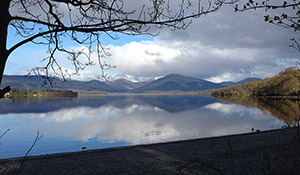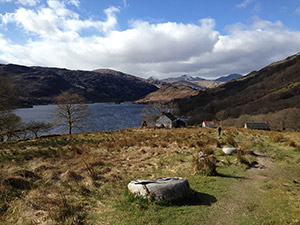 Day 3 : From Inverarnan to Bridge of Orchy
It is mainly a military road, flat and rocky, with ascents and descents, between military road and mountains. We feel we are getting closer to the Highlands. To see: The Falls of Falloch (waterfall), the chapel of St Fillan's.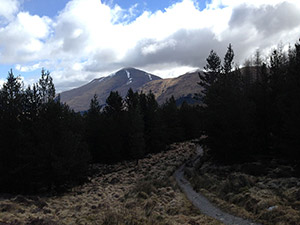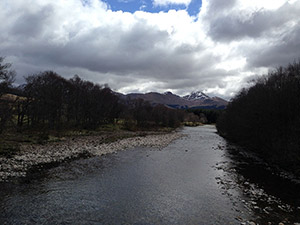 Day 4 : From Bridge of Orchy to Kinlochleven
This part is beautiful, but depending on the weather, we are highly exposed to rain and wind (we become vulnerable to nature) because there is no shelter. We are near the mountains, with a feeling that they dominate us, majestic, almost unreal. The last 14 km are difficult, passing through the Devil's Staircase (the highest point of the steps culminates at 550m) and always facing the wind and rain.

Day 5 : From Kinlochleven to Fort Williams
"A piece of cake!" This last step is the easiest and most comforting for the walker, both physically and morally : we are almost there, it is soon over. Easy walk and lots of forest, a little nostalgia at the end sets in because, basically, we don't really want to stop!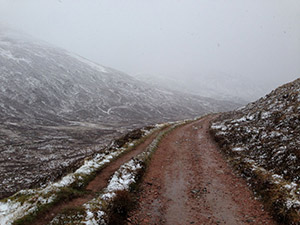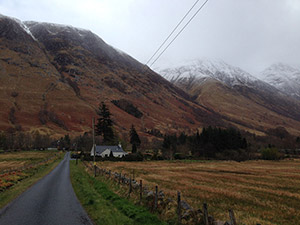 The WEST HIGHLAND WAY (WHW) is a so-called "easy" hike in the sense that it is signposted, no risk of getting lost because the markings are present, we follow a guideline, that is to say that the we leave Glasgow to go north. We see the Highlands in the distance, we get closer, we cross them, we see Mount Ben Nevis to finish at Fort Williams. It's a straight line ride, we go up north.
This walk can be done over three seasons: spring, summer and fall. It is not recommended in winter because this walk can be too difficult because of the weather, too much snow, too much cold, too much wind, half of the walk is hidden, the markings disappear… We can do this April walk to October. In April, it can still be very cold, but one can have the chance to see the still snow-capped mountain tops and it is worth the detour for these magnificent landscapes. In summer, from late June to August, beware of the "midges", these are small flies that bite, many walkers talk about them, so if you go during this period, be careful to take a lotion to repel them.
May is the favourite month for most walkers. The photos in this article were taken in April 2016.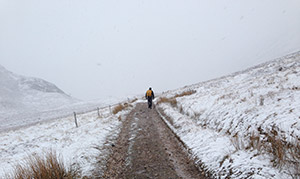 Accomodation :

The choice of wild camping - Wild camping is allowed in Scotland, but with strict rules to be observed. Refer to the WHW site: http://www.west-highland-way.co.uk/ww_faq.asp
Youth hostels, B&Bs and hotels are available on the road, but you have to remember to book in advance as the number of vacant places quickly runs out.
Luggage transport

Luggage transport services from one village to another exist. You also need to book in advance, but this allows you to bring what is strictly necessary for the day's walk, something to eat and drink and in the evening, you will find your suitcase!
Advice :

Pour partir, il est conseillé d'avoir : To do this hike, it is advisable to have :
Walking poles (you walk and cross the Highlands, lots of climbs and descents, poles allow you to rest your legs, work your arms and avoid falling). Walking can be difficult as the roads are rocky. There are quite a few large stones and a sprain quickly arises. The poles help for better balance and can prevent a fall due to fatigue or inattention ...

A first aid kit with COMPEEDs (special plasters for blisters) the best friend against blisters, disinfectant, plasters. Take care of your feet every night, massage them, pamper them!

Depending on the season: autumn, early winter, underlay clothes to stay warm, a windbreaker, a rain jacket (in Scotland, the wind, cold and rain are daily), a hat, gloves, gaiters to keep the feet dry and walking shoes. The goal is to be warm and to stay dry while being light because you must not attack this difficult walk while having weight to bear. Don't forget to bring water!
Share this content