Interview with Tom Joule, founder of the British brand
Tom Joule is an authentic, family-owned brand established in the British countryside since 1989. While drawing inspiration from the surrounding nature, Tom Joule carefully designs collections of clothing, shoes and accessories for men, women, children and babies.
Since 1989, Tom Joule has been able to remain faithful to his British heritage. The brand stands out in particular thanks to the values it holds dear, such as quality, its British roots, a sense of family, humour accompanied by a touch of colour. It is by keeping its values in mind that the brand grows every day.
Based in the town of Market Harborough, the Tom Joule teams work together on everything from print to production, making sure everyday is extraordinary every day.
Lean more about this beautiful brand through the interview with Tom Joule, Chief Brand Officer.
Can you introduce yourself and your job?
I'm Tom Joule and I started the brand back in 1989 in Britain. We were very small back then and offered customers outerwear and accessories from a small stand I used to set up at country shows. Today, I'm Chief Brand Officer, focusing on connecting with the Tom Joule customer and our product direction.
Can you tell us a few words about the brand?
We are a lifestyle brand that loves to give classic pieces a twist with injections of colour, fun details and a touch of subtle British humour. We never take ourselves too seriously and everything we do is designed to lift people's spirits and help you to enjoy the great outdoors, or the cosy indoors! We believe there is no better way of spending time-off than together with friends and family – that feeling of "togetherness" is a part of everything we do.
Colourful, striped and flowery items … where do you get these inspirations?
We have an incredibly talented team of in-house artists who love spending time exploring the countryside, from shire to shore, capturing the colours, shapes and delights that only the natural world provides. From plants and animals, to trees and birds – we love to surround ourselves with the things we love and things that will make our customers smile.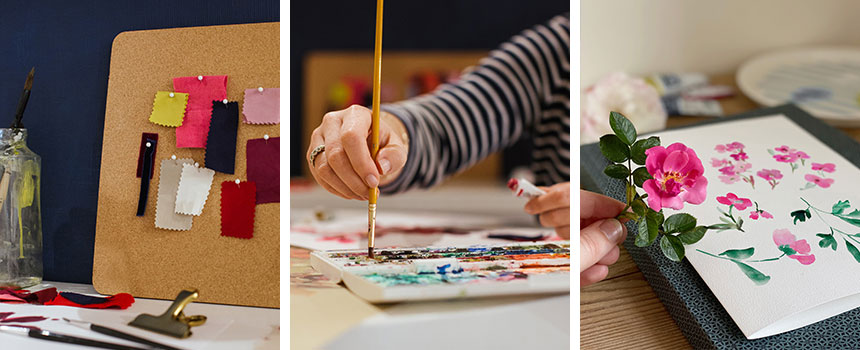 What makes you different from other textile brands?
We really do live the same lives as our customers, so we understand their desires more than anyone else. We know just where and when our customers will want to wear our clothing, so we put them first – even when designing our clothes. We also have an authentic heritage and are still based in Market Harborough, a little town in Britain, which is where we've been based from the start.
Can you explain the design of a Tom Joule garment? (from inspiration to sales, including manufacture
and choice of materials)
The design of a garment starts with a customer – where will they be wearing a garment and when? If it's a coat, will it be worn in the countryside, at the coast – or both? During the summer or winter? Then our design teams might start with a sketch, and our in-house artists add the unique prints and colour which we're so well known for. Then comes the hidden details. We manufacture our products all around the world to achieve the best quality at the best price and in-line with our sustainable and environmental goals. Then once launched, it will be marketed in the best way possible and we'll watch on with interest as to whether our customers will love it as much as we do.
For you, what is the essential Tom Joule to have in your wardrobe?
For me, living in Britain – any piece of outerwear! Never go far without a good waterproof jacket, and I love a shirt with a conversational print too.
What are the brand's future projects?
This past 12 months have been a real challenge for everyone, so we just want to keep on doing what we love and simply bring a smile to our customers' faces when we can.
Discover the new models of the Spring-Summer 2021 collection
Harbour Print Jersey Top:
Our Harbour jersey top is famed for the fit and the fabric and now it's back in a raft of punchy prints. A true wear-it-anywhere essential.
Golightly Waterproof Coat:
One of the best-loved styles in our Right as Rain collection, this printed packaway is ideal for stashing in a bag when there are rain clouds looming on the horizon. The PU coating and taped seams make it 100% waterproof.
Article written by Manon C.
Share this content