Kurayoshi 12 years, best Japanese whisky of 2020
In 2020, Kurayoshi Pure Malt 12 year old whisky is considered as the best Japanese whisky with the most cumulative number of medals: best Japanese whisky, best Japanese pure malt whisky, gold medal in San Francisco, rating of 91.3 in the Internation Whiskey Competition ...
This 12 Year Old Pure Malt is a blend of Japanese whisky and Scotch whisky aged in Bourbon barrels for at least 12 years. This aging brings the perfect balance to the whisky and the rich aromas of hazelnut and malt. This 12 year old Japanese whisky has a light finish: the spring water is filtered through the volcanic rock of the Tottori Omori volcano. In addition, it is not chill-filtered and does not contain caramel.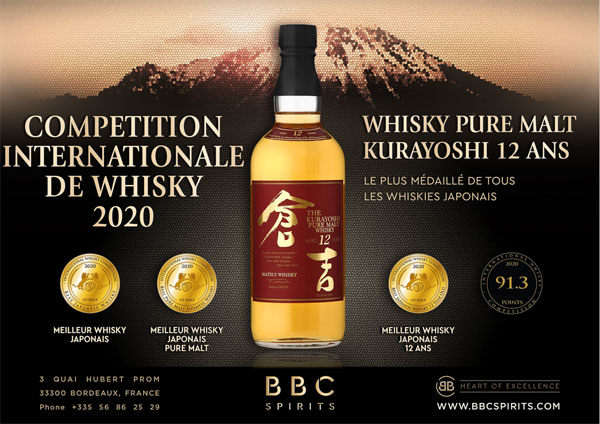 In recent months, whiskies from Matsui Shuzo's Kurayoshi Distillery continue to amaze the judges of various international competitions, and have won numerous awards, medals and honors, following rigorous blind testing.
While Matsui's whisky exploits may surprise some people, Matsui's company is not a newcomer to the world of distillation. It is the oldest registered trading company in Tottori Prefecture (Western Japan), and is primarily run by descendants of a family that was expert in sake from the 17th to the 19th century.
The Kurayoshi Distillery is part of the Matsui group led by Takeshi Matsui. It is located in Kurayoshi Town, Tottori Prefecture. The area is located in an agricultural area and fresh water is ubiquitous due to the heavy snow in the mountains. The proximity to the Sea of Japan brings a certain fragrance to the subtropical climate.
The qualities that characterize the whiskies from the Distillery come not only from the shape of the copper stills, but also from the environmental conditions of maturation.
Innovation does not scare the manager of the Distillery and continues to do everything to surprise people with whisky.
Share this content