Penicillin made in Islay: a peated cocktail reinvented
The penicillin cocktail is one of the great figures of the Modern Classics who brought about the revival of mixology in New York during the 2000s.
Just for you, Le Comptoir Irlandais reinvents this New York cocktail using whiskies from the island of Islay. This cocktail perfectly combines a peated whisky with a sweeter ans fruity whisky.
Ingredients:
- 1 slice of fresh ginger
- 4cl of Bunnahabhain Stiùireadair (lightly peated)
- 1cl de Coal Ila 12 ans (heavily peated)
- 1,5cl of honey syrup
- 2,5cl of lemon juice
- 1 slice of lemon
- Ice cubes
Steps:
Make this cocktail in a shaker.
1/ Crush the slice of fresh ginger in the bottom of the shaker using a pestle.
2/ Pour the scotch whisky, honey syrup and lemon juice.
3/ Add a few ice cubes and shake for about 10 seconds.
4/ Filter the mixture twice in an old fashioned glass filled with ice cubes.
5/ Decorate the glass by adding a slice of lemon.
6/ Finally, pour the peated whisky over the surface of the cocktail.
For more complexity and explosiveness, you can make this cocktail with Caol Ila 17 years Unpeated (non-peated whisky) and Lagavulin 8 years (peated whisky). This association offers you an extremely dense aromatic, powerful and complex cocktail. A real tasting experience just like a good whisky alone!
Discover other cocktails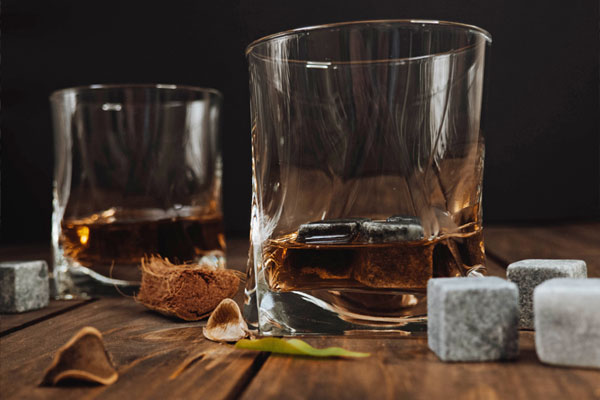 Article written by Manon C.
Share this content