Christmas herbal tea shortbreads
This winter, to accompany your tea or your hot chocolate, there is nothing like delicious biscuits that come straight out of the oven!
Shortbreads are the must-haves of the Christmas season. To stay in the festive spirit, give them a shape of Christmas tree or star using cookie cutters.
This recipe requires a rest time of at least 12h, provide the preparation the day before cooking.
Ingredients for 40 shortbreads:
- 225 g of almond powder
- 225 g of sugar
- Dammann Christmas herbal tea
- 2 egg whites
- 1 tablespoon of lemon juice
- Brown sugar
Steps:
1/ Beat the egg whites with a pinch of salt. Gradually add the powdered sugar while continuing to beat.
2/ Take a cup of these eggs in snow that will be used for icing.
3/ Powder the Christmas herbal tea into a mortar or coffee grinder, pass the powder through a fine sieve to remove the excessively thick pieces. Reduce until you get 20g of powder.
4/ Stir in the remaining snow with the almond powder, the powdered Christmas herbal tea and the lemon juice. Form a ball of dough.
5/ Cover your work plan with a thick layer of brown sugar. Flatten the dough keeping a height of about 5 mm.
6/ Cut out the tree-shaped dough using a cookie cutter (or any other shape as you wish). So that the cookie cutter does not stick to the dough, soak it regularly in cold water.
7/ Place the trees on a sheet of parchment paper placed on a baking sheet. Garnish a pastry bag with the reserved snow and glaze the shapes with this preparation. Allow to dry for at least 12 hours.
8/ Preheat the oven to 210 °C. Cook for at least 5 minutes and watch the cooking, the icing can quickly take on colour.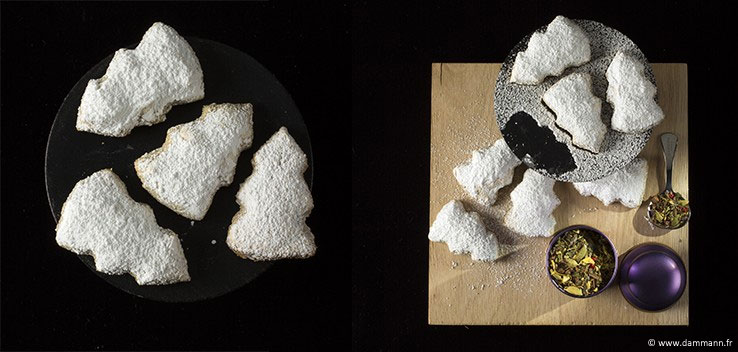 Share your photos of this recipe on Instagram with the hashtag #lecomptoirirlandais so we can share it!
Article written by Manon C.
Share this content