Three spring whiskies for the International Whisky Day
On the occasion of International Whisky Day on March 27, our whisky expert Quentin T. offers you a discovery of three whiskies.
It's spring ! All in quarantine ... but spring is here. Hooray! It's a great opportunity to explore the world of whisky.
Whisky, because of its complexity, diversity and aromatic power, follows a certain seasonality. Many of us do not taste the same malt beverages in winter and summer.
Winter is often the time to release the famous "Sherry Bombs" in Sherry barrels, heavy and spicy. The cold season also invites you to open the powerful peat and whiskies with a very oily texture!
In fine weather, we can explore more precise, fine, fruity and even floral whiskies. On the side of peat, I recommend things fresher, iodized or on associations between light peat and fruity influences.
And contrary to popular belief, there is no contradiction in wanting to taste raw barrels during the beautiful days. It is indeed rather in the textures and the aromatic palettes that we must sort.
For a successful tasting session during the spring, I invite you to discover my three favorites from our selection of exclusive whiskies.
Note that these 3 whiskies have been bottled non chill-filtered with their natural colour.
To discover with friends (maltster or not):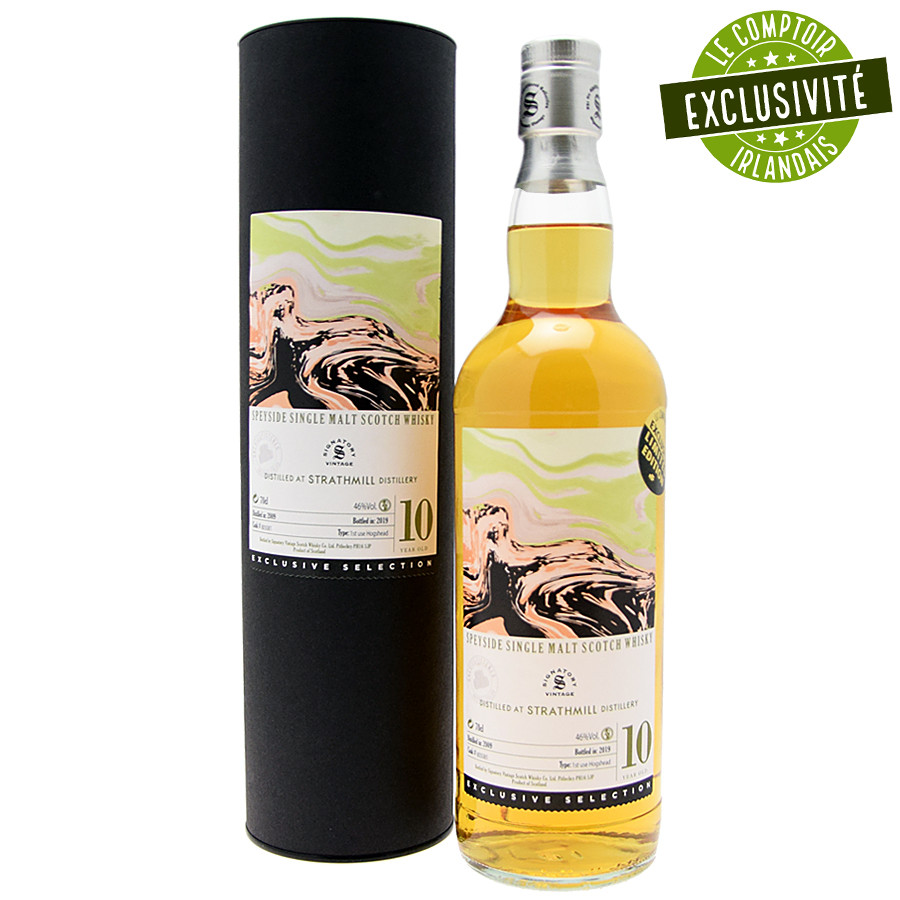 Strathmill 2009 10 years old 46%

This 10 years in bourbon casks selected by Le Comptoir Irlandais in the cellars of Signatory Vintages is ideal, the balance is perfect at this age and the fruitiness of the distillery comes out.
The nose is floral and on the apple pie, the palate is malty, fruity on citrus and on fresh vanilla notes reminiscent of grandmother's good custard, the finish is round and delicious.
Strathmill is a Speyside distillery which has two particularities:
- a very long fermentation process which develops superb fruity aromas
- a condensation system in worm tubes (serpentine copper pipe) which allows the creation of a distillate with an oily and silky texture.
The return of shore fishing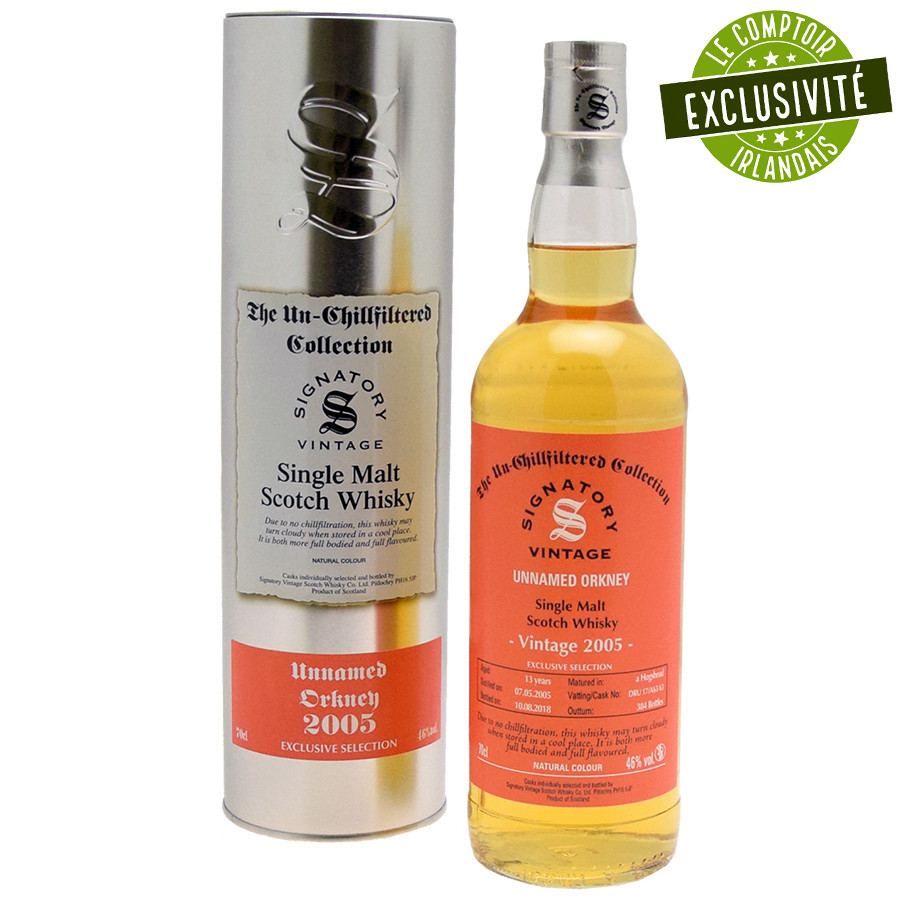 Unnamed Orkney 2005 13 years old 46%

This mystery whisky from Orkney is not going to remain mysterious for long. It is a Highland Park, selected at Signatory Vintages by Le Comptoir Irlandais. Like any self-respecting Highland Park, tradition is followed, barley is slightly peated at the distillery with peat from the Orkney Islands resulting from the decomposition of seaside plants ... A natural and rustic whisky which is an excellent alternative to very peated Islay whiskies.
The nose is floral and fresh on Bruyère honey, the mouth suggests a hint of smoke and more herbaceous, malty and iodized notes. Highland Park's maritime DNA is total here, but in finesse and balance. The finish is long, with a reminder of the light fresh and honeyed peat so typical of this distillery! A little wonder. An advice: allow it to air well before tasting (10 to 20 minutes).
The Spring style: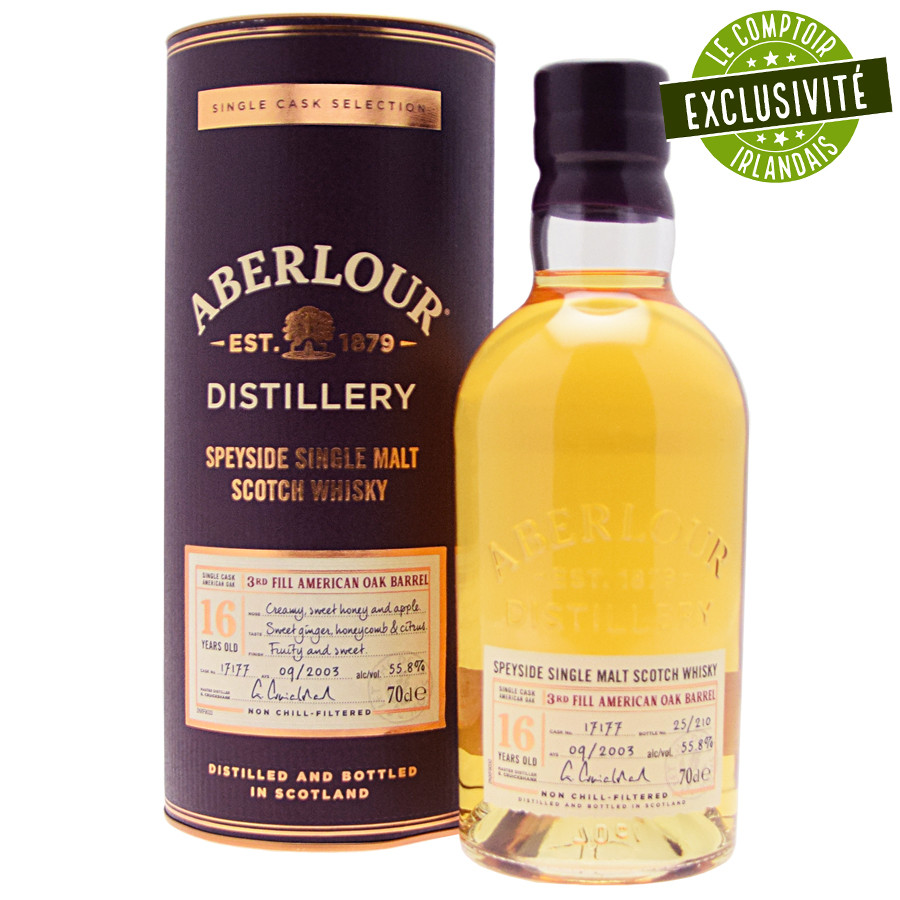 Aberlour 2003 16 years old 55.8%

Aberlour, a well-known and emblematic name! The local barley (less than 25 km around the distillery) and legendary expertise in the mastery of aging in Sherry and Bourbon barrels have made Aberlour an essential distillery.
This barrel, unique in the world, is one of the very few that Aberlour leaves exclusively! It is therefore with pride that Le Comptoir Irlandais selected it. We chose it, moreover, for very specific reasons:
This Aberlour has aged 16 years in a 3rd bourbon barrel. The whisky has thus reached a venerable age without the cask becoming too prominent. Even after 16 years, the barrel of 3rd filling (which has already given its strength on other whiskies before), lets here the distillate of Aberlour express itself fully and completely, in the most total finesse. A different approach where the barrel is not used to bring aromas, but comes to balance and underline a great distillate…
The nose is fine and slightly dry, straight and direct with notes of citrus, fresh mint and toast. The palate develops in a precise manner with aromas of citrus, herbaceous notes reminiscent of Tonic Water and spicy around fine peppery backfires. The finish is fresh and once again on this sensation of precision and finesse.
The overall balance is splendid, the 55.8% are superbly integrated and bring structure and intensity to the whole without any aggressiveness. The malted and floral distillate of Aberlour is expressed without a filter. A pure summer whisky, fresh, whose tone suggests youth ... paradoxically sublimated by more than 16 years in barrels! Timeless, old school and modern at the same time. A great whisky.
Share this content