12 best places to visit in Ireland
Looking for holiday destinations? Ireland is waiting for you! Find in this article 12 places not to be missed during your trip to the Emerald Isle... From emblematic towns to historic sites, to wild coastlines and sparkling lakes, you will be won over by Ireland and its postcard landscapes.
1. Dublin
Impossible to visit Ireland without going through its dynamic capital, Dublin! Don't miss the lively Temple Bar district: stroll through the pedestrian streets, enter its atypical shops and establishments (art galleries, thrift shops, museums, etc.) and enjoy a beer in one of the many pubs with an always festive atmosphere (it's the district of Dublin that has the most pubs per square mile!).
Beer lovers, do not hesitate to visit the Guinness Storehouse which will reveal all the secrets of its famous drink. You will be delighted by the many museums in the city such as the Natural History Museum, the Writers Museum, the Irish Emigration Museum, etc. Kilmainham Prison, like its Castle, will immerse you in the heart of Irish history.
Dublin is overflowing with magnificent buildings such as St Patrick's Cathedral, the largest church in Ireland, or Trinity College, this Victorian-style university whose superb library houses hundreds of thousands of works such as the famous Book of Kells.
But the best way to soak up the warm atmosphere of the capital is by strolling along its cobbled streets, stopping here and there in its shops and tea rooms, walking along the Liffey or lingering in its many parks. Welcome to Dublin!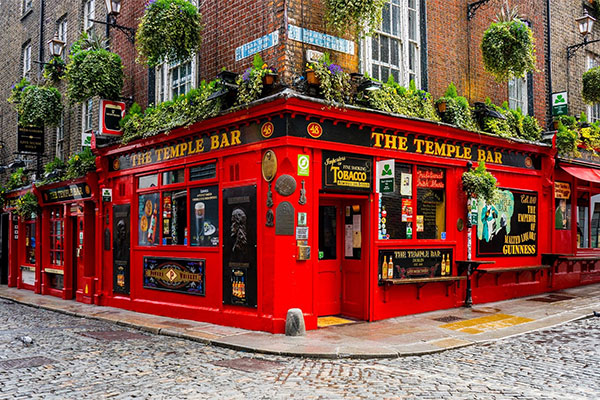 2. The Giant's Causeway
The Giant's Causeway is a site of singular beauty listed as a UNESCO World Heritage Site. Nestled on the northern coast of Ireland in County Antrim, it is made up of 40,000 hexagonal basalt columns of all sizes, tightly packed together and sometimes so regularly as to appear artificial. This paved causeway which starts at the foot of the cliffs and gradually sinks into the sea was born following a volcanic eruption. But the legend is quite different! It says that this causeway is in fact a passage created by an Irish giant who ardently wished to confront his Scottish enemy and who would have thrown stones into the Atlantic to reach him.
Whether you lean towards the scientific explanation or this legend amuses you, do not miss this natural curiosity that will delight even the least impressionable among you!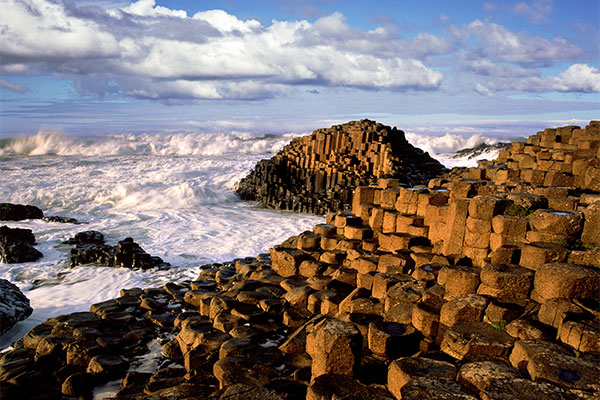 3. Belfast
Capital of Northern Ireland, Belfast's history has been marked by independence and religion wars. Today the city is in full industrial and commercial renaissance. You will find many museums there, including the Titanic Belfast Experience to learn all about this mythical liner that was born here, but also a castle, built on Cave Hill, from which you will have a breathtaking view of the city.
Stroll through St George's Market where crafts and food mingle, stop at a pub or café in the charming Cathedral Quarter, admire the superb Town Hall and the murals for which the capital is famous, or visit the fascinating prison of Crumlin Road... A city to discover on your way to or from the Giant's Causeway, which will definitely charm you if you open yourself to it...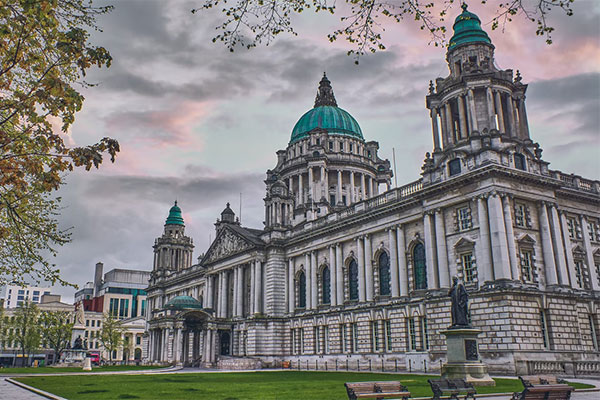 4. Connemara
Often sung in parties, the Connemara described by Michel Sardou is nothing like a legend: this enchanting region alternating between moors, forests, lakes and mountains, extends over more than 2000 hectares in the heart of County Galway. Hiking lovers, explore the many trails at your disposal to discover this little paradise where nature reigns supreme. By car, the vertiginous Sky Road will take you to the heights to best admire the wild and breathtaking landscapes of Connemara. Don't be surprised if you come across a few sheep!
Take the opportunity to go to Galway, a charming little town located not far from there, also recognized for its dynamism, its cultural richness and its friendliness. Many festivals and events are organized there every year, making it a festive and attractive city.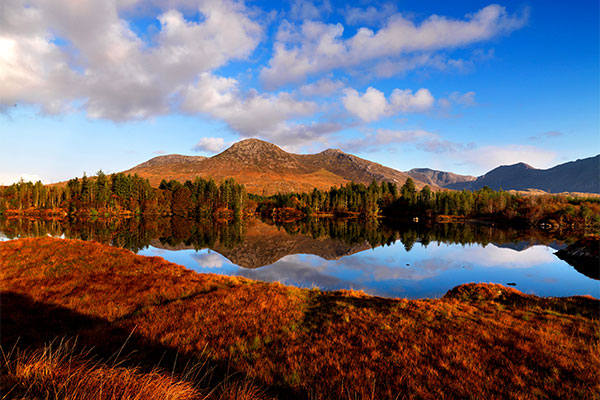 5. Aran islands
In Galway Bay, you will also find the Aran archipelago, three islands where peasants and fishermen bear on their faces the marks of the wind and spray that whip their land relentlessly, and in their hearts centuries of tradition. The few irreducible inhabitants of the Aran Islands are very attached to their culture and their Gaelic origins: on Aran, we do not greet each other by saying "hi", but "dia duit", which means "God with you" in Gaelic.
These islands, crisscrossed by many small stone walls once intended to grow a little green on these windswept lands, can be visited on foot or by bike to better fill youself with their wild beauty. The Aran Islands equally attract hikers, those thirsty for great outdoors, history lovers and ornithologists thanks to their sublime landscapes, their very special climate, their ancient remains and their colonies of birds. You will also find some shaggy sheep there, the origin of the traditional - and no less famous - Aran sweaters. The archipelago is accessible by boat or plane (only 8 minutes away!)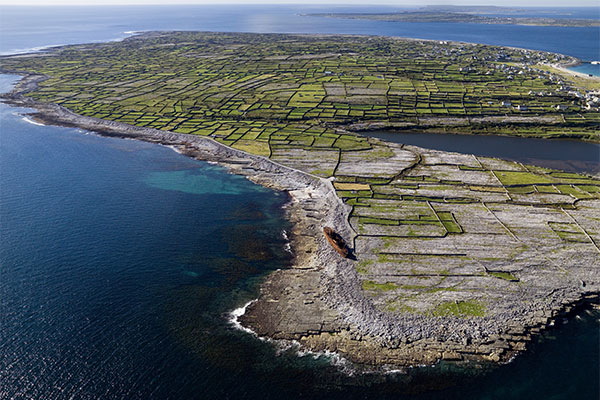 6. Cliffs of Moher
The Cliffs of Moher, cousins of the French cliffs of Étretat in a darker and more vertiginous version, extend over 8km and culminate at 214 meters high, an altitude which ranks them among the highest in Europe.
This natural wonder is found in County Clare south of Galway and has been rising above the Atlantic for over 300 million years. A jewel of grandeur and beauty, to be contemplated on a clear day from the coastal paths or from the sea, preferably at the very beginning or end of the day for the incredible light that they reflect.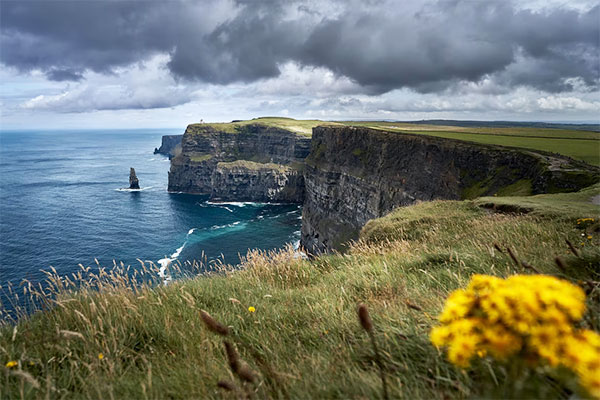 7. Burren
Less touristic than its Moher neighbours, the Burren remains a "must-see" of your trip to Ireland if you pass through County Clare. This desert region of more than 100km2 is covered with limestone and rocky pavement dotted with caves and fossils and where, surprisingly, the flora thrives - evidenced by the impressive variety of flowers that flourish there. You will find on this plateau formed several million years ago the Dolmen of Poulnabrone, some 5800 years old.
Don't miss these landscapes that you won't find anywhere else, whose lunar side would have inspired JR Tolkien for his "Lord of the Rings" trilogy. It is even said that the character of Gollum takes its name from a cave called "Pol na Gollum" (hole of Gollum). So, myth or reality? It's up to you to make up your own mind!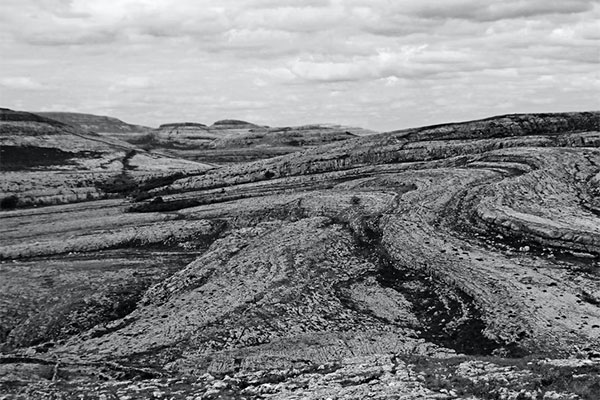 8. Ring of Kerry
If there's one road you have to take if you're visiting Ireland, it's definitely the Ring of Kerry. This route of more than 180 km will take you through landscapes as varied as they are impressive: wild coasts, small villages, ancient castles and green mountains, each turn will be a new treat to the eye. A route full of promise to discover on foot, by bike or by car!
During your trip, be sure to stop in the charming and colourful town of Killarney, from where you can set off to explore the magnificent Killarney National Park, the largest and oldest in Ireland. The opportunity to get a good dose of nature with the very rich fauna and flora: deer, birds and other various species share this territory with lakes, mountains, waterfalls, hills and forests. Do not miss the Muckross House and its gardens, the Gap of Dunloe (a bucolic valley), the Ladies' View for a superb panorama and the Ross Castle, a typically Irish castle dating from the Middle Ages.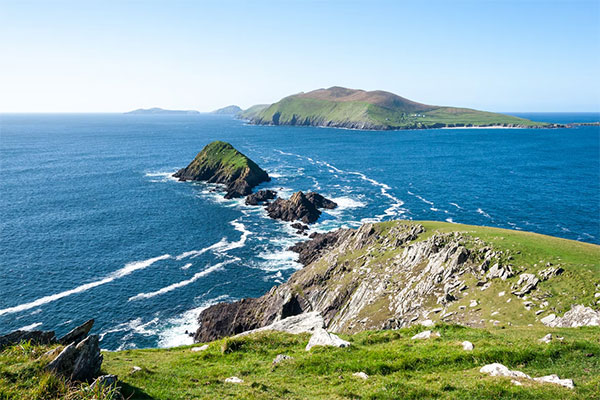 9. Skellig Michael
The island of Skellig Michael and its little sister Little Skellig outcrop in the Atlantic, off the coast of County Kerry. Remember to book the boat that will take you to Skellig Michael, this island where the main inhabitants are puffins, gulls and gannets. They have replaced the monks who took up residence there more than a millennium ago, braving the elements and the isolation in a place where solitude is forgotten in front of so much beauty.
Today, all that remains of their passage are the ruins of two small churches, some cells, as well as a few tombs and crosses. To reach them, you will have to climb the 600 steps leading up to them (and not be dizzy!) but once up there, the view and the feeling of plenitude that will invade you will be worth it! By the way, the island was even used as the setting for the last film of the Star Wars saga… Fans of the Force, it's time to put on your sneakers and come and walk in the footsteps of Luke Skywalker!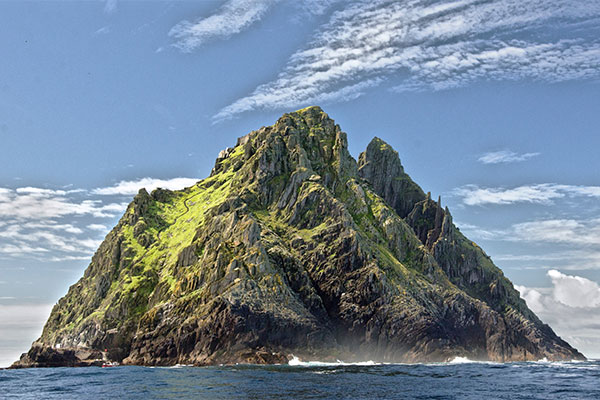 10. Dingle Peninsula
The Dingle Peninsula, another little gem on the Kerry coast, will charm you with its wild beauty. First, take a stroll through the small town of Dingle, with its bohemian and friendly atmosphere, where a host of shops, each more heterogeneous than the next, stand alongside welcoming pubs where Irish music is constantly played.
Then take the Slea Head Drive, this spectacular 47 km road which will make you discover the treasures of the peninsula: you will be blown away by its vertiginous mountains which sink into the sea, its green valleys and its small altitude lakes! Among the must-see places: the fascinating Coumenoole beach, the (very) high Conor Pass, the pretty Brandon bay or the Gallarus oratory, a mysterious stone hut reminiscent of those of Skellig Michael.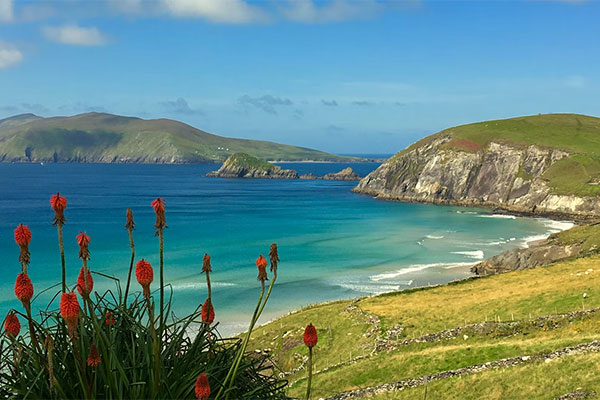 11. Cork
Far from the hustle and bustle of Dublin and Belfast, the city of Cork will be perfect for a cultural and pleasant getaway. Not to be missed: the Victorian district with its coloyrful houses for the delight of the eyes, the English market and its delicious local products for the delight of the taste buds, the pubs and their festive atmosphere for the pleasure of the ears... Shiver when entering Cork City Gaol prison, visit the city's many trendy museums and art galleries, admire its cathedrals steeped in history...
If you want to get away from the centre, there are some great options: the small town of Cobh which will charm you with its picturesque houses and its pretty port (where the Titanic made its last stopover!) or even Kinsale, charming fishing village whose multicoloured houses are a work of art. For the bravest, climb Charles Fort, a medieval fort from where you will have a splendid view of the village and the bay.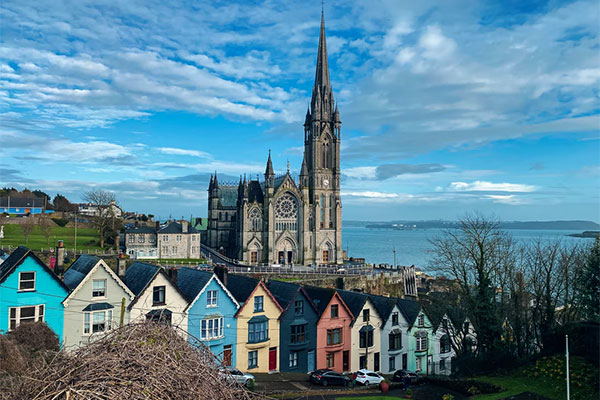 12. Rock of Cashel
The Rock of Cashel, an obligatory stop when visiting Ireland, is a historic site made up of a set of medieval buildings and remains dating from the 4th century. This formidable complex, which each year attracts thousands of visitors eager to discover these silent witnesses of several centuries of history, stands 60m high on a rocky outcrop overlooking the green pastures of County Tipperary.
This site steeped in history has seen the greatest kings (including King Aengus, baptized here by the famous St Patrick) before welcoming sedentary monks and ecclesiastics from all over Europe: the various vestiges of the site (cathedral, chapel, abbey, etc.) relate mainly to this religious heritage. The buildings are exceptional: the chapel of Cormac in particular houses the only Romanesque frescoes in Ireland. Gradually abandoned, the Rock of Cashel now belongs to the Irish State and has not finished telling its centuries of history to anyone who will listen.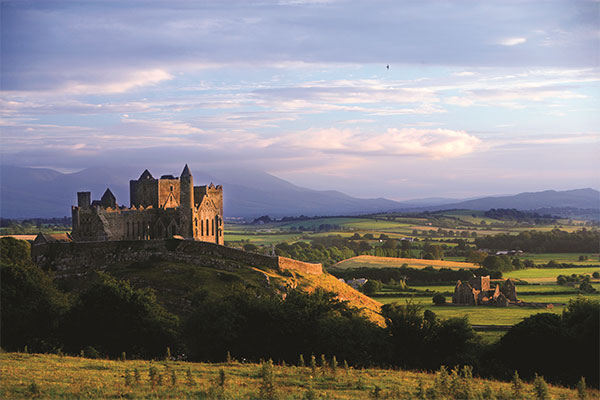 If these destinations do not make you want to discover our dear Emerald Isle, then we are no longer called Le Comptoir Irlandais!
And if you are not lucky enough to be able to get there, visit our shops for a piece of Ireland a few steps from your home...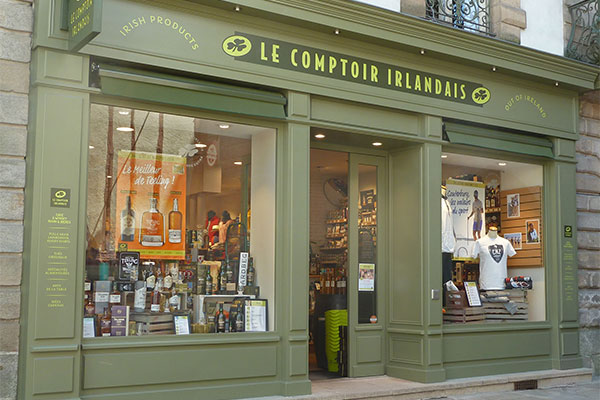 Article written by Camille L.
Share this content