5 gourmet recipes for the St. Patrick's Day
On the occasion of Saint-Patrick's Day, March 17, we present you 5 recipe ideas of Irish specialties perfect to make at home.
Soda Bread
Soda bread is a very popular bread in Ireland! It is a blend of baking soda and the acidity of buttermilk (ribot milk) that gives it its bubbles and that little nutty taste.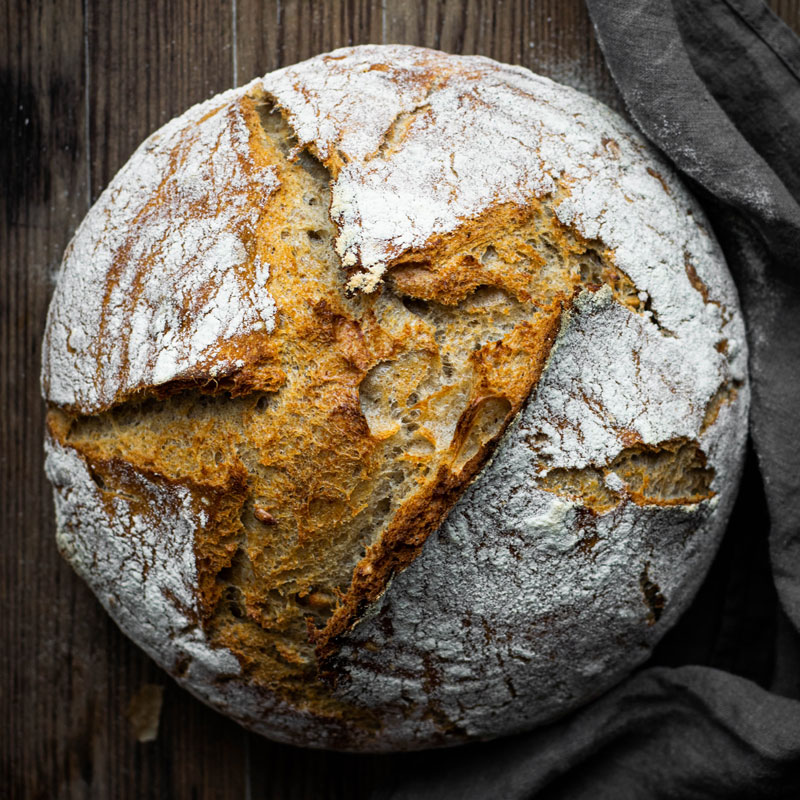 Ingredients:
- 250 g of wholemeal flour
- 220 g of white flour
- 1 teaspoon of salt
- 1 teaspoon of baking soda
- 2 teaspoons of yeast
- 280 ml of buttermilk (fermented milk, ribot milk ...)
- 1 egg
Steps:
1/ Preheat the oven to 190°C.
2/ Sift together flour, salt, baking soda and yeast. Add buttermilk and beaten egg to the mixture.
3/ On a floured work surface, knead the dough until it becomes smooth. Form a round ball and place the dough on a baking sheet. Draw a cross on the top of the bread, then bake for 35-40 minutes.
4/ Serve slightly hot with butter.
Irish Stew
Irish Stew or Stobhach Gaelach in Irish is an Irish specialty made from lamb meat, served with potatoes, onions and carrots. This Irish Stew is the traditional national dish eaten on St. Patrick's Day.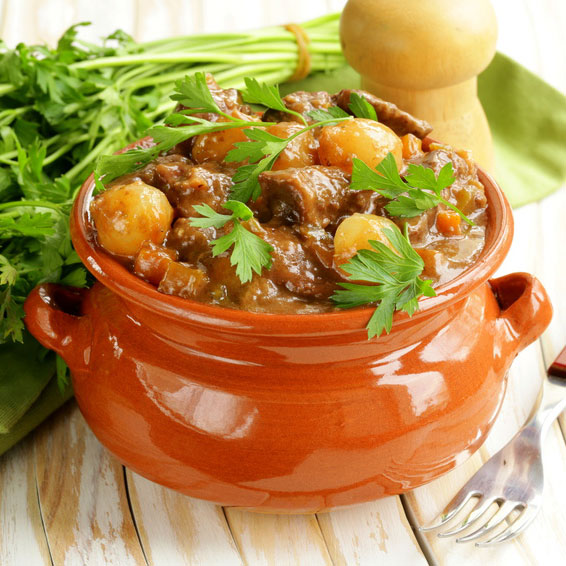 Ingredients for 4 people:
- 1 kg lamb stir-fry cut into pieces
- 3 carrots
- 5 to 6 onions
- 2 kg of potatoes
- 1 veal stock
- thyme
- salt, pepper
Steps:
1/ Preheat the oven to 180°C.
2/ Peel the potatoes, carrots and onions.
3/ Cut the potatoes into thin slices with a mandolin. Cut the carrots into slices. Finely mince the onions.
4/ Put a first layer of potatoes in the bottom of a dish, with carrots and onions then add pieces of lamb on top, salt and pepper and add thyme. Add the potatoes, carrots, onions and lamb, season with salt and pepper and add thyme. Finish with a last layer of potatoes.
5/ Cover everything with water.
6/ Bake for 2h15.
Fruit Spread Tarts
To stay in the Irish tradition, discover the Folláin No Sugar Added Fruit Spread Tarts. Since 1983 the Irish company has been producing quality jams, fruit preparations and marmalades, based on traditional Irish recipes handed down from generation to generation.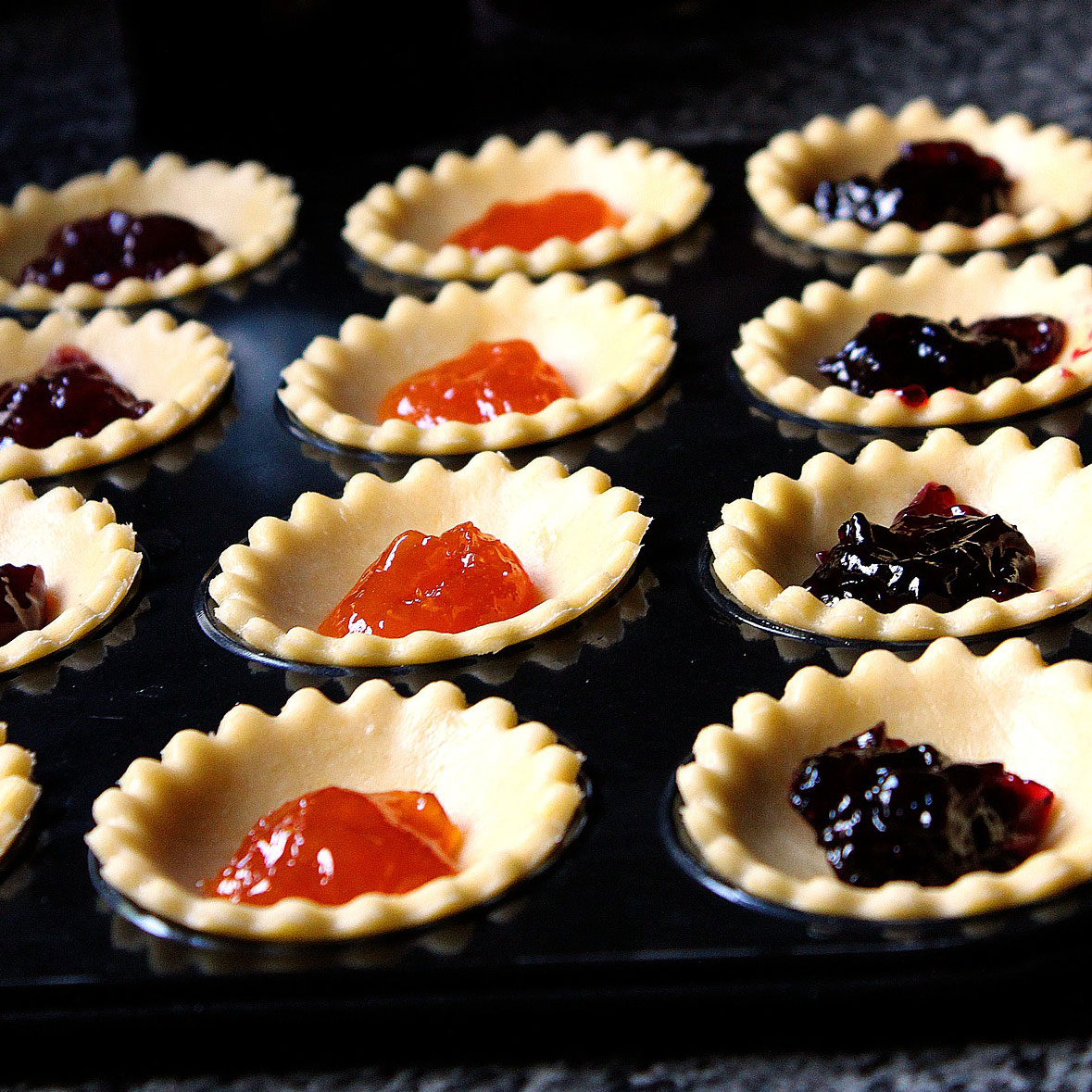 Ingredients for 12 parts:
- 400 g of flour
- 200 g of soft butter
- A tablespoon of cold water
- 250 g of Folláin spread with no added sugar of your choice: apricot, blackcurrant, blueberry raspberry, 3 fruits, orange, mango passion.
Steps:
1/ In a salad bowl, whisk the butter with the tablespoon of water and a little flour. Mix with a fork until you get a paste. Slowly add the rest of the flour until you get a nice dough.
2/ Wrap in plastic film and place in the refrigerator to cool for about an hour.
3/ Preheat your oven to 200°C.
4/ Spread the dough on a lightly floured surface.
5/ With a round cookie cutter, cut circles in the dough. Place the circles of dough in small tart dishes. Put a teaspoon of Folláin spread in each tart.
6/ Bake for about 15 or 20 minutes or until the dough is crisp and golden and the jam is bubbling inside.
Pistachio biscuits
St. Patrick's Day celebrates Ireland, its values and its colours. It is therefore essential to add a touch of green to our recipes! Discover a delicious recipe for pistachio biscuits. For the icing, choose the colour of your choice, for us it will undoubtedly be green!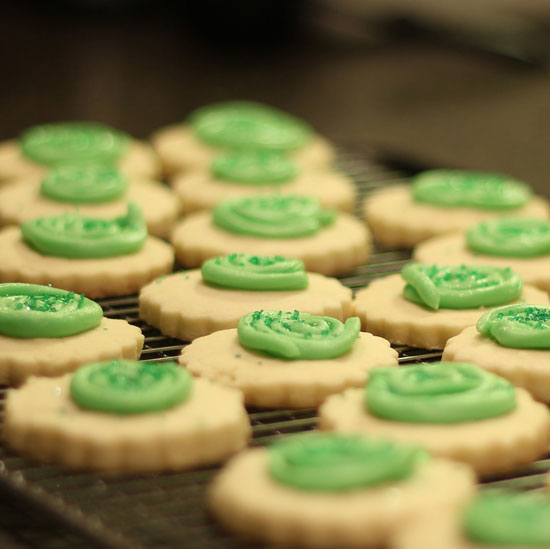 Ingredients for 20 parts:
- 100g of flour
- 80 g of almond puree
- 2 eggs
- 100 g of unsweetened powdered pistachios
- 90 g of sugar
- 125 g of icing sugar
- 1 pinch of salt
- 1 tablespoon of lemon juice or hot water
- Food colouring (to make green: 5 drops of yellow and 3 drops of blue)
Steps:
1/ Combine sugar, flour, pistachio powder, a pinch of salt and almond puree. Mix with your fingers to make a sandy dough.
2/ Add a whole egg, beaten into an omelet. Mix until you get a homogenous paste.
3/ Reserve the dough for 1h30 in the refrigerator.
4/ Spread the dough out on a lightly floured work surface, placing a stretch film between it and the roller. Roll out the dough to obtain a thickness of about 5mm. Using cookie cutters, shape the patties and place them on a baking sheet lined with parchment paper. Form a ball with the leftover dough and form other patties.
5/ Brown the biscuits with an egg yolk dissolved in a tablespoon of water.
6/ Bake for 10 to 15 minutes at 180°C, carefully monitoring the colouring.
7/ Let cool before decorating.
8/ For the icing, mix with a fork the egg white with the lemon (or water) and icing sugar. Add food colouring to get the green colour.
9/ Spread the icing gently with a teaspoon.
10/ Leave to stand at room temperature.
Chocolate and salted caramel muffins
Lily O'Brien's is an iconic Irish chocolate brand! Made from chocolate with salted caramel pieces, these chocolate muffins add a savoury touch to your St. Patrick's Day recipes.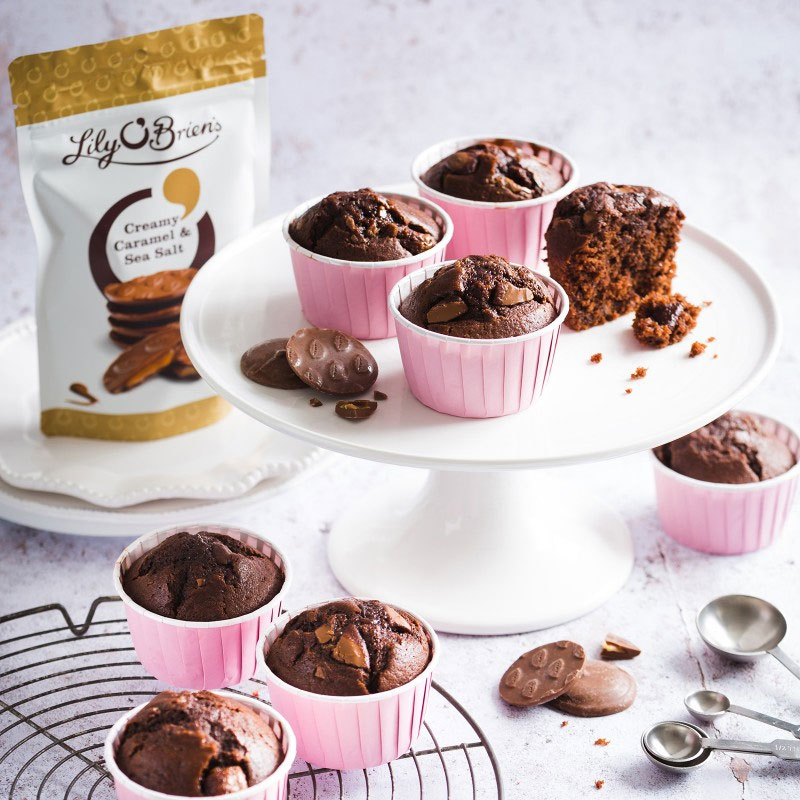 Ingredients for 12 parts:
- 250g of flour
- 1/2 teaspoon of salt
- 2 teaspoons of yeast
- 50g of cocoa powder
- 100g of caster sugar
- 60g of brown sugar
- 2 large eggs
- 185 ml of whole milk
- 100 ml of vegetable oil
- 1 tablespoon of vanilla extract
- 170 g of Milk Chocolate and Caramel Pieces Lily O'Brien's
Steps:
1/ Heat the oven to 180°C. Line a 12-hole pan with paper crates or use muffin tins.
2/ Mix the flour, salt, baking powder, cocoa and sugars in a large bowl then make a well in the center.
3/ Beat the eggs and milk in a large bowl, then pour the milk mixture into the well with the oil and vanilla. Whisk everything together until you obtain a smooth and well mixed dough.
4/ Roughly chop the chocolate and add most of it to the mixture.
5/ Divide the mixture between the cupcake molds and garnish each with a few of the remaining chopped chocolate pieces.
6/ Bake on rack halfway up of the oven for 20 minutes or until the dough is lifted and elastic. Let cool on rack.
Article written by Manon C.
Share this content