Interview with Daniel Healy, Trade Marketer at Aran Woollen Mills
Aran Woollen Mills, a famous company based in the west of Ireland, has been designing and manufacturing the iconic Aran sweaters for generations. Daniel Healy, Trade Marketer, gives you the secrets of these traditional sweaters sold all over the world and which have made the reputation of the brand for years.
Could you tell us about you and your work?
My role as a trade marketer involves working closely with our trade customers in promoting the Aran Woollen Mills brand and most importantly our unique Aran Woollen Mills knitwear internationally. I work with both established and new customers who each have their own unique stores, ideas, and objectives, it is both exciting and challenging. Our trade customers are located all around the world which highlights the draw and allure of Aran Knitwear and what each knitted piece symbolises – a piece of Irish history.
How would you describe the Aran Woollen Mills brand?
We are a family business, a design-led heritage brand manufacturing the finest Aran Knitwear in Ireland. Our purpose has always been to bring the natural beauty, warmth, and unique style of Aran Knitwear to those who value craftsmanship, authenticity, and sustainability. For these reasons we exclusively only use natural wool yarns.
Our history and roots are firmly based in the West of Ireland. Aran Woollen Mills was founded on and continues to have a presence on The Aran Islands - three small islands off the west coast of Ireland, and the home of Aran Knitwear. Our location is the town of Westport, County Mayo on the Atlantic Coast, with the famous Croagh Patrick mountain overlooking our beautiful town.
We are a textiles company thriving, designing, and manufacturing Aran knitwear in Ireland. We believe in local employment, it has always been to the forefront in our business and our expansion to three manufacturing facilities in County Mayo is testament to this, allowing us to continuously grow and expand our community and support and grow skilled local jobs.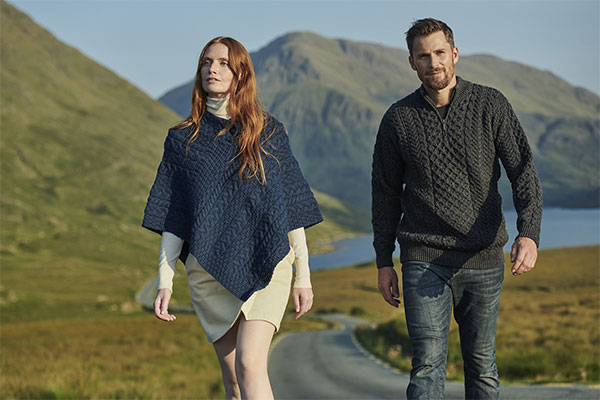 What are the values that you look to convey within the brand?
We have always been an authentic Irish brand. Tradition and heritage drive us while we now embrace contemporary ideas and practices in our design and manufacturing. With these advancements we look to enhance and grow our collections and provide customers with both traditional and contemporary Aran knits that fit within our customers stores.
"There is a story behind every stitch" – our mantra conveys the unique feeling associated with Aran Woollen Mills and our unique knitwear. For example, the cable stitch symbolises the fisherman's rope, wishing safety and good luck. The diamond stitch represents success and wealth.
We champion the unique skill and craftsmanship of our local workforce and it is the long-serving members within the business and their care and attention in how we produce our knitwear that sets us apart. This dedication is summed up best by the fact that each knitted piece passes through countless pairs of hands to achieve the finest finish.
The environmental aspect is becoming more and more important in our society, what place does it occupy within your brand and in your products?
We have always chosen natural materials in our products. All our wool is 100% natural and biodegradable. The same emphasis towards promoting sustainability can be seen across our supply and distribution where we use trusted, responsible suppliers for sourcing our wool and our eco-friendly packaging has become paramount in our operations in order to minimise waste.
The durability of our knitwear is testament to the superior natural fibres, with garments lasting for many years and some lifetimes. This long-lasting capability along with other key natural fibre benefits including being odour-resistant, insulating, and water-resistant ensure our knitwear is truly environmentally-friendly.
What's the process of creating an Aran sweater?
Each piece in the collection is carefully designed here at our Westport office in the design department. Everything from yarn colour and labels to silhouette and stitches is explored and studied in the design of each garment. The product is knitted here in the West of Ireland by our skilled craftspeople. When finishes are complete, the garment is labelled and steam pressed. Finally, each piece is checked by our team at final examination. Every Aran Woollen Mills garment goes through this unique journey, which shows the care and attention we pride ourselves on in creating our Aran Sweaters.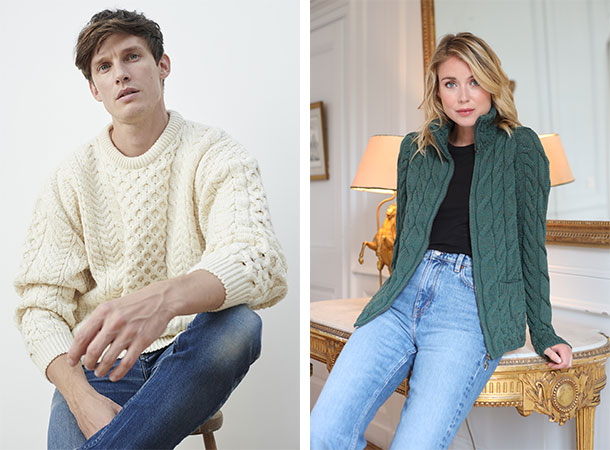 Where does the wool you use in your sweaters come from? Is it harmless for the sheep?
Animal welfare is paramount to our business – it underpins everything we stand for. Our most popular soft merino wool comes from South America and Europe, where the merino sheep originate from Spain. We source our wool from yarn suppliers who work closely with small, family sheep farmers. Every single animal is very important to the farmers' livelihood, so the sheep are particularly well cared for. These farms tend to be passed down through generations and most importantly the sheep are non mulesed.
What are your recommendations for maintaining an Aran sweater and making it last as long as possible?
Above all else it is vital that Aran sweaters are handwashed. A mild detergent with clean, lukewarm water is the best approach when handwashing. Re-shape the sweater gently when it is wet and lay out flat on a towel when drying – it is important to allow time for the sweater to dry naturally. When not wearing your Aran sweater for a prolonged period it is best to fold it and not hang – we don't want to stretch wool sweaters. To remove piling which can happen with wool sweaters you can gently use a comb to remove those pills or a fabric shaver for best results.
What does the business aspire to in the future? What are your projects?
We as a business will continue to use our design-led approach to meet modern demands with our wide array of styles, patterns and colours designed to meet the increasingly broad range of tastes and consumer preferences in many markets worldwide. Our Aran core will never desert us but we will continue to develop new collections and innovate with new yarns to meet different customer demands.
With sustainability in mind Aran Woollen Mills products stand out as consumers can wear our pieces more and wash them less which in today's world is becoming more of a priority for consumers with waste, the environment and fast/slow fashion being so topical. We will continue to champion our slow-fashion, premium Irish heritage products well into the future.
Discover our Aran Woollen Mills collection
Article written by Camille L.
Share this content