Interview with Emmanuel Jumeau-Lafond, Tea manager at Dammann Frères
Dammann Frères, a French house recognized for its exceptional teas, was born in 1925 with the brothers Robert and Pierre Dammann. Since the arrival of Jean Jumeau-Lafond in the company in 1949, passion and know-how have been transmitted from generation to generation. Today, it is Emmanuel Jumeau-Lafond, Jean's grandson, who tells us all the secrets of the Tea Blender job and Dammann teas.
Can you introduce yourself and tell us about your work? What is the job of tea blender?
I am Emmanuel Jumeau-Lafond, 3rd generation of the family. I learned the tea trade with my father; there is no longer a university or tea school, so it is a matter of transfer, of transmission. I really started my adventure with Dammann in 1996, just after the army, during summer internships with the business school, in France or in England. I learned everything with my father who has educated my palate through daily tastings for about 10 years, so that I then started to buy myself.
It is then necessary to go through two fundamentals: the purchase and the blend. I buy the teas according to our needs (mainly in South-East Asia), and I also make blends, a bit like for coffee or wine. I therefore assemble different batches according to the mixtures needed for production here in Dreux, sometimes from the same region or the same country, sometimes from different countries, in order to have an aromatic consistency, so that the customers, when they buy Darjeeling or Ceylon, have the impression of always having the same tea throughout the year. It was therefore my father who transmitted this second aspect of the work to me throughout my apprenticeship. He himself had learned it from his father, Jean Jumeau-Lafond, the person who met the Dammann brothers just after the Second World War and learned the tea trade with them before buying the company.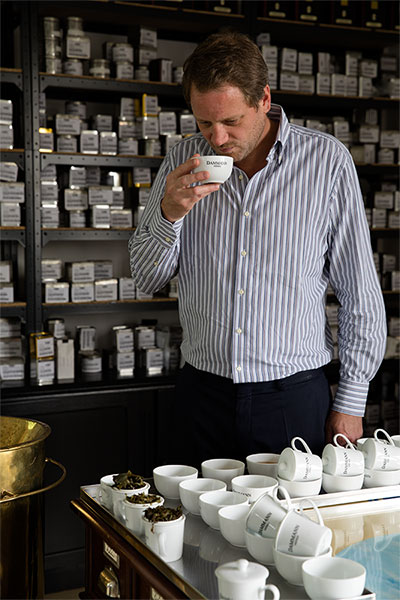 Emmanuel Jumeau-Lafond
Photo credit: Damman Frères
What sets Dammann apart from other tea houses?
Even if we have been governed by many rules for a few years (the Dammann company has had IFS certification since 2012), we still have this contact with the country, with the product and with the producers. This culture is completely different. What also differentiates Dammann is the fact that we offer something of much higher quality than what can be found on the market, with also a story behind it. When my grandfather bought the company, the first big brands were starting to open their stores and sell tea in paper bags. At the time, my grandfather decided to stand out by selling loose tea. Today, everything that is offered in supermarkets is in a CTC paper bag, it is a powdered tea that is used in the manufacturing process whereas we are on Orthodox, and that is this qualitative side that differentiates us from other companies.
And it was also you who started to market the Cristal sachets, right?
We owe the invention of Cristal sachets to my uncle, Didier Jumeau-Lafond. At a tea fair in Japan, he met a teacher who, conversely, was trying to get the Japanese to drink coffee in a rather innovative way, by putting coffee beans in a nylon veil. So my uncle wanted to apply this process to tea and as early as 1990, we started importing the first machines, and since then we only have been offering these Cristal corn starch sachets. We were the first to import it into the global sachet and to demonstrate that it was possible to find the quality of a loose tea with the practicality of a sachet. You can see the product through, the infusion is better and this allows the aromas to be fully released.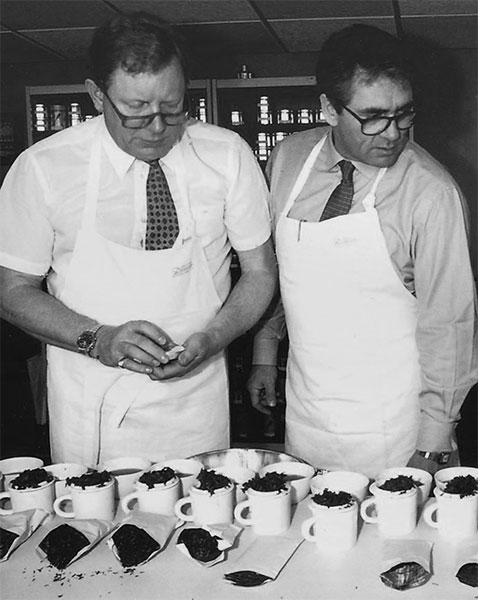 Jacques and Didier Jumeau-Lafond
Photo credit: Damman Frères
How is a Dammann tea born? What is the process from creation to sale?
Everything goes internally through a development committee, depending on marketing, management and our flavoured tea developer, Tiphaine Boucleinville-Cardona, who succeeded Aline Guglielmino-Taillefer, who retired after 20 years of good and loyal service. So there is a review that is done: we meet in about twenty to discuss what we would like to try to develop, then we see what is feasible or not depending on the flavours and the teas.
Then, development is done internally with our tasting and development committee, and depending on what the flavourist has as prerequisites, she will make the first blends of flavours and teas. Indeed, an aroma will not react the same depending on the tea base on which it is put, which explains why some teas in our catalogue require a tea base from China, India or Africa, depending on the aroma associated with it. The flavourist will therefore carry out tests and blends in her laboratory, then the tasting committee will meet to taste and discuss.
The flavourist will then validate, modify or refuse this or that proposal. We can end up with teas that have had 30 or 40 versions before the final blend is validated by everyone! You should know that at Dammann, we absolutely want to find a balance between tea and aromas, we do not want to offer only aromas in hot water.
Once the proposal has been validated, the tea or infusion is launched in the catalogue and if the product sells well, we duplicate it in a bag, in a tin or in a box, depending on the echo there is with consumers.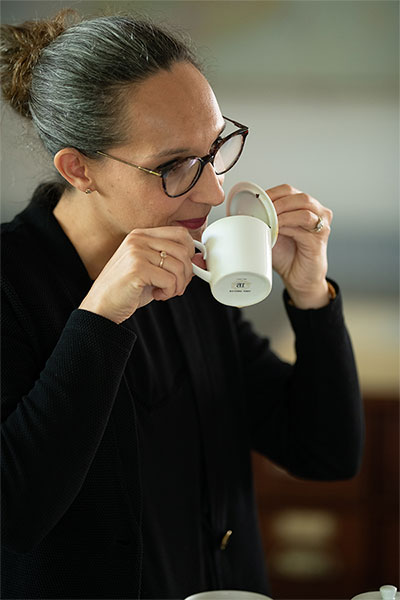 Tiphaine Boucleinville-Cardona
Photo credit: Damman Frères
If you had to choose a Dammann tea, which one would it be?
This is a very subjective question! It all depends on the period, in the morning I prefer classic teas that I drink with milk: with very strong teas, it's very pleasant to add a little milk. I particularly like classic teas, like Darjeeling, and in the middle or late afternoon, I like to make myself a flavoured tea or herbal tea. I remain a big fan of Christmas Tea which was created by my father or of Christmas Herbal Tea which I appreciate enormously.
I am quite open, every day, I taste the teas in the catalogue with my colleagues, this allows us to discuss them afterwards, by varying classic and flavoured teas, so that the palate does not get used to a single aroma. It also allows you to discover things that you would not have tasted on your own.
What tea would you recommend to a neophyte? And to a connoisseur?
It all depends on his initial approach: for example, if she or he is a person who wants to stop drinking coffee to switch to tea, we can offer them strong teas that they can drink without milk so that it finds the "kick" that one can have with coffee. Afterwards, we see it a lot these days, people who take up tea always start with flavoured tea because they know the aromas that make it up. If I offer you a vanilla, caramel or red fruit tea, you know what I'm talking about. This makes it possible to bring people to take a step towards the middle of Dammann teas and gradually, if the person hangs on, we can make them discover the whole universe, make them taste the bases of tea and finally train them by tasting. In short, it all depends on the consumer's approach.
In any case, for neophytes, we will generally start with flavoured teas while remaining on the great classics: citrus fruits, orchard fruits, red or black fruits... It is important to "educate" the consumer who ultimately starts from zero. You should know that the French consume an average of 200g of tea per year and per inhabitant compared to 3kg for the English!
As for connoisseurs, they will inevitably be directed towards unflavoured teas, whether classic or grand crus. It is important to take the time to understand what the person appreciates, whether in terms of tea but also oenology (because there are plenty of parallels between the two), in order ultimately to bring the consumers to give themselves the answer. It is important to remember that what the connoisseur is looking for is above all to understand the base, to feel the aromas of the tea.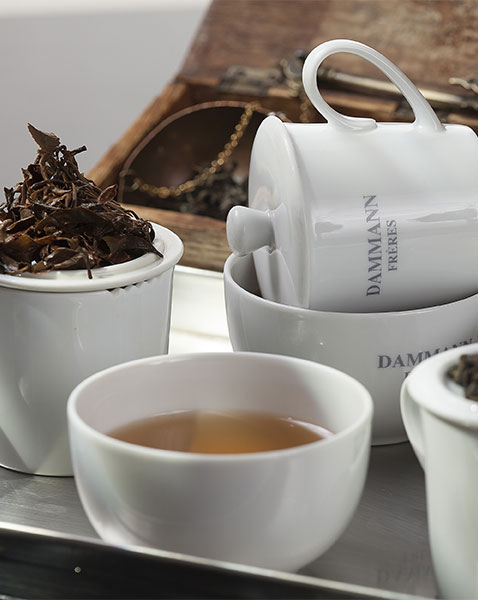 Article written by Camille L.
Share this content