Paddington, the favourite English bear celebrates its 60th anniversary
The adorable little Peruvian bear recently arrived in London was imagined by Michael Bond, icon of children's literature, in 1958, in England. Paddington is celebrating its 60th birthday this year. On this occasion, a "digital treasure hunt" will be launched from 18th October until 26th October in Europe: France, United Kingdom and Germany.

This event will be relayed on the Paddington.com website as well as on our website and social networks.
Paddington, an institution.
In Great Britain, Paddington, one of the favourite children's character, is much more than a bear, it is an institution. The author, Michael Bond has released thirty books sold to 35 million copies and translated around the world. His adaptation to the cinema was successful thanks to the support of David Heyman, producer of the whole Harry Potter saga and Paul Kings, the director, who knew how to transfer the masterpiece and make it a successfull burlesque family comedy. The first Paddington film was released in December 2014 and Paddington 2 was on the screens in December 2017.
Paddington's history:
Paddington was inspired by a teddy bear that the author had given to his wife on Christmas Eve in 1956.
The Peruvian teddy bear arrives in London with the prospect of a better life. Upon arrival, he wears a duffle-coat and a label around his neck on which is written "Please, look after this bear. Thank you." ... what Mary Brown decides to do to the damn of her husband. There follows a series of incredible adventures. We discover then the magic and humorous side of Paddington stories. From the first day, the bath turns into flood. Throughout the story, we take a liking to this adorable bear clumsy fan of marmalade. The Brown family admits that their lives are much livelier since Paddington's arrival despite the disasters!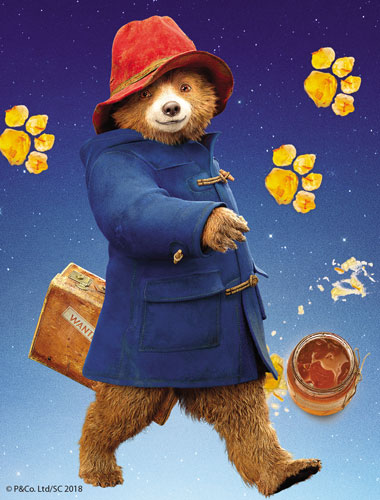 Commemoration of the disappearance of Michael Bond and celebration of the 60th anniversary of Paddington.
Paddington, this likeable character has become an orphan since 27th June 2017, the date of his creator's death. He was writing a new adventure of the teddy bear visiting St Paul's Cathedral in London. Moreover, a tribute will be paid to him in this monument on 14th November 2018. The stories of the British mascot allow us to discover the emblematic places of the English capital. Also, Harper Collins, the publishing house of Mr.Bond, published his latest book in June 2018, one year after the death of the author as a tribute and also to celebrate the 60th anniversary of Paddington.
For those who do not know Paddington yet, this is the opportunity to discover him. It has not taken a wrinkle and still amuses both young and old readers!

Share this content