Recipes and gift selection for Easter
Discover different recipe and gift ideas to enjoy the Easter day.
This year, Easter is on Sunday, April 21st and it is the opportunity to taste the eggs of the brand Cadbury, famous throughout Great Britain and Ireland and to know a little more about this holiday.
Easter story in Ireland
Even before the arrival of Christianity in Ireland, the month of April marked the beginning of spring and the renewal of nature: the moment when the land becomes fertile again, hens lay again and animals like lambs, see the day.
Easter is obviously the celebration of Christ's resurrection for Christians all over the world.
In Ireland, on Easter Sunday, new clothes are worn and some wear a small cross in green, yellow and white ribbon (symbol of purity and new life).
Many go to church and families gather for a festive meal.
Traditionally, Catholics do not eat meat or sweets during Lent (40 days before Easter), so Sunday is the day to eat everything again.
In the past, chocolate eggs were distributed to children at the end of the meal but this tradition was replaced by egg hunt in homes and gardens in the morning.
As in France, children everywhere are looking for treats hidden by parents!
Easter Monday, April 24, 1916 marks the uprising of the Irish Citizen Army and the Irish Volunteer Force against English hegemony.
The rebels march through O'Connell Street in Dublin, occupy the Central Post Office and radio the proclamation of the Republic of Ireland.
The next day, the British Army counter-attacks and ensues six days of heavy fighting that results in the imprisonment or death of the insurgents.
This revolt is a failure for the Irish but it is also the prelude of the organized nationalist movement and the claim of independence.
This symbolic Monday was the first step towards the Republic of Ireland.
Gourmet recipes for Easter
1. Hot Cross Buns
Ingredients:
- 24 g of fresh baker's yeast, 1 sachet of 8 g dehydrated baker's yeast

- 100 g of powdered sugar

- 35 cl of hot milk

- 450 g flour

- 1 pinch of salt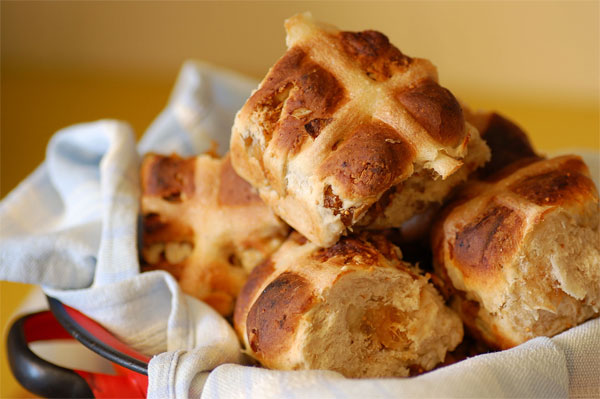 - 2 teaspoons ground cinnamon

- 1 teaspoon of ginger
- 50 g of soft butter
- 1 egg
- 200 g raisins
- orange or lemon zest
Ingredients for cross:
- 2 tablespoons of water
- 2 tablespoons of flour
Ingredients for frosting:
- 50 g of sugar
- 3 cl of water
- 1 sheet of food gelatin
Steps:
1/ Dissolve yeast with 2 teaspoons of sugar and warm milk, then let rise 10 minutes.

2/ In a bowl, mix the flour and butter with your fingertips, until you obtain a crumbled mixture.
Add spices (cinnamon, ginger), remaining sugar, raisins and egg.
Mix well.
Make a hole in the center and slowly add the milk and yeast mixture.
3/ Knead the dough by hand, on a floured surface, for several minutes or by the robot, in order to obtain an elastic paste that no longer sticks to the fingers.
4/ In a warm place, let the dough rise (in a lightly oiled salad bowl and covered with a clean cloth) for at least 1 hour or until it has doubled in size.
5/ Divide the dough into 12 balls.
Place them in a rectangular baking dish, or a baking sheet lined with parchment paper.
6/ Do not squeeze the balls of pasta against each other, space them a little because they are still inflated to stick themselves to each other.
Let rise, covering with a clean cloth, in a warm place for another 30 minutes.
(The balls must then stand to each other).
7/ Preheat your oven to 200°C.
8/ In a bowl, mix the flour and water to obtain a smooth dough (add a little flour if it is too liquid).
Using a piping bag, draw a cross on each ball.
9/ Bake 35 minutes, watching the end of cooking.
10/ Brush with frosting.
To do this, stir over very low heat and stirring the sugar and the water.
When the sugar is well melted and this syrup is transparent, add a sheet of gelatin food that you will soak for 5 to 10 minutes in cold water.
11/ Mix well and let cool for two minutes.
Using a brush, brush this topping on hot buns.
12/ Serve hot.
2. Brownies with melting Cadbury eggs

Ingredients for brownies:
- 85 g of flour
- 2 tablespoons of Cadbury cocoa powder
- 170 g of Cadbury Milk Chocolate
- 2 eggs
- 140 g of sugar
- 1 teaspoon of vanilla extract
Ingredients for creme filling:
- 85 g of golden syrup

- 25 g of butter

- ½ teaspoon of vanilla extract

Ingredients for chocolate filling:
- 100 g of milk chocolate
- 50g of butter

Steps:
1/ Preheat the oven to 180°C. Grease a 20 x 20cm mold.

2/ In a heavy saucepan, melt butter and chocolate together over low heat.
Stir constantly and watch the chocolate carefully to make sure it does not burn.
Remove the chocolate from the heat.
3/ Beat the eggs, the vanilla extract, then the sugar.
4/ Sift flour and cocoa powder, add to the mixture.
5/ Pour into the baking pan covered with parchment paper (make sure the paper sticks out on the sides to leave enough space for the toppings).
6/ Place the creamed eggs in the brownie mixture at spaced intervals.
7/ Bake for 25-30 minutes.
For soft brownies, take them out just before they are completely cooked.
8/ Let cool.
9/ To make the cream, beat the golden syrup, butter and vanilla until smooth and even. Slowly add the sugar and beat until the liquid is creamy.

10/ Spread on top of the brownies and place in the refrigerator for about two hours.
11/ Finally, melt the butter and chocolate together in a heavy-bottomed saucepan.
12/ Pour over the brownies and let take, then cut the brownies cooled in squares.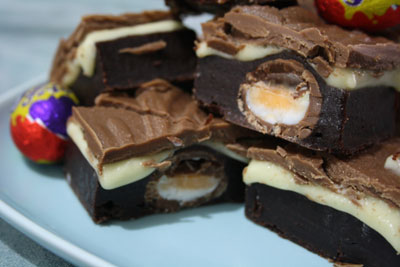 3. Creme eggs Popcorn
Ingredients for 4 people:
- half a spoon of sunflower oil

- 150 g of corn special popcorn
Steps:
1/ Heat the oil in a large pan with a lid to the right size over medium heat.

2/ Add the corn, cover with the lid and shake lightly so that the oil covers the corn kernels.

3/ Heat until the corn kernels finish exploding.

4/ Turn off the heat, let stand for 20 to 30 seconds and then mix with the previously crushed Cadbury eggs.

5/ Tip: If you crush the eggs by hand, it's even better to make small pieces so that they mix well with popcorn.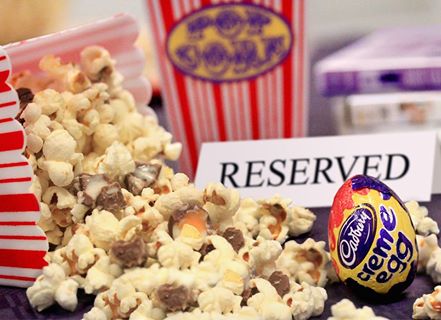 Easter gift selection
This Sunday, April 21st is a new opportunity to crack for some chocolate treats. Eggs and chocolate are the most widely distributed gifts on Easter day. Eggs, bars and tablets, chocolate powder ... Choose your favorite chocolate from an original selection and melt your taste buds.

According to tradition, the Easter Bunny distributes, on the morning of Easter, coloured or chocolate eggs. This messenger is represented by a rabbit in the English speaking regions or by a hare.

Easter is also an opportunity to offer to the youngest rabbits plush of Jomanda brand.
Discover our Easter selection>>
Partager ce contenu