Discover the Irish tea house Barry's Tea - Interview with Denis Daly
Barry's Tea is a family business founded in Cork in 1901 by James Barry. Today the brand represents 40% of the tea market in Ireland and is exported all over the world. Barry's has been the favourite tea of the Irish for over a century ... Their secret: a careful selection of the best teas from around the world for a refreshing blend!
Learn more about the Irish tea house with an interview with Denis Daly, Master Tea Blender at Barry's Tea.
Can you introduce yourself and tell us about your job?
My name is Denis Daly and I am a Master Tea Blender for Ireland's number one tea brand, Barry's Tea. I was first employed by Barry's Tea in January 1969 to manage their wine and spirit business, which is what I did before joining the company. Their main business was sourcing, blending and packing quality tea for the Irish market. The then Master Tea Blenders asked if I wanted to learn from their vast tea knowledge and become a Master Blender myself. At the time they were Anthony Barry and Peter Barry, who were father and son and also owners of Barry's Tea. They were also 2nd and 3rd generation tea blenders. My job as a tea taster, tea buyer and tea blender is to source quality teas that will give our consumers constant top quality taste and flavour all year round.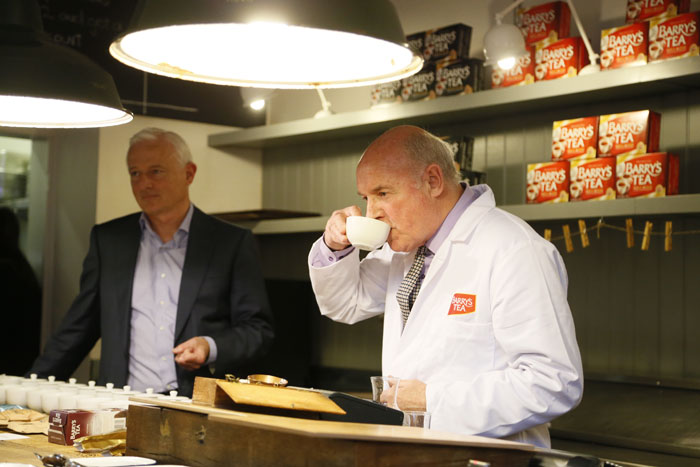 Can you tell us a few words about the company?
The tea company started in 1901 and expanded from a small tea blending shop in Cork City to become a market leader in Ireland with ever-expanding export business. We have a full tea portfolio of products, but our customers most love our signature blends; Gold, Master, Original and Decaf. Today, the company is managed by Tony Barry, who is also a Master Tea Blender. As I received my vast tea knowledge from his Father and Grandfather it was my great delight to pass that knowledge onto him. He is now the fourth generation Barry in the tea business.
What makes you different from other producers?
As a family-owned business, we are lucky that the Barry family are passionate about quality teas. For me as a tea buyer, that means I can always focus on quality and not the cost - which is a constraint many mainstream tea brands face. Consistency and quality are at the heart of what we do because this is what our loyal consumers demand. Similar to the knowledge passed down through generations of the Barry family, the love of our teas is passed down through generations of loyal consumers. Although much of our earlier success came from our signature black tea blends, we have evolved our offering to meet the changing needs of our consumers and the new generation of tea drinkers. Whether that is green tea, fruit and herbal teas or our new range of infusion teas made from natural botanicals in fully biodegradable teabags, we always want to produce quality products that our consumers want.
Tell us about the manufacturing process and assemblies.
We source our teas mainly form Rain Forrest Alliance certified tea producers in the Assam Valley of India, Kenya and Rwanda in Africa. These tea producers send samples of tea they produce every week and Tony and I will evaluate the quality of the teas by tasting them. If we are happy with the quality, we will purchase them. As each tea purchased will only comprise part of our blends, because of the various characteristics of each of the teas, this is where the art in tea blending is paramount. The quality of tea depends on lots of factors from where is it produced, mainly climatic, the areas where they are grown (soil and altitude), and how the various production systems adhere to withering, cutting, fermentation etc. within the tea-producing facilities. The tea we buy must be up to our quality standards because we never compromise on our blends. The tea we purchase is then shipped to us, where we re-taste the teas and then blend them for our packets. Every day Tony and I will taste all the teas sent to us and our blends to ensure they meet our quality standards and the expectation of our customers.
If you had to choose just one of Barry's Tea product, which one would you choose?
Every morning at half-past 10 I drink our Master Blend loose tea. It is one of the finest loose teas I've ever tasted and I have yet to see anyone beat it. Barry's Tea Master Blend was previously known as 'Classic Blend'. We use the highest quality leaves for a richer, full-bodied flavour. The new name reflects the expertise & quality in this blend, showcasing tea from ten of the finest tea gardens in the world. Barry's Tea Master Blend is for true tea connoisseurs.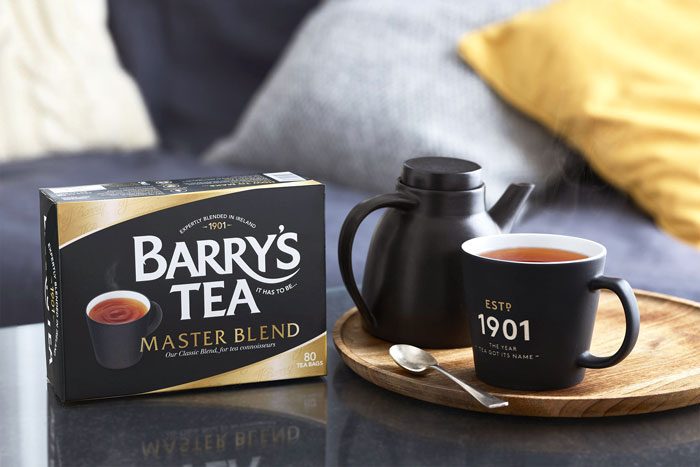 Article written by Manon C.
Share this content