Exclusive interview of The Balvenie ambassador
For the launch of the The Balvenie 12-year-old Sweet Toast of American Oak, Le Comptoir Irlandais had the opportunity to ask Damien Anglada, the ambassador of the distillery, a few questions and learn more about this latest bottling. Discover the interview with The Balvenie ambassador below.
The Balvenie 12 Years Old Sweet Toast of American Oak
This Single Malt is a tribute to the "toasting" process used by Ian McDonald, cooper at The Balvenie distillery, which celebrates its 50th anniversary this year. Toasting is a unique process, that Ian learned in the field after many years of learning alongside previous coopers. Just as important as the choice of wood, this process consists of burning the barrels in order to release all the aromas contained in the oak, such as vanilla or even hazelnut.
The Sweet Toast of American Oak is a very special Single Malt, which tells the story of American oak barrels up to Kentucky. An epic led by Kelsey McKechnie, the apprentice cellar master who, at only 27, is determined to innovate to write new stories for The Balvenie. Kelsey wanted to produce an even sweeter and fruity benchmark. This led to the brilliant idea of ​​importing virgin oak barrels from Kentucky and asking Ian McDonald to burn them inside at the cooperage of the distillery. This second heating is ideal for bringing out the maximum aromas contained in the wood, and thus giving the whisky an incomparable taste. These toasted barrels were then filled with aged brandy in old Bourbon barrels for 12 years. A process well known to fans of The Balvenie under the name of double maturation, a pioneering technique invented by David Stewart over 30 years ago. This association gave birth to a complex and exquisite Single Malt, with notes of candied fruit, coconut and delicate vanilla.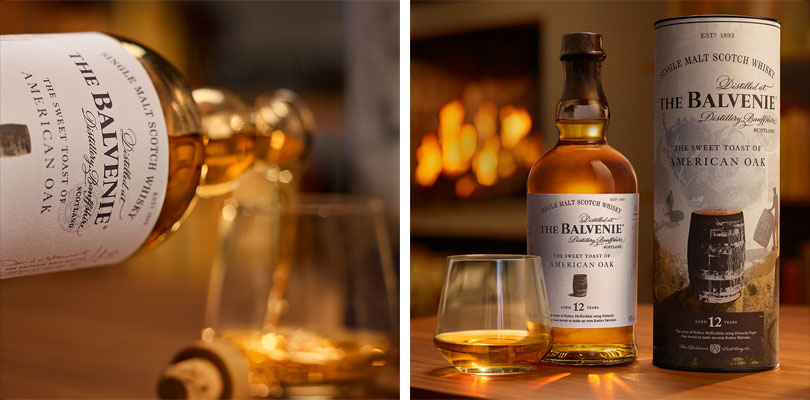 The Balvenie 12 Years Old Sweet Toast of American Oak >>
Damien Anglada interview
Can you tell us more about the Balvenie distillery?
The Balvenie is one of the last Scottish distilleries that belongs to a family home. It is also the only distillery in Scotland that grows its own barley, does traditional malting on site and has its own cooperage. It truly represents all that is most authentic and handcrafted in the world of Scotch Whisky. If you have the chance to take a trip to Scotland, I advise you to visit it, it is an unforgettable experience!
What is its personality?
The Balvenie is based in Dufftown, in the heart of Speyside. It is therefore no exception to the idea that we have Single Malts from this region, namely marked by aromas of vanilla, honey, dried fruit and spices. It is a rich, smooth whisky with a nice complexity that can satisfy both beginners and experts. The range is really very wide, it includes double maturation such as Double Wood which is our real identity card. There are also Single Casks, and very old versions that go up to 50 years of age. We even unveiled this year a new range called "Stories" in which you can discover a 14 years old peaty Balvenie "The Week of Peat" but also a 26 years old "A Day of Dark Barley" and a 12 years old "The Sweet Toast of American Oak".
What is the genesis of this new Sweet Toast version?
This version is very interesting and at the same time very important for our distillery since it marks the first creation of Kelsey McKechnie, the apprentice of our illustrious and legendary Cellar Master David Stewart. The family business William Grant trusted this young 27 year old woman to develop this new whisky. She went to the United States, to Kentucky, and met Paul McLaughlin, the owner of the Kelvin Cooperage. The latter allowed him to import virgin oak barrels made by his teams.
What is its manufacturing process?
Once in Scotland, these new barrels went through the cooperage box and underwent a fairly significant heating. Finally, they served to welcome for a few months in finishing, a Balvenie previously aged for at least 12 years in traditional oak barrels.
What makes it unique?
We can speak here of a whisky aged in American oak barrels that have undergone a second maturation also in ex bourbon barrels but this time new! This is what makes it original and unique. The minimum 12 years in ex American barrels have given it the classic aromas of vanilla, white fruit, coconut and peppery spices while the finish in new barrels will intensify the previous aromas and bring even more roundness, gluttony and slightly roasted and toasted notes.
What is the role of the ambassador?
In my opinion, the ambassador is above all an enthusiast. You can't represent a product if you don't like it. I've been interested in the world of whisky for 16 years. You have to know how to speak with passion about this noble liquid and pay tribute every day to those who produce it. This revolves around tastings with consumers, animated sales in cellars, thematic masterclasses. The ambassador is a support for the national sales force. He is also there to train our partners, whether wine merchants, bartenders or distributors. He accompanies some of them several times a year in Scotland to visit them at the distillery. Finally, he is also a force for proposals in all matters relating to the creation of marketing or promotional objects. But for me, the most important thing is to remain simple, natural, humble, available and as pleasant as possible. If I manage to fulfill these few conditions, then I have won my bet, that of having "Balvenized" you! (laughs)
What are the future projects of the distillery?
I have been representing The Balvenie distillery for the French market for 8 years and I can tell you that I have seen it evolve from year to year. The range has multiplied and we can very well sense that this distillery is today one of the spearheads of the house of William Grant & Sons and makes it its pride. The projects remain however in accordance with its ethics. Continue to offer aged whiskies thanks to excellent management of the barrel stock available. Expand this new "Stories" range each year with new stories and therefore new references that will emerge in the years to come. And finally, and there it is an assumption on my part, but certainly allow David Stewart to pass the torch to Kelsey after an exceptional career of more than 57 years at William Grant & Sons.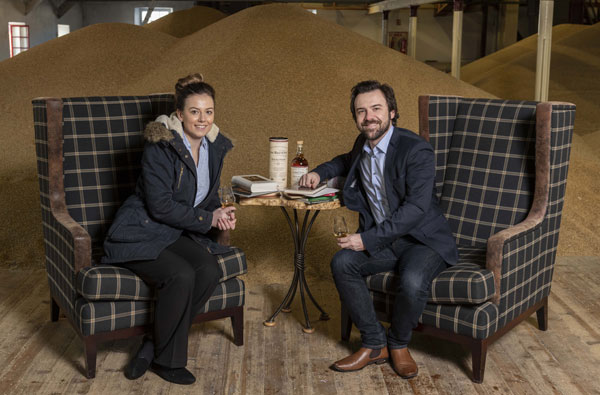 Kelsey McKechnie, apprentice cellar master and Damien Anglada, The Balvenie ambassador.
Article written by Manon C.
Share this content