Waterford values the spirit of Irish terroirs - Interview with Mark Reynier
With a launch awaited for years, the Waterford distillery unveiled the first two bottlings which sold out within a few days. New editions are coming today. Discover our exclusive interview with Mark Reynier, founder of the Waterford distillery.
Reminder of the

Waterford

philosophy
The Waterford distillery has chosen to draw inspiration from the greatest winegrowers in the world and the same philosophy, the same methodology and the same rigor to produce its Single Malt whiskies.
A single terroir, a single farm, a single expression of complexity ... one place, one farm, one terroir at a time!
The new Single Farm Origin series is a limited edition of a series of natural whiskies with the most advanced technology, showing Irish local farms by farm and by location. These are precise and rare expressions that reveal the aroma and flavour of barley from small Irish farms and change with each harvest.
"For years people have been deceived as to the source of the quality of whisky: first the stills, then the water and now the barrels. We want to highlight what makes whisky the most complex spirit in world, the original source of its extraordinary aromas and flavours: barley. " says Mark Reynier, founder and director of the Waterford distillery.

Interview of Mark Reynier, founder of the distillery
French wines, Bruichladdich distillery and now Waterford, what motivates you every morning?
You might notice a sequence there… Islay, Ireland then Grenada, (all midlands in the Atlantic) a new distillery for terroir- driven rum Agricole. Motivation is in order to show that there is another way of doing things - it doesn't have to be the homogeneity of the industrial approach nor the inconsequence of a craft scale - one can make a difference with a vision, the right people, resource and resolve. But it's a battle going against the grain. That's the motivation.
Can you tell us more about the Waterford distillery?
Waterford is a technical marvel, a state-of-the-art distillery - as was Bruichladdich in 1881 - built in 2004 for 40 million euros by Diageo as a Guinness Brewery only to be closed down a decade later when brewing was centralized in Dublin. I added the copper to the stainless steel, as brewing is 2/3 of the distillation process anyhow, the stills provide the spirit from the beer.
We have avant garde technical equipment that one would never find in a distillery: washback thermoregulation; a mash filter and hydromill. The stills came from Inverleven distillery so are a relatively modern 1974 design - good for purity and elegance. The Cathedral of barley provides the key logistics to the Single Farm Origin project allowing each farms' 140 tons to be dried and separated. The small sixties Boby malting unit at Minch Malt is our dedicated malting facility allowing us to optimize each Single Farm Origin. And we have bespoke warehousing designed to optimize the Atlantic winds for maturation.

What is the specialty of the "Single Farm Origin" series? What makes it unique?
Single Farm Origin is what it says: a verifiable, demonstrable provenance of a single farm terroir requiring extensive logistics for integrity. Each Single Farm Origin is malted, fermented and distilled separately allowing each identity attributable to the terroir in which it grew to express itself. We distil 40 farms a year, 200 casks of each, each one a single malt in its own right. Today we have distilled 100 farm terroir - some each year - to build up our library of maturing spirit. We have a TEIREOIR code on each bottle that allows the consumer read, see and hear about the Single Farm Origin with unparalleled access to distillation data. For me, true provenance is about a having a terroir, being able to prove it and then show it. Terroir - traceability - transparency.
What is its manufacturing process?
The science of distilling has not changed in the 1220 years since it was discovered. It is not an art as so often described; it is prosaic chemistry. The methodology and techniques have barely changed though materials have improved. We have a hydro mill rather than a roller or hammer type consists of two rotary tungsten discs that, thanks to the hydration, grinds a very fine, equal grist that would block up a traditional mash tun; the wort would be unable to percolate through the grist. Instead it goes through a series of 42 pneumatic press plates (like a row of mini wine presses) that extracts every last drop of wort from the grain. Though it wasn't designed for it, It is in essence our terroir extractor par excellence. We know from wine that cooling a fermentation allows for extended time which gives purer flavours. For most Distilleries fermentation is a bottleneck to be overcome by high density aggressive and rapid fermentation. We have all the space in the world of which we use a quarter only, we can take our time, low density, half the yeast and two to four times the time. That's how we get the purity of flavour.
Each farm origin, each harvest, we have learnt, requires separate treatment: we distill in real time. Fortunately, we inherited a great many sensors around the distillery that allows us to monitor everything - with this number of variables there's no one size hat that fits all: each farm has an equal opportunity; we are not forcing equality of outcome. There is no fixed quota or recipe. The middle cut is a miserly 10-degree floating margin to ensure purity of spirit, depending on the ferment being distilled. The cut is a trickle, taken 'low and slow as Ned says, at less than 400 liters and hour.
Each Single Farm Origin goes in to 200 casks of the same proportion of virgin French and America oak for colour; first fill French oak for finesse and American for roundness; VDN (Vin Doux natural) - for sweetness and exotic oak for interesting flavours.
In essence: deliberately slow fermentation and miserly distillation of the best barley into the finest oak.
With the millions of assembly possibilities you have by field, by barrel and by distillate, how do you come to determine the perfect assembly?
We're learning. The myriad of components at our disposal are unprecedented. The sheer scale means we have a lot to play with and are learning all the time. You'll have to wait and see and follow the discovery with us as we learn about our own DNA and how it evolves. It's new for us to remember. We distil in a highly artisanal esprit - but we're not playing at it.
Why this desire to highlight the Irish terroir?
Single malt is only made from three things - or it should be : yeast, water and barley. It is from the barley that all the flavours that make single malt the most complex spirit of all are derived. Surely then, the barley should take front stage when looking at flavour quality. And yet… no one shows any interest in barley flavour where or how it is grown and the influences upon it. It has become a mere global commodity without provenance, designed to produce the highest yield for the minimal cost: flavour doesn't get a look in. At Bruichladdich I was able to start my investigations to terroir for barley, but we never had the resources or the logistics to do it properly. In Ireland, 210 miles further south on the same latitude as Cambridge, we are in the much more conducive climate of the sunny south east of Ireland ameliorated by the Gulf Stream. It is the best barley in the world.
The blue colour of the bottles catches the eye, is there any particular reason for choosing this colour for the bottles of the "Single Farm Origin" series?
The same as old apothecary, medicinal bottles - perhaps implying a research/scientific enlightenment. The colour protects the whisky from light (being totally natural spirit). And it does not associate us with whisky industry at all.
What are the future projects of the distillery? Do you have other innovative and original ideas in mind?
We are looking to propagate a barley flavour 'Greatest Hits' variety from the older pre seventies varieties that had more diversity of flavour. We'll start to experiment with Yeast once we have fully understood the terroir implications - but I am less excited by that as I feel it will be more predictable.
Les embouteillages Waterford Single Farm Origin
The Waterford Distillery produces whiskey from the terroirs, and its first expressions are fascinating. We can already find Bannow Island and Ballykilcavan in version 1.1 and 1.2 as well as the Sheestown Edition 1.1, the first whiskeys of the "Single Farm Origin" series.
Exclusive to Le Comptoir Irlandais for France, Waterford Sheestown 1.1 is a powerful Single Malt produced with barley (Irina) grown in Sheestown by Philip O'Brien whose daughter Maura works at the distillery. A great discovery with a robust, spicy and fruity character.
The barley used for the composition of Bannow Island comes from the Ed Harpur farm, located at the far south of the coast of County Wexford. These lands reflect a unique terroir where the sandy soils are swept by the Atlantic winds.
Ballykilcavan barley is grown by David Walsh-Kemmis west of the River Barrow in County Laois, a fertile area sheltered by ancient woodland.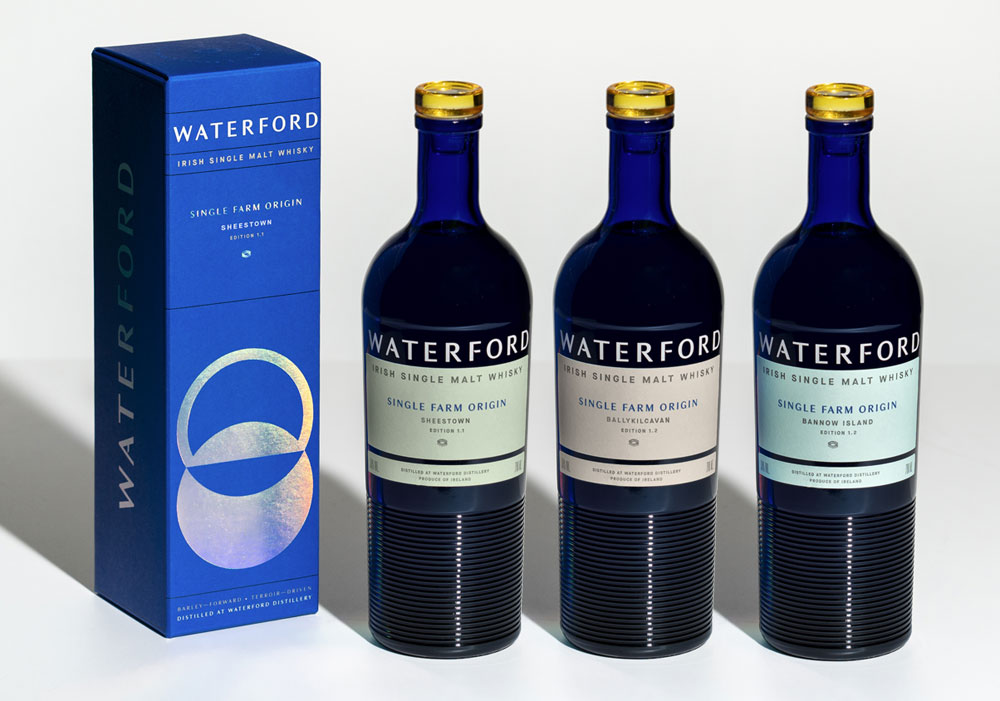 Article written by Manon C.
Share this content