Discover the Scottish Aberfeldy distillery - Interview with Matthew Cordiner
Nestled in a lush valley at the foot of the Scottish Highlands, learn more about Scottish Aberfeldy Distillery through an interview with Matthew Cordiner, Global Ambassador for the distillery.
Could you introduce yourself and describe your function within the distillery?
My name is Matthew Cordiner and I am the world ambassador of the Single Malt John Dewar & Sons whiskies range. My role focuses on immersive whisky education, involving whisky enthusiasts around the world and promoting our five malt distilleries: Aberfeldy, Aultmore, Craigellachie, Macduff and Royal Brackla.
This is truly my dream job, as I represent not only Aberfeldy, who has been my "spiritual home" for two years as an ambassador, but also my true "home", Craigellachie, where I grew up and where my family still lives today.
Could you tell us a few words about the Aberfeldy Distillery?
The Aberfeldy Distillery is nestled in a lush valley at the foot of the Scottish Highlands, in the picturesque village of Aberfeldy, Perthshire, a land steeped in folklore and legends. The distillery itself was founded and established in 1898 by the two Dewar brothers: Tommy Dewar and John Alexander Dewar, and designed by famous architect Charles Doig.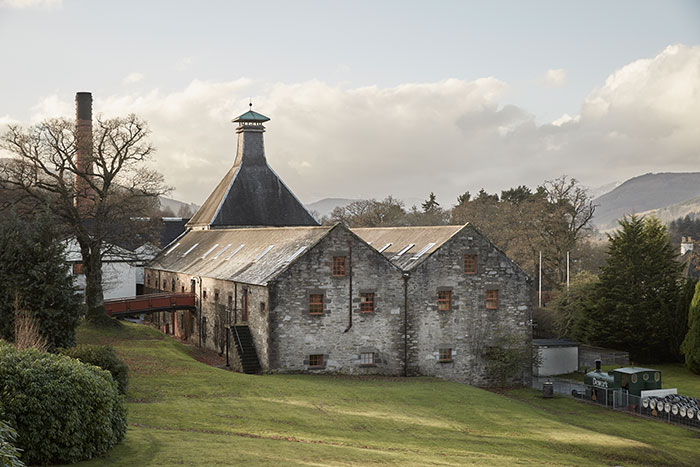 Tell us about the Aberfeldy whiskies making process.
Like all Single Malt distilleries, we only need three raw materials: malted barley, water and yeast to make our whisky. We have a very special water source called The Pitilie Burn (a "burn" in Scotland is a small river), known for its purity but also for its deposits of alluvial gold, which gives our whisky the nickname "The Golden Dram".
In the distillery, we turn this water into "liquid gold" by mixing the other ingredients with it through a combination of traditional processes - we carry out a long fermentation of around 72 hours which gives our whisky rich fruity and honey notes. The use of copper stills helps us create a fruity, classic Highland style whisky.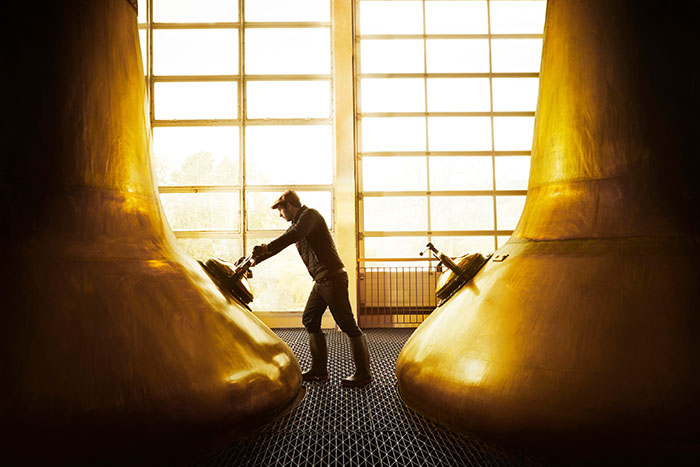 What makes you different from other Scottish distilleries?
Aberfledy whisky is known for its very characteristic honeyed richness, created in part by our traditional methods - long fermentation and a specific distillation process - which make it both smooth and complex. In my opinion, this makes it a perfect whisky for beginners and connoisseurs alike.
Tell us about the 15-year-old Aberfeldy Napa Valley, available exclusively at Le Comptoir Irlandais.
The very first expression of the Aberfeldy Red wine Cask collection was launched in 2019. Aged in Pomerol wine casks, this inaugural expression began Aberfeldy's journey of discovering French wine casks, from the Bordeaux vineyards to the shores of the Rhone Valley. The journey of the distillery continues and now flies to more distant lands with its new expression, Aberfeldy 15 years old finished in barrels of Cabernet Sauvignon from the Nappa Valley.
Cabernet Sauvignon is the king of red grape varieties in Napa Valley. The grape acquires optimal maturity here, and gives the wine a wide aromatic palette ranging from red fruits to black berries, cherry and plum, as well as spicy notes due to ageing in oak barrels. But judging the Nappa Valley by its varietal would be a mistake, the region is made up of over 100 different soil types, almost half of all the soil types on earth.
The climate is also very important, hot summers and mild winters with only a few months of rain per year, gives a long ripening period, allowing the grapes to ripen well and develop deep aromas and lots of sugar. The morning mists allowing it to preserve a beautiful acidity.
Our Malt Master, Stephanie MacLeod describes this whisky with these words:
"Aberfeldy, with its finish in Napa casks delighted us with its fragrant notes of raspberry jam, Parma violet, cinnamon and freshly ground coffee beans. The whole is accompanied by the characteristic honey notes of the distillery. It is a rare and complex whisky to savour".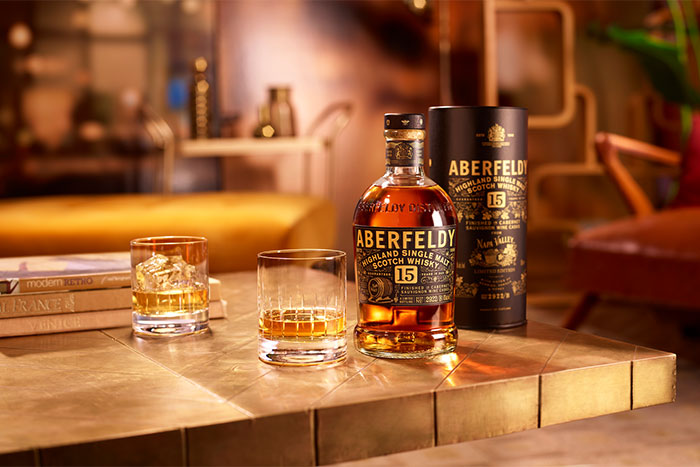 Aberfeldy 15 years old Napa Valley
Which bottling are you most proud of?
For me it must be our 21 year old Aberfeldy. An incredible evolution of Aberfeldy's style! If you like our 12 year old, the extended ageing time will bring out rich aromas of caramel and jam with a silky texture. I am all the more proud of this one because it is not a "limited edition", which would be destined to disappear, but is an integral part of our basic range, which enthusiasts can find from year to year. It is the perfect example of what makes tasting old whiskies something special, a unique moment that everyone should experience.
What are the future projects of the distillery?
We are still working on our core range and our limited editions but we also have the project called Exceptional Cask series, a collection of great bottlings from our distilleries, specially selected by our malt master Stephanie MacLeod. This series demonstrates how Stephanie lays the foundations for the entire range of our single malts, meticulously tasting all the casks in her inventory to follow the maturation of our whiskies. From time to time, Stephanie finds a cask that expresses its aromas and those of the distillery so wonderfully that Stephanie decides that it deserves the denomination of exceptional cask. This monitoring of our barrels demonstrates the fundamentals of creating all of our expressions in our Single Malt portfolio. Watch for news related to our distilleries as exciting new editions are coming to Aberfeldy. That's all I can tell you for now...


Discover the Aberfeldy range >
Article written by Manon C.
Share this content