The Timeless Aran Sweater
This sweater comes from Aran Irish Islands. It is traditionally worn to protect from the cold and bad weather. The wool has great clothes' properties. These sweaters are traditionally knitted in the heart of the Irish towns, according to grounds that passed from generation to generation. Discover the history of Aran's sweater.
Aran's sweater became emblematic for fashion : It was adopted by celebrities like Steve McQueen or Marylin Monroe. Ideal to keep warm, timeless, it can be worn with all kinds of outfits. It can be easy worn with accessories or special materials to add a touch of fashion during winter.
In pure new wool and in merinos wool, Aran sweaters are clothes made with authentic materials. That is why it is so well juxtaposed with others natural textures, like imitation leather, in version mat or glossy. A light brown leather belt, a black handbag, a nubuck skirt or suede boots highlight the comfortable aspect, warm and soft of the Aran's sweater. Declined into snood, it is perfectly adapted to the leather jacket.
The Aran's sweater easily affirm its identity and material… It is the ideal sweater to play with textures, a classic principle of fashion. It is easy to accord your Aran sweater with a black skirt or a chiffon skirt. Soft colours are ideal. Try camel, light pink, brown or ecru… You can enhance your outfit with accessories with more contrasted colours, or some colourful touches.
To have a casual style with the Aran sweater, try a pair of baskets with bright colours. Streetwear effect guaranteed ! In perfect simplicity, you can wear the Aran sweater with a jean.
For a glamorous touch, why not add a gold belt or an oversize necklace?
To find all the Aran collection
Aran collection and accessories > Men Aran sweaters > Women Aran Sweaters > Aran accessories >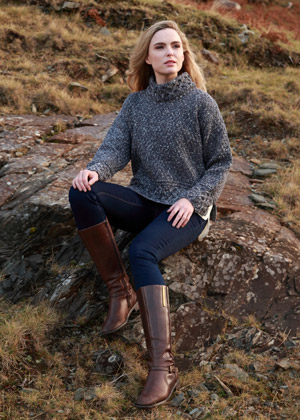 Photos' sources : Pinterest, Carraig Donn & Le Comptoir Irlandais.
Share this content