Tullamore D.E.W.'s unique manufacturing process
The Tullamore D.E.W. distillery was founded in 1829 in the city of the same name between Dublin and Galway, in the heart of Ireland.
Known worldwide for its unique whiskey, Tullamore D.E.W. concentrates its know-how through 3 key stages in its manufacturing process:
- Triple distillation
- A blend of three types of Irish whiskey: malt whiskey and grain whiskey and Pot Still
- Triple maturation in three distinct types of barrels: traditional, ex-bourbon barrels and Sherry Triple barrels.
It's this unique process that sets Tullamore D.E.W. apart in the world of Irish whiskeys. But the distillery does not stop there and also offers a range of Single Malts such as the Tullamore D.E.W. 18 years old which is exclusively sold at Le Comptoir Irlandais.
This expression is the oldest of the Tullamore D.E.W. range, composed of the same assembly base as the Original Signature. Tullamore D.E.W. 18 years old is aged in Bourbon barrels and then matured in 4 different barrels (2nd passage in Bourbon barrels, Sherry Oloroso, Porto and Madeira wines).
A new experience for Irish whiskey lovers looking for rare and unique products.
This expression received a silver medal at the World Whiskies Awards 2019 and was named as the best whiskey in the world at the International Wine & Spirit Competition in 2018.
Tasting notes:
Nose: rich and woody with deep malty notes, caramelized fruit and woody spices.
Palate: notes of vanilla oak, cinnamon, baked apples and grilled marshmallow.
Finish: rich, warm with a lingering malty sweetness.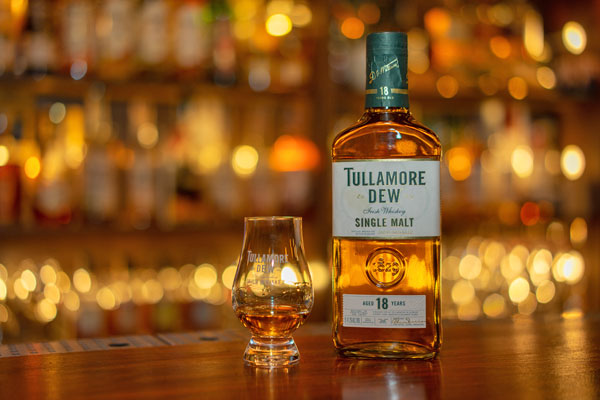 Also find all the character Tullamore D.E.W. in this 14-year-old Single Malt from triple distillation and refining of 4 different barrels. A rich and balanced Irish whiskey for lovers of Single Malts but also of Tullamore D.E.W.
Tullamore D.E.W. 12 years Special Reserve is a whiskey from a triple distillation and a blend of three types of Irish Whiskey, in the pure style of Tullamore D.E.W. A complex and refined whiskey that has won more than 17 gold medals around the world in the past 15 years.
From two traditional Irish know-how, the production of cider and whiskey, Tullamore Dew Cider Cask Finish is the marriage of an Irish whiskey with triple distillation and a refining in barrels having contained Irish cider produced by the distillery Tullamore DEW once a year. The result is a unique whiskey with rich and fruity notes.
Share this content