Recipe ideas for Halloween!
Boo! Shiver with fun for Halloween with our good recipe ideas. Halloween is an old celebration marking the "day of the dead", All Saints' Day, but also from a Celtic tradition, "Samhain", symbolizing the transition from the summer season to the winter season (see our article "Little Halloween story").
To organize an Halloween party full of thrills, we offer original and gourmet ideas that you can easily prepare after decorating your home carved pumpkins. Find recipes of all kinds perfect for a successful Halloween party.
Decorate your table and your house to celebrate Halloween in the purest Anglo-Saxon tradition! Make sweets reservations, and review the magic formula: "Trick-or-Treat!".
Original recipes for Halloween
Click here to discover our Halloween's fine food seriously gourmet >
1-

The orange pepper "jack-o'-lantern" to serve your Halloween rillettes!
Revisit the classic Halloween pumpkin with orange peppers cut into "jack-o'-lantern"! They will be perfect for serving your Halloween rillettes and appetizers ...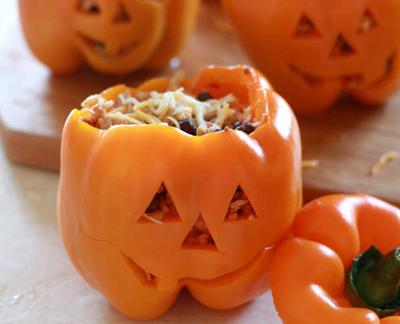 Source: Everydayjenny
2-

Delicious brownies with ghost eggs!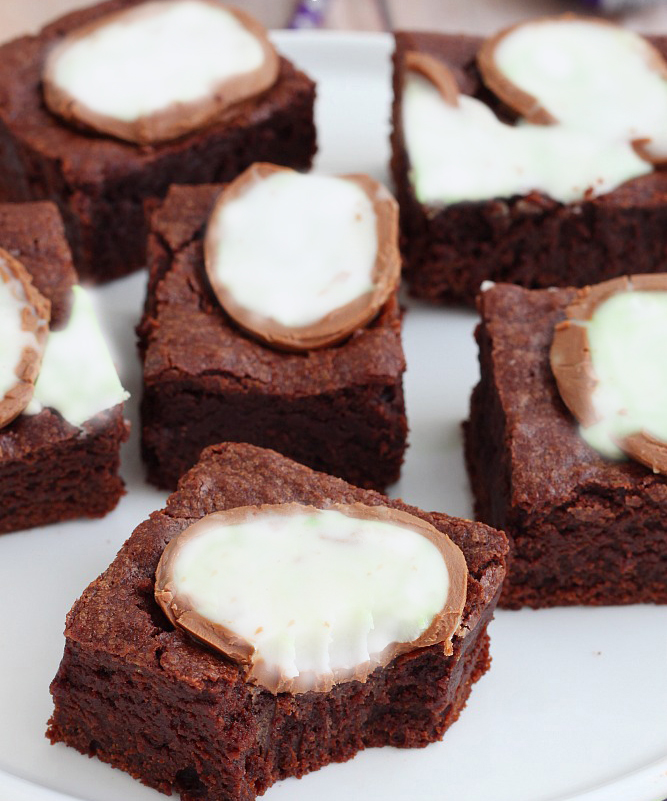 To really make a splash at Halloween, just follow this creamy brownie recipe and decorate it with Cadbury's special "Ghoost" Eggs for Horror Day!
Ingredients:
- 4 eggs
- 300 gr of white sugar
- 50 gr of brown sugar
- 226 gr of melted butter
- 120 gr of flour
- 60 gr of sweet cocoa powder
- 1/2 teaspoon of cinnamon
- 6-7 cadbury ghoost eggs cut in half
Recipe:
Beat the eggs and sugar for 5 minutes. Add butter, flour, cocoa powder and cinnamon. Use a sharp knife to cut the eggs in half. Place them on the brownie as it begins to cook. They melt then, spreading the ghost eggs on the brownie ...
Source: http://atreatsaffair.com
3- Personalised cheesecake
From our preparation for cheesecake, we propose to make original cakes to decorate on the occasion of the Halloween party.
With chocolate and a pencil syringe with food piston or another accessory, let your creative talent express itself and draw spider webs, the face of "Mr. Jack" or a grinning pumpkin on your cheesecake so that the dessert of your Halloween meal is fully integrated with the atmosphere of October 31st.

4-

The meringue ghosts
To add a touch of sweetness and horror to your carrot cake, nothing like adorable meringue ghosts!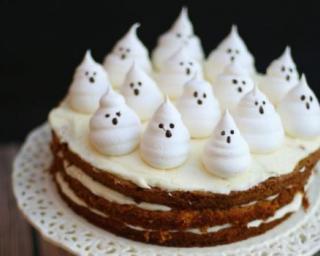 Ingredient for the meringue ghosts:
- 80 gr egg whites
- 80 gr of white sugar
- 1 pinch of salt
- sugar balls / or chocolate buttons
Recipe:
Preheat the oven to 100°C. Whip the egg whites until stiff, adding the sugar little by little for 2 to 3 minutes. Using a pastry bag (pastry bag) form small piles of meringue on a baking sheet lined with parchment paper. Add the sugar balls / chocolate buttons to form the ghost eyes. Bake for 1h30.
Let the meringues cool before storing them in an airtight container until tasting. At the time of tasting arrange the ghost meringues on the carrot cake.
Source: http://emilieramenesafraise.fr
5-

Minis jelly "pumpkins" Jack-o'-lantern
Ingredients:
- 6 big oranges
- 2 135g packages of jelly

Recipe:
To prepare your mini lanterns, nothing more simple.
Choose the jelly mix you like and prepare it according to the notes on the bag and then put the jelly in the refrigerator so that it is firm.
Wash the oranges and then cut the upper quarter on each orange to be able to empty them later.
First, we advise you to cut out the eyes, nose and shape of the mouth using a sharp knife.
Then dig the oranges with a small sharp knife and a spoon.
Once the oranges are ready, just fill them with the chopped jelly.
You can close the head with the lid and to preserve the preparation before serving, wrap each orange in food film and put them in the refrigerator.
Halloween scary cocktails
Click here to discover our Halloween cellar >
1-

The pumpkin "punch bowl" for Halloween
Pumpkins have always been used to create the "jack-o'-lantern", a character who wanders through limbo lighting up the lantern ... But you can also dig your pumpkin to make a fantastic punch bowl of more beautiful effect! Also to find, the recipe of Pumpkin Punch.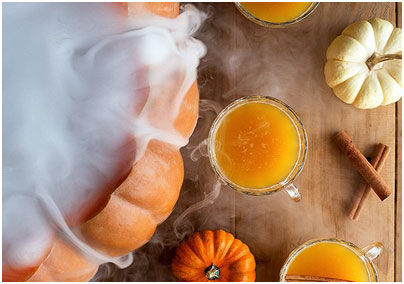 Ingredients:
- 750 ml of spiced rum
- 1 glass of orange juice
- 1 glass of lemon juice
- 1 glass of spicy syrup
- 1/2 glass of mash pumpkin
- 2 glasses and a half sparkling water Franklin & Sons
- Cinnamon sticks for decoration
- A big pumpkin dug
Recipe:
In a large bowl, add the spiced rum, orange juice, lemon juice, spice syrup and the mash pumpkin. Mix.

To make the spice syrup: mix a glass of sugar, a glass of water, 2 cloves, a cinnamon stick, 4 peppercorns, a star anise and a large strip of orange peel in a small pan. Let it simmer for 5 minutes. Remove the star anise, simmer again for 5 minutes. Let cool.

Mix with the rum mixture and filter. Leave in the refrigerator for two hours, then add the sparkling water and serve in the pumpkin.
Source: http://honestlyyum.com
2- Magic potion

grape and lychee
Ingredients:
- 24 litchis in syrup (even more if you want)
- 165 ml of grape juice
- 165 ml lychee syrup
- 1 L of sparkling Franklin & Sons water
Recipe:
Drain the lychees and reserve the syrup. Spread them in several glasses, add the grape juice, the syrup and the sparkling water gently. Then stir with a straw, recite your favourite magic formula and enjoy!
Source: http://cookalifebymaeva.blogspot.com/2016/10/potion-magique-halloween-raisins-litchi-cocktail-sans-alcool.html
3- The original Bloody Mary
The Bloody Mary (literally "Mary the bloodthirsty" or "Cursed Mary" according to the interpretations) is a cocktail more or less spicy according to the tastes ... so pay attention to dosage. A spicy and scary cocktail in blood colour perfect for a Halloween party.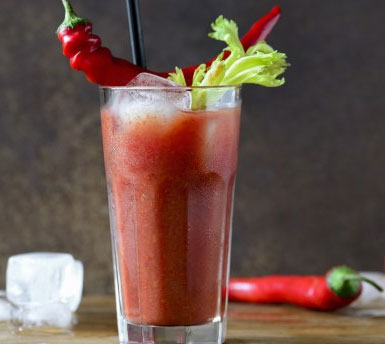 Ingredients:
- 4 cl of vodka
- 12 cl of tomato juice
- 1/2 cl of lemon juice
- 1/2 cl Worcestershire sauce
- 2 drops of Tabasco
- Celery salt
- Salt
- Pepper
Recipe:
Make the recipe in a mixing glass.
Shake the ingredients in a mixing glass with ice cubes (to cool down without diluting too much). Pour into the glass, then add celery salt, salt and pepper to taste. Decorate with a celery stalk and optionally a slice of lemon.
Serve in a tall glass and decorate with a celery stalk.
Share this content