How to re wax your Barbour jacket?
Applying wax on cotton jackets is a centuries-old technique. Waxed cotton is extremely durable and is generally available in 6 and 8oz. Barbour's oldest wax based cotton is called Sylkoil and is suitable for all seasons since it is completely water- and windproof. Jackets need to be properly maintained for a long-time use.
Learn how to rewax your Barbour jacket at home by following the rules below:
What you need:
- Barbour Wax Dressing
- Pan/Bowl
- Hot water
- Sponge
- Hair dryer (optional)
Step 1:
Use cold water to clean the jacket and a sponge to wipe the outside. Avoid boiling water and any kind of soap. Do not wash because that will remove the wax from it, in this state, the jacket can not be polish again.
Step 2:
Take a Barbour Wax Dressing, remove the lid, place the can in a container (pan or bowl) of water, hot enough to soften the wax. It should take about 20 minutes to melt.
Step 3:
With a rag or a sponge, mould the melted wax on the jacket by paying attention to the seams, creases and dry spots. Wipe off any remaining wax. The wax must be kept in hot water during the process to keep the wax softened.
If you notice a hardening, fill the container with more hot water. Do not forget to keep the wax away from the corduroy collar, the inside of the jackets and the inside of the pockets.
Etape 4 :
Use a hairdryer on the wax spread to reach a factory finish. Do not do this to closely, as this could overheat the wax and cause it to run.
Etape 5 :
Once the jacket is re-waxed, hang it on a coat rack for example. Let it dry overnight in a warm place away from other clothes. Be aware that the jacket may lose the excess wax for a short time, so be careful not to put your re-waxed jacket near leather or other sensitive materials.
It is advisable to re-wax your Barbour jacket annually.
For more details, watch this tutorial below.
---
Reminders about the care of Barbour jackets
- Do not wash with soap, detergent, solvents or hot water.
- Do not dry clean, starch or iron.
- Do not machine wash.
- Do not store a wet garment in a closed area.
- Do not hang a garment on a radiator, expose it to an open flame or use artificial heat to dry.
- Do not sew through the outer fabric. If items need to be sewn, the affected area should be re-waxed.
- Blot the outer fabric with cold water when soiled and brush off sand, etc.
- Hang the garment in a dry, well-ventilated place to dry naturally.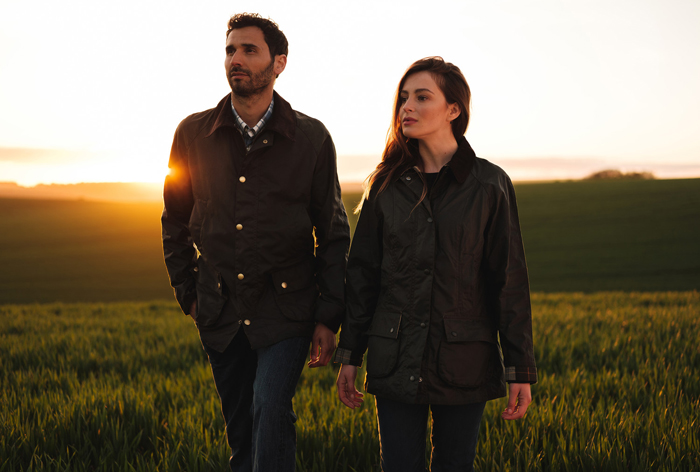 Le Comptoir Irlandais - 4 universes to discover
---