Harris Tweed collection
The company Harris Tweed was born in 1846 and offers the real Tweed made with pure virgin wool dyed, spun and woven by hand in Scotland. The Harris Tweed fabric is recognizable by the "Orb Mark" label which is a guarantee of quality.
The making of a real hand-woven Harris Tweed
The wool is cleaned and dyed directly in the mills of the island, a process unique to Harris Tweed, then mixed to obtain the characteristic colors of tweed. The wool is then carded and turned into balls of wool, and installed on wooden beams to form the warp. Warp and weft are then deposited at the weaver's home. The rolls of fabric must, according to the regulations, be woven by hand on a pedal loom.
These rolls of natural tweed are then cleaned, then checked before pressing and final rolling. The tweeds then receive the "Orb Mark" label. This stamp guarantees that the tweed complies with Harris Tweed standards. It is issued by the Harris Tweed Authority Institute, which is responsible for ensuring the consistency of the quality of these products.
This unique, unrivaled quality fabric is certainly the only one to be protected by an Act of Parliament. A unique know-how in the Hebrides, inherited from generation to generation.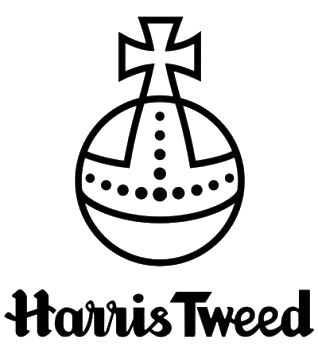 Top of the page