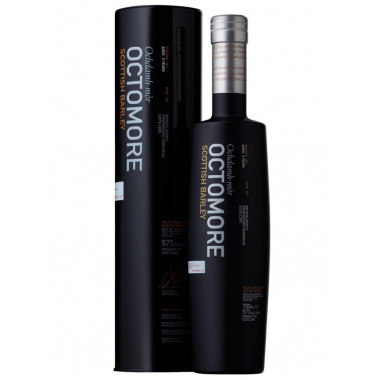 View full size
Remove this product from my favourite's list.
Add this product to my list of favourites.

Send to a friend

Octomore 6.1 70cl 57°

From the most heavily peated whisky range, Octomore 6.1. is the sixth release of Bruichladdich's Octomore.

Recipient :

* Required fields

Cancel or
Octomore 6.1 70cl 57°
| | |
| --- | --- |
| • Volume | 0.7 L |
| • Net Weight | 0.7 kg |
| • ABV | 57 ° |
| • Type | Single malt |
| • Distillery | Bruichladdich |
| • Country | Scotland |
| • Region | Islay |
| • Age | 5 years |
| • Maturation | American Oak |
| • Peat | Heavily Peated |
| • Packaging | Case |
| • Reference : | 22481 |
With its 167 ppm, Octomore 6.1. has burst into a world of conformism, challenging old conventions that link Scotch quality to maturation. Octomore has been since 2008 the world's most heavily peated whisky. Named after the farm that hosted the forsaken distillery of its origins, Octomore is the result of a long night's talk of Jim Mc Ewan, the distillery's Malt Master, around a dram of Bruichladdich. Why not putting the long-necked, thin copper stills of the distillery to trial, he thought, and produce the most exquisite malt from the most heavily peated barley ever seen? A five year-old whisky, this Islay Single Malt uses Scottish malted barley, and ages in American oak casks. The spirit is then bottled at 57° ABV, a burst of power always perfectly mastered for the whole Octomore range.
Destined to advanced whisky enthusiasts or for those who wish to experience the most heavily peated, but also elegant and amazingly crafted whisky.

*PPM - phenols parts per million, measuring the influence of the oily smoke peat infusing the germinated barley during the drying process. The longer the exposure, the highest the ppm value is. A well peated Islay whisky reaches a 40-50 ppm. But every whisky still develops its very own character and mouthfeel sensation, depending on the style of each distillery.