Le Comptoir Irlandais - Quimper
Le Comptoir Irlandais de Quimper
Opening hours
Mercredi
10h-13h / 14h-19h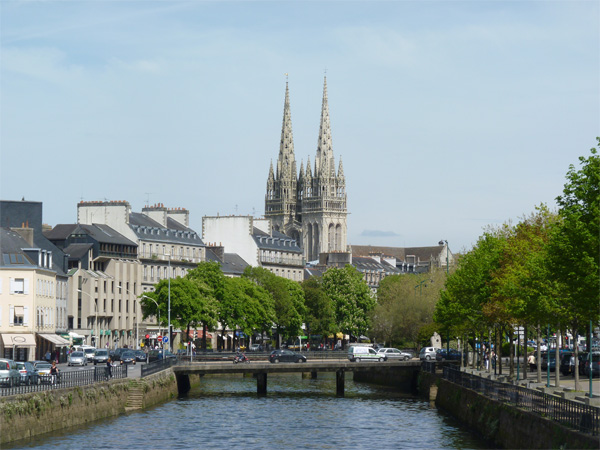 Quimper is the traditional capital of Cornwall. The cathedral and the private hotels bear witness to the history of this merchant city.
Anne G. and her team welcome you to Le Comptoir Irlandais de Quimper, located 8 quai de l'Odet.
Whisky cellar in Quimper
Discover a unique selection of whiskies from Ireland, Scotland, Japan and elsewhere in the world. With more than 1 000 references, Le Comptoir Irlandais is a sure value to find your favorite whiskies or to discover new taste horizons.
Our cellar also offers a variety of island rums, Breton and Anglo-Saxon beers, gins, liqueurs and ciders.
Anglo-Saxon fine food and tea specialist
Shortbreads, marmalades and jams, or chutneys, pickles, HP sauces, Worcestershire and many other typical products of traditional Anglo-Saxon cuisine make up our grocery department. Brittany is also present with tapas and patés that come from Breton producers.
A whole space dedicated to tea, favorite drink of our neighbours across the Channel, complements our grocery store with more than 150 references of teas and infusions.
Women's and men's clothing store
Our textile area offers men's and women's clothing, made from materials of excellence: merino wool, lambswool, cotton, etc.
Coming directly from Ireland where they were handmade, our Aran sweaters are part of our flagship pieces. A outdoor collection offers a wide selection of high-quality rugby polos, coats and Duffle Coats.
Made from mohair and lambswool, our plaids are also made from natural and luxurious materials.
Nice welcome. Irish products. Clothing a little expensive but very good quality. Wide selection of whiskies and teas.




09-2017
Very good British or Irish products.
09-2017
We always buy something!
08-2017
Selected for you
Back to stores list