Le Comptoir Irlandais - Le-Puy-en-Velay
Le Comptoir Irlandais du Puy en Velay
Opening hours
Mercredi
10h-12h / 14h-19h
Vendredi
10h-12h / 14h-19h
Samedi
9h30-12h30 / 14h-19h
Exceptionally closed between Monday the 2nd and Monday the 9th of September.
Your store in Le Puy-En-Velay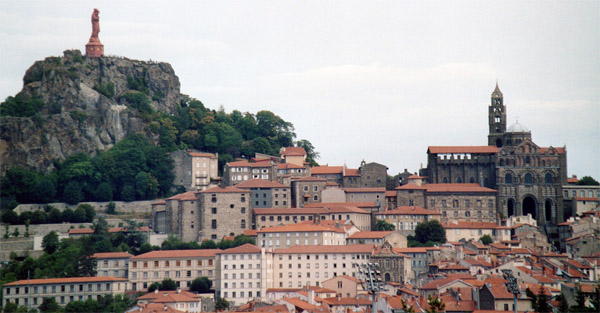 Le Puy-en-Velay is a major commercial, cultural and sports hub in the heart of a department with varied landscapes. The city has a monumental cast iron work located at the top of Rocher Corneille, the statue of Notre-Dame de France which is a statue of the Virgin Mary measuring more than 16 metres and weighing 110 tons.
Annabelle R. and her team welcome you at Le Comptoir Irlandais in Le Puy-en-Velay, 21 Boulevard St Louis.
Whisky cellar in Le Puy-En-Velay
Le Comptoir Irlandais whiskies come from Scotland, Ireland, Japan and many other countries. Our expertise allows us to offer you today more than 1 000 references of whiskies, for all tastes and all desires.
And to add variety, our cellar has a choice of gins, rums, Breton and Anglo-Saxon beers, liqueurs, ciders. A unique spirits cellar in Le Puy-en-Velay.
Anglo-Saxon fine food and tea specialist
A great tea specialist, your Le Puy-En-Velay shop is inspired by our neighbours across the Channel and offers over 150 teas and infusions references. Whether you like it nature, scented, cold, or sweet, you have the choice!
Our grocery department is complete with a multitude of Breton and Anglo-Saxon products. They come directly from Ireland, Scotland and England. Shortbreads, marmalades and jams, chutneys, pickles, HP sauces, Worcestershire and many other items await you!
Women's and men's clothing store
Within its dedicated textile space, Le Comptoir Irlandais offers men's and women's clothing made from high-quality materials such as merino wool, lambswool and cotton. Aran sweaters, famous for their comfort and fine knitwear, are directly imported from Ireland.
Complete your dressing room with duffle-coats, coats, rugby polo shirts from our outdoor collection and its various accessories (hats, scarves, caps, bags, etc.).
Our textile area is perfectly complemented by warm and colourful plaids made of natural and luxurious materials (mohair, lambswool, etc.).
We often go there to buy our beer, a holiday feeling, for clothing, no fitting room, but it doesn't bother my husband, he has the whole collection of rugby polos from the store, and there is a lot of other things such as whisky stones….




11-2011
Selected for you
Back to stores list