When to taste tea?
The tea is rich in antioxidants, you can drink 1 to 3 cups a day without worry. However, even though it is less irritating than coffee, tea can have energizing abilities, forcing some enthusiasts to do without it in the evening.
Tea will stimulate you to start a new day on the right foot: unlike coffee, known for its "boost" effect, it provides lasting energy.
There is no rule on when to taste tea, everyone can enjoy their tea whenever they want. However, we can give you some tips on how to effectively see the benefits of tea.
Black tea is perfect for breakfast, it will keep you energized for the day. Try the English Breakfast tea in particular, tasted by the English in the morning.
Green tea is ideal to enjoy 30min before or 30min after meals, for its antioxidant action. It promotes digestion.
Tea contains theine, similar to caffeine. This can make it difficult to fall asleep. Therefore, we recommend that you stop drinking tea at least 4 hours before bedtime.
However, other hot drinks can be consumed in the evening. In particular, replace tea with an infusion, herbal tea, rooibos or decaffeinated tea.
Preparation tips
Quality water for quality tea
The drink is 99% water. This means that water has a decisive role in obtaining quality tea. To do this, choose water that is weakly mineralized with neutral pH, or filtered tap water. The tap water in this city is often composed of limestone and sometimes tastes of chlorine.
It is also better to avoid strongly mineralized bottled water. As a result, the tea can become cloudy when it cools, this is called tea scum. The calcium minerals they contain can leave a rough feeling in the mouth.
What is the infusion time for each type of tea?
The brewing time differs from tea to tea. However, for all types of tea, the water should never boil but should have a temperature of 90° maximum.
For heating water, only the saucepan and kettle are recommended. Avoid using the microwave.

The most important thing is to respect the infusion time indicated on the tea can or packaging.
If the tea doesn't brew long enough, it will taste like hot water. On the contrary, if it remains infused too long it will lose flavour and have a bitter or astringent taste.
To help you keep to the brewing time, use an hourglass specially designed for preparing tea.
How to dose your tea?
For a cup of tea, it is recommended to put between 2 and 3 g of tea for about 20 cl of water. In the West, the tea / water ratio is about 1 / 5th to 1 / 7th.
A tea that is not loose enough in the leaves will taste like hot water. Conversely, a too generous one will be unpleasant in the mouth. With unbalanced aromas.
A tea with or without milk?
Some would say that adding milk to your tea is intolerable. In the West, this is acceptable. Indeed, many people add milk to their tea to sweeten the taste. A cloud of milk mixed with an overly brewed tea helps remove your bitterness.
The tea can be enjoyed with cow's milk as well as with vegetable milk.
Rice milk, quite thin, works well for stronger blends. Ideal for a classic English Breakfast tea or for a soft and balanced infusion.
Soya milk blends perfectly with a robust black tea.
Almond milk is a sweet milk and goes perfectly with teas with strong flavours.
Namely, when you add milk to tea, the effects of the tea are dissolved. If you want to benefit from the natural benefits of tea, you should not add milk.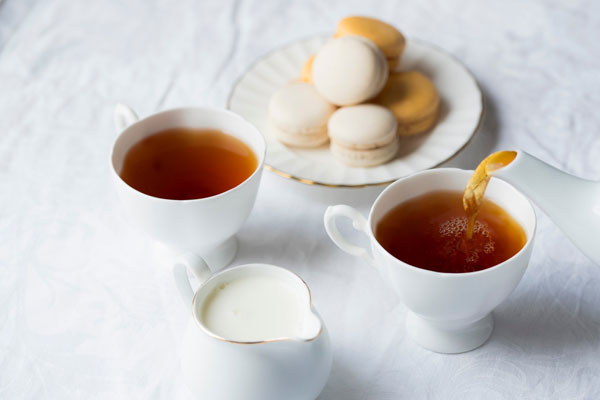 Tea in the kitchen
Tea is not only served in a cup. Indeed, tea can also be used in cooking in many recipes. All you have to do is reduce the tea of your choice to powder or infuse it in order to incorporate it into preparations that will automatically gain in flavour and originality. Tea can even be mixed with alcohol to add character to your cocktails.

Christmas herbal tea shortbreads Chaï Tea Latte Gin and Earl Grey cocktail
Le Comptoir Irlandais - 4 universes to discover