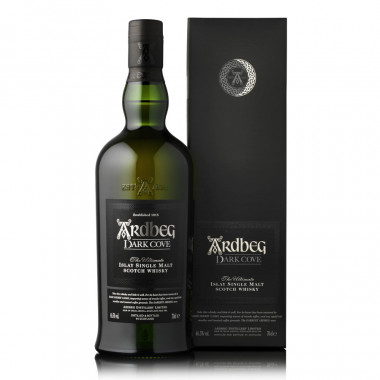 View full size
Display all pictures
Remove this product from my favourite's list.
Add this product to my list of favourites.

Send to a friend

Ardbeg Dark Cove - Limited Edition 2016 70cl 46.5°

Islay's legendary Single Malt distillery presents the Ardbeg Dark Cove Limited Edition 2016, a back in time travel in the turbulent past of the island, where smugglers used to hideway.

Recipient :

* Required fields

Cancel or
Ardbeg Dark Cove - Limited Edition 2016 70cl 46.5°
| | |
| --- | --- |
| • Volume | 0.7 L |
| • ABV | 46.5 ° |
| • Type | Single malt |
| • Distillery | Ardbeg |
| • Country | Scotland |
| • Region | Islay |
| • Maturation | Sherry & Bourbon |
| • Peat | Heavily Peated |
| • Characteristics | Non Chill-Filtered |
| • Packaging | Cardboard Box |
| • Reference : | 22891 |
Islay's legendary Single Malt distillery presents the Ardbeg Dark Cove Limited Edition 2016, a back in time travel in the turbulent past of the island, where smugglers used to hideway. Day turns into night and Ardbeg Day turns into Ardbeg Night for its new limited edition 2016, the Ardbeg's darkest: Dark Cove.
Limited Quantities - 1 bottle per order.
Following Auriverdes et Perpetuum's editions, Ardbeg presents a new limited edition Dark Cove refering to Islay island's dark background, preceding John McDougall's first distillery in 1815. The island with its secret beaches and caves was used by smugglers for their unlawful activities.
Ardbeg Dark Cove is a balance with a matured Ardbeg in Bourbon barrels and dark Sheery barrels.
Ardbeg "Dark Cove" alludes to the historical cove where is now established the distillery. The cove used to be the smugglers hidout where they produced illegaly the valuable whisky, hidden in a cove whitch couldn't be reached by the coast. To join the cove, they had to wait for full moon, on a rowing boat loaded with peat, supplies, jars and barrels to reach the cove in the dark.
Ardbeg chose to limit Dark Cove 2016's edition, with two times less bottles available in France this year.