Breiz'île Caramel Vanilla 70cl 28°
Brand
:
Breiz'île
/
Country
:
France
/
Reference:
:
23123
Discover this Breiz'île spiced rum caramel vanilla made with white agricultural rum and old rum from West Indies (Guadeloupe).
This rums blending is macerated in caramel syrup.The caramel is home made by the "Frères de la côte", owners of two restaurants in Brittany, France and matches perfectly with Madagascar vanilla, which gives soft and sweet flavours.
This spiced rum is part of the macerated rum range.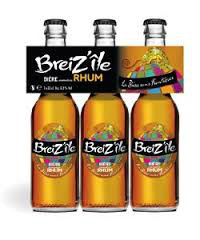 Breiz'île is a craft range of spiced punches elaborated in Camaret, Brittany. Everything started in 1997, in the fishing harbour of Saint-François, Guadeloupe.
The "Brethren of the Coast" is then composed of three Bretons: Ronan, Olivier and Alain. They founded their restaurant and cooked delicious fish meals celebrating spices and rum. Three years later, they opened a second restaurant in Camaret-sur-Mer, thus forging a connection between Brittany and the Caribbean.
"In Guadeloupe, we used to serve our spiced punches as digestives. Customers really liked it and ask if they could buy some", Ronan says. "This is what drove us to create Breiz'île". And the first bottle of spiced punch was released in 2002. It met immediate success and has since been renewed every year. Generous and inclusive, Breiz'île is packed with flavours and destined to the joyful gatherings…
Everything is handmade in the Camaret-sur-Mer restaurant. Fruits are chopped and macerated with syrup, spices and white rum from the Caribbean. After two months macerating, we discover a smooth punch with a subtle fruit taste and a delicious vanilla flavour.