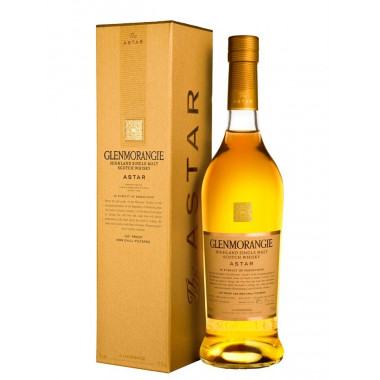 View full size
Remove this product from my favourite's list.
Add this product to my list of favourites.

Send to a friend

Glenmorangie Astar 2017 70cl 57.1°

Whisky Astar 2017, a new limited edition of this exceptional Single Malt Glenmorangie, outcome in long years of research on the maturation and influence of barrels.

Recipient :

* Required fields

Cancel or
Glenmorangie Astar 2017 70cl 57.1°
| | |
| --- | --- |
| • Volume | 0.7 L |
| • ABV | 52.5 ° |
| • Type | Single malt |
| • Distillery | Glenmorangie |
| • Country | Scotland |
| • Region | Highlands |
| • Maturation | American Oak |
| • Peat | Non Peated |
| • Characteristics | Non Chill-Filtered |
| • Packaging | Cardboard Box |
| • Reference : | 23240 |
In 2008, Glenmorangie launched the Single Malt Astar, an exceptional whisky, resulting of long years of research into the maturation and influence of barrels. Astar means "journey" in Scottish Gaelic. It is signed by Bill Lumsden, the brilliant Master Distiller of Glenmorangie. It symbolizes perfectly the constant quest for perfection of the distillery.

The Single Malt Astar is fully aged in carefully selected slow-growing oak barrels in the Ozark Mountains in Missouri, USA. It is a wood with great porosity which gives a great richness and a very nice density to the whisky. It has been meticulously crafted with exact specifications so that it permeates with powerful aromas the whisky Astar, this precious spirits from Highlands.

This quality requirement and the depth of the whisky delighted connaisseurs, quickly provoking the rupture of the first version of the Single Malt. It took many years to orchestrate the renaissance of this Glenmorangie Astar 2017. A limited edition that brings even more depth, richness and complexity to this particularly round and velvety Single Malt.