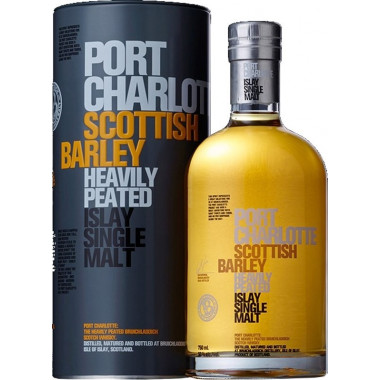 View full size
Remove this product from my favourite's list.
Add this product to my list of favourites.

Send to a friend

Port Charlotte Scottish Barley 70cl 50°

This Port Charlotte Single Malt Scottish Barley is a heavily peated whisky, that drags you into a swirl of Islay flavours and aromas with its 40ppm, mingling subtlety and smouldering peat.

Recipient :

* Required fields

Cancel or
Port Charlotte Scottish Barley 70cl 50°
| | |
| --- | --- |
| • Volume | 0.7 L |
| • ABV | 50 ° |
| • Type | Single malt |
| • Distillery | Port Charlotte |
| • Country | Scotland |
| • Region | Islay |
| • Maturation | Bourbon |
| • Peat | Peated |
| • Packaging | Metal Tube |
| • Reference : | 22553 |
This Port Charlotte Single Malt Scottish Barley is a heavily peated whisky, that drags you into a swirl of Islay flavours and aromas with its 40ppm, mingling subtlety and smouldering peat.
This version is a multi-vintage release, crafted by Master Distiller Jim McEwan who carefully selected each cask for the blending. He wanted to show that a whisky may be heavily peated and richly flavoured, with deep character, without the medicinal aspect usually associated to peaty Scotch whiskies.
Using local barley from Port Charlotte Loch (lake) neighbouring village, subtle and slow distillation, pure Islay water and carefully monitored maturation in the distillery casks' allowed to craft an amazing, accomplished, slender whisky.
By coupling the classic, floral elegance of Bruichladdich to the peat smoke, Jim McEwan created here a mind-blowing Single Malt, of unique complexity, where the sweetness of malted, smoky barley contrast beautifully with marine freshness.
*PPM - phenols parts per million, measuring the influence of the oily smoke peat infusing the germinated barley during the drying process. The longer the exposure, the highest the ppm value is. A well peated Islay whisky reaches a 40-50 ppm. But every whisky still develops its very own character and mouthfeel sensation, depending on the style of each distillery.