FÈIS ÌLE 2022 : ISLAY FESTIVAL
Festival of music et malt
Every year, at the end of May, the island of Islay welcomes culture and malt enthusiasts from all backgrounds for its Fèis Ìle festival that will be held this year from May 28 to June 5, 2021.
Created in 1984, the festival's ambition was to revive the Gaelic language and culture, and it now offers more and more diverse activities. On the program: traditional music concerts, Gaelic lessons, golf, bowling, workshops, conferences, dances and of course, whisky tastings.

Indeed, in recent years, all the distilleries of Islay organize open days throughout the week of the festivities, which makes this festival an unmissable event for lovers of malt and peat, all in the magical setting of the island of Islay.
Naturally, Le Comptoir Irlandais is represented at each edition!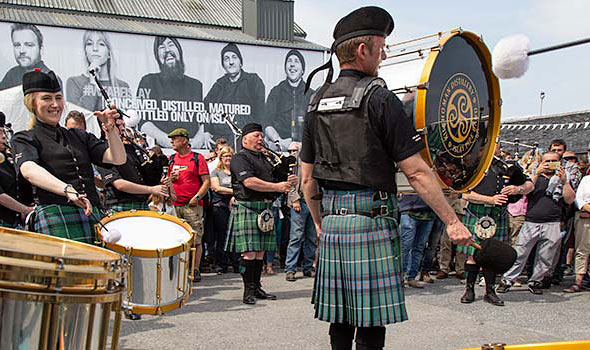 Scotland, its island of Islay and its culture
After two years of virtual festival, Fèis Ìle is back in a 10-day face-to-face edition.
This end of May is an opportunity to celebrate Scottish culture, the magnificent island of Islay and all the treasures produced there, first and foremost peated whisky.
Distilleries of Islay and elsewhere...
Le Comptoir Irlandais takes you into the world of great Scottish distilleries, from your home! Discover in particular the Laphroaig, Bunnahabhain, Ardbeg, Kilchoman, Coal Ila, Jura, Bowmore, Lagavulin and Bruichladdich distilleries.
Ardbeg Day
Each year, the Islay Festival closes in style with the tasting of the new experimental edition of the Ardbeg distillery. Don't miss Ardbeg Day, the day it is unveiled to the public, a must-see for peat lovers.
As for the Islay Festival, you can celebrate Ardbeg Day online with the members of the distillery.
For this 2022 edition, you can order your bottle on May 17 and participate at the online tasting on June 4.
This new Ardbeg Ardcore should have a fiery temperament for a tasting that promises to be punk.
In any case, at Le Comptoir Irlandais, we will all be there to discover with you this new limited edition, we are waiting for you!

---